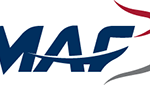 Partnership Manager (2 positions)
Do you want your day-to-day work to have a lasting impact on the lives of isolated people around the world?
Mission Aviation Fellowship Canada (MAFC) is a charitable organization formed in 1972 with the home office located in Guelph, Ontario.  Our vision: To see isolated people changed by the love of Christ. Our mission: Serving together to bring help, hope and healing through aviation.
Now celebrating 50 years in Canada, MAFC is part of a world-wide Christian ministry that operates over 130 aircraft in over 30 countries.  MAFC transports doctors, pastors, patients, relief workers, community supplies and medical aid in the world's most remote regions and places of deepest human need.  Operating for over 75 years globally, Mission Aviation Fellowship has developed into a worldwide team of specialists including over 450 missionary staff families.
Overview
MAFC is on a rapid growth trajectory, and we need more crew on our team!
Fueled by an entrepreneurial mindset and a heart to serve and meet the physical and spiritual needs of people living in the most remote areas of the world, we are currently seeking two Partnership Managers.
The Partnership Manager is the primary relationship-builder in their region. While fundraising will be the focus of this role, it is also a supportive role for the recruiting of missionaries. This is a full-time position reporting to the Director of Partnerships in the Guelph, Ontario Home Office.
The ideal candidate will be a connector, driven by a passion to link people with people and with a meaningful cause.  If you see opportunity everywhere you look and love how collaboration can result in greater results, than this might be the new opportunity you've been praying for!
Alberta:
The Partnership Manager is responsible for the development and stewardship of a major donor portfolio primarily in Alberta and Saskatchewan, with additional responsibility to steward relationships in Northwest Territories. The donor portfolio will include individuals, corporations, churches, and organizations.
Manitoba:
The Partnership Manager is responsible for the development and stewardship of a major donor portfolio primarily in Manitoba and northern Ontario, with additional responsibility to steward relationships in Nunavut. The donor portfolio includes individuals, corporations, churches, and organizations.
Reports To:
Director of Partnerships
Essential Functions:
Identify new and cultivate existing relationships with partners (donors, volunteers, collaborators).
Coordinate and ensure appropriate donor appreciation and recognition.
Identify and develop growth opportunities for special events with colleagues.
Provide relevant feedback and progress reports on donor development, funds raised and /or changes required to improve donor relations overall.
Work collaboratively with the Partnership Team to implement the strategic plans and achieve goals.
Establish and maintain high visibility and networks with potential and existing donors.
Work closely with the Philanthropy and Communications team to ensure that donor relationships are managed in an appropriate and timely manner.
In partnership with the Recruitment Team, help identify leads for new missionaries.
Assist with events throughout the year and attend where appropriate.
Assist in identifying key volunteers for fundraising activities and special events.
Core Competencies:
A welcoming, warm, and encouraging personality.
An innovative thinker who is results-driven and loves to learn.
A trustworthy and effective servant-leader who has a track record of inspiring others to join a charitable cause through actions and giving.
Interpersonal style that fosters constructive and productive relationships with diverse constituencies.
Detail-oriented, thorough, and able to handle competing priorities.
Proven ability to manage projects in a fast-paced, dynamic team environment.
An ability to be flexible and take initiative to meet deadlines.
Demonstrated skills in relationship management, strategic partnership development, goal and priority setting, data tracking and reporting, creative and persuasive communication, and effective meeting facilitation.
Strong communication capabilities (written, verbal and presentation) to handle all fundraising correspondence, including donor letters, proposals, and agreements.
Proven organizational and computer skills.
Strong experience working within databases and handling financial transactions.
Role Requirements:
At least five years of demonstrated success in fundraising, business development, or sales where relationship cultivation was a key to success.
Clear criminal record and vulnerable sector check.
A driver's license and personal transportation.
Able to travel domestically.
In agreement and compliance with MAFC Statement of Faith, Community Standards Statement and organizational policies.
CFRE status is a definite plus, but not required.
Compensation and Work Conditions:
Annual salary range is commensurate with experience, education, and training, as well as participation in a comprehensive benefit program.
Based in Western Canada, this is a remote, full-time position working 37.5 hours/week.
Interaction with employees, management, and the public at large.
Start Date
As soon as possible.
Deadline for Application
This search will remain open until a successful candidate is selected.
While we appreciate all responses, only candidates under consideration will be contacted.
Learn more about Mission Aviation Fellowship at MAF Canada.