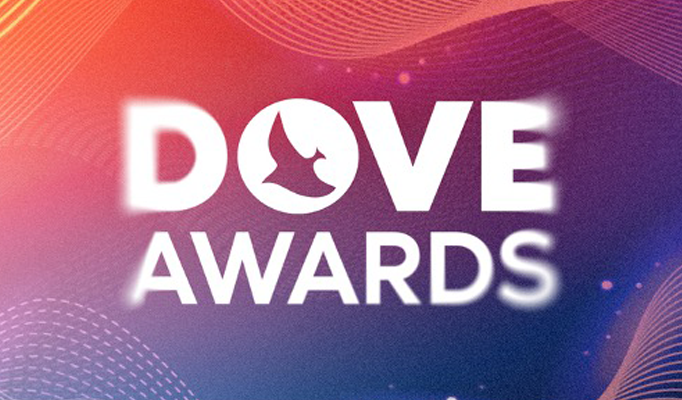 The 54th Annual GMA Dove Awards were handed out October 17, 2023, in Nashville, Tennessee to a sold-out audience. Host Tauren Wells led the all-star night of music with performances from across the community including Gospel, Latin, Worship, Pop, Southern Gospel and a special tribute to Hip Hop.
Brandon Lake was the big winner of the night with four awards including Artist of the Year, Songwriter of the Year – Artist, Worship Recorded Song of the Year and Rap/Hip Hop Recorded Song of the Year. Song of the Year went to "Goodness Of God," honouring songwriters Ben Fielding, Ed Cash, Jason Ingram, Jenn Johnson, and Brian Johnson. Tasha Cobbs Leonard took home two awards, Gospel Worship Album of the Year and Traditional Gospel Recorded Song of the Year. New Artist of the Year went to Katy Nicole and Jesus Revolution took home Feature Film of the Year.
Multiple guest performers surprised the audience including Jordin Sparks performing "Love Me Like I Am" with for KING + COUNTRY, Pastor Mike Jr. bringing out Ricky Dillard for "Impossible" and Tauren Wells including Davies on "Take It All Back". One-of-a-kind collaborations ruled the night including a harmonious performance from Gospel Hall of Fame members Take 6 with Ernie Haase & Signature Sound. A special moment highlighting the impact of hip hop across the decades delighted the crowd with dynamic performances from Hulvey, Social Club Misfits, and GRITS and TobyMac taking it all the way back with a reprise of 2002's "Ooh Aah (My Life Be Like)".
Host Tauren Wells stirred the audience with an impromptu sermon highlighting the current conflict in Israel saying, "We stand with the people of God and as scripture instructs us, we pray for peace in Jerusalem. Now here's the thing – we can't just pray for peace and not understand and identify the Prince of Peace. This conflict will not end until Jesus is the Lord of Israel and Jesus is the Lord of Palestine and Jesus is the Lord of every nation and every tribe and every tongue. There is a day coming at which every knee will bow and every tongue confess that Jesus Christ is Lord. The world could be at war but the church is gonna be in worship. Because we don't praise God depending upon our circumstances. We praise God depending upon His reputation."
Dr. Bobby Jones received the Jackie Patillo Leadership Award. Jones is a composer, recording artist, choir director and among the foremost pioneers in bringing Gospel music to the masses. Harnessing the power of radio and television programming, many of today's best known artists look to their appearances on the Dr. Bobby Jones show as foundational to their widespread acclaim. He's been a fixture in the industry since 1976 and a member of the Gospel Music Hall of Fame. The GMA was honored to award him The Jackie Patillo Leadership Award.
To watch the 54th GMA Dove Awards on demand on The TBN App: https://www.tbn.org/specials/doveawards
Partial list of winners:
– ARTIST OF THE YEAR: Brandon Lake
– NEW ARTIST OF THE YEAR: Katy Nichole
– SONG OF THE YEAR: "Goodness of God"
– WORSHIP ALBUM OF THE YEAR: LION: Live From The Loft – Elevation Worship
– RAP/HIP HOP ALBUM OF THE YEAR: Church Clothes 4 – Lecrae
– SPANISH LANGUAGE RECORDED SONG OF THE YEAR: "Coritis (En Vivo)" – Miel San Marcos, Daniel Calveti, Marcos Witt, Ingrid Rosario
– BLUEGRASS/COUNTRY/ROOTS RECORDED SONG OF THE YEAR: "Good Morning Mercy" – Jason Crabb, Dylan Scott
– POP/CONTEMPORARY ALBUM OF THE YEAR: Life After Death – TobyMac
– GOSPEL WORSHIP ALBUM OF THE YEAR: Hymns (Live) – Tasha Cobbs Leonard
– FEATURE FILM OF THE YEAR: Jesus Revolution – (Directors) Jon Erwin, Brent McCorkle, (Producers) Kevin Downes, Andrew Erwin, Daryl Lefever, Josh Walsh
For the full list of winners, https://doveawards.com/awards/2023-winners