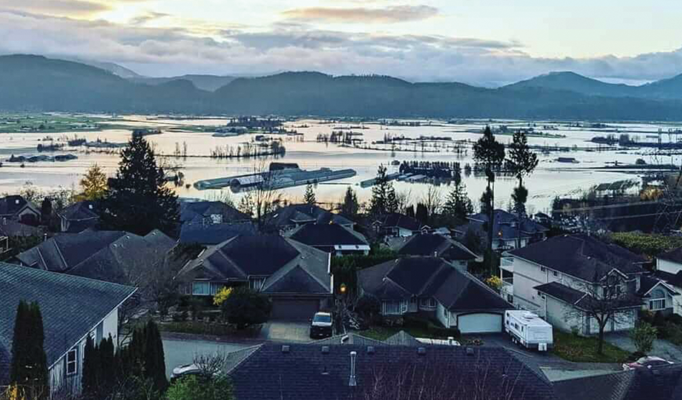 Some images leave your mouth agape. 9/11 did that. Lytton burning did that. Now, a crumpled highway, a flooded prairie, and life-consuming landslides have done that. The video footage is unprecedented for BC as a month of rain fell in two days.  "For such a time as this" became more than ancient reality to BC believers absorbing the devastation of an atmospheric river pouring out its power on the landscape. Most of us have driven these roads. We drank in the majestic beauty of our surroundings, not fathoming how fragile we were. 
Jeff Kuhn, from Grace Baptist in Hope, launched a Facebook post and opened the doors to 250 stranded travellers despite having no power. Local grocers provided foodstuffs and community members dropped off bottled water and snacks. When the roads closed, 1,500 people vied for support and the local school (hosting 700), Camp Hope (hosting 250) and a flood of relief came in from churches. Some still had to spend the night in their cars. Authorities have confirmed there has been loss of life from the landslides blocking the roads.
The BC government issued a state of emergency. With Canadian National and Canadian Pacific Rail lines compromised and main roads cut off, supply shortages were expected. The links to Vancouver's port usually supply grain, consumer goods and vital staples. The port moves over $550 million worth of cargo every day in essential goods. Grocery stores absorbed a rush of shoppers scooping up everything from toilet paper to produce. Gas is expected to be in limited supply soon.
Some groups got creative. Christian Life Assembly in Langley sent supplies by helicopter to do an air drop with water, blankets and freeze-dried meals. The Fellowship Baptists, the Mennonite Disaster Service, the Salvation Army and the Anglican Church all set their fundraising gears into motion to raise the response of their members. Hundreds had to be rescued by air or watercraft. The air force mobilized to rescue 275 people, including 50 children, who were trapped between two landslides and spent up to 24 hours in their cars. Farmers in flooded areas desperately tried to save their livestock but significant loss of life for animals is expected.
David Horita, regional director for the Fellowship Pacific Region, stated "we are still in the early days of this disaster, so it's not completely clear yet what is needed. We do know, however, that as the days and weeks go by there will be ongoing support needed as these communities work to recover and rebuild, and we are inviting all of our churches to consider adding their support as well."
3,000 meals per day are being prepared by the Dukh Nivaran Sahib Gurdwara in Surrey to assist in the relief efforts for people in Merritt and Kamloops. 17,000 people are homeless. The Sumas prairie is flooded, and the dam was breached. 5,000 cars were caught in the flood. Even Vancouver Island has faced road challenges and panic buying.
Pastor Narayan Mitra from Merritt Baptist asks for prayers with the evacuation of all 7100 residents. He says the church basement is flooded and anticipates that with a collapsed bridge and a comprised wastewater facility it will be a while before residents will be able to return. Some were unable to evacuate and are isolated, but some unaffected properties are being opened again. Pastor Kyle Nichols of Princeton Baptist reported that in the early stages his town had no water and the main gas line was shut off. The church was providing emergency services and operating a food bank while many homes had to be evacuated. He was loading his truck in Princeton and ferrying supplies back for the community.
In Hope, Kuhn says that "if there were specific things we needed people to do we would get the word out through our church Facebook page. We asked for toothbrushes and within 2 hours we had 200 toothbrushes. We had people from very different backgrounds coming together and forming friendships as they served together. We also found that those stranded felt so positive about helping out in any way they could. During four days more than 100 volunteers pitched in."
When the church overflowed, people were moved into homes where possible. Many slept in their cars but came into the church to eat and find community during the day. 400 people were given 3 meals a day plus snacks. The Foodbank, local grocers and a helicopter food drop helped. Kuhn says "now that people have gone, we have been handing out tons of food to local families as the local store shelves are empty. Our church sensed the need to put love into sacrificial action and we took great joy in this. Back in the late 90's a similar thing happened when the highways were closed by snowfall for 4 days. I think people have reconnected to the reality of the joy that comes from sacrificial service."
Sub-zero weather and snow will increase the challenge of rebuilding so prayer for engineers and road crews ferrying heavy equipment would be appreciated.
This reminds us. With every tragedy comes opportunity. With every extreme weather event. With every weary and desperate traveller. With every isolated animal. With every abandoned vehicle. With every damaged property. With every grieving soul. There is the opportunity to personally, practically and sacrificially demonstrate generosity and love in a way that makes a difference not just for today but for always.