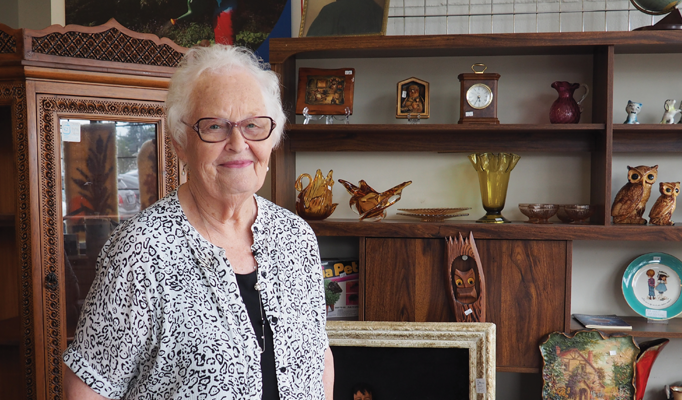 by Monet Lamphere-Ma
MCC Thrift Shops are known for funding life-changing projects around the world, providing food, water, education and more. Thrift volunteers and staff are also making a difference in their own communities while creating a safe space.
One of over 85 MCC Thrift Shops in North America, the MCC Thrift Shop in Surrey, BC welcomes customers from all backgrounds with open arms.
Located in the heart of downtown Whalley, the shop serves a high-need area. This neighbourhood sees regular cases of homelessness, addiction and mental health challenges. While the City of Surrey has been taking steps to improve housing and access to services over the past decade, the Whalley neighbourhood is still recovering.
The Surrey MCC Thrift Shop has decided that everyone who visits the store will be called a "customer," regardless of whether they intend to make a purchase.
Some customers visit the store for an air-conditioned reprieve from the hot weather or for a brief escape from adverse circumstances like homelessness or domestic violence. The team of volunteers and staff do their best to ensure the shop is a safe space for everyone. When a customer steps in the front door, they meet warm-hearted people like Ursula.
A year after Ursula's husband died, a close friend recommended that she volunteer with MCC. Getting out of the house would be a healthy next step.
At first, Ursula was hesitant to set foot in a thrift shop, much less volunteer in one. Interacting with customers seemed intimidating. She recalls, "I had never gone to a secondhand store before. I knew it would be good for me to get out, so I thought, 'at least give it a try.'"
She bravely decided to volunteer at the Surrey MCC Thrift Shop. She made that decision 15 years ago… and she has continued ever since! Over the years, Ursula has helped in various roles including sorting, pricing, decorating and operating the cash register. Currently, she volunteers in bookkeeping.
In her early days of volunteering at the shop, Ursula shook her head at customers who would linger without purchasing any items, those who would make an impolite comment, or people who attempted to shoplift. Many of these customers were experiencing difficulties like homelessness or addiction, but they were presenting challenges for the thrift shop.
As Ursula continued to serve in the shop, her heart has softened toward these customers and their challenges. She realized that shaking her head at customers wasn't going to help them or the thrift shop; "I had to learn over time, I can't just point my finger at them. I need to respect them and assume the best. We all need each other."
Now, Ursula smiles at each of these customers and gives a moment of her time. If a customer is having an especially difficult day, she will ask if they want a hug.
During her years in the thrift shop, Ursula has seen her faith in God grow by serving customers in the Whalley neighbourhood. "The Lord has placed me here," Ursula shares. "God has protected this place and the people therein on more than one occasion. I love working here and have never felt threatened."
Ursula is one of many wonderful volunteers and staff across British Columbia who help make the work of MCC possible in North America and throughout the world.
The MCC Thrift Shop in Surrey, BC shares a parking lot with Nightshift Ministries, who help meet the needs of the Whalley neighbourhood through street outreach, counselling, community education and more.
MCC Thrift Shops are part of the ministry of MCC British Columbia which provides prevention and outreach services for those experiencing homelessness in the Fraser Valley through the following programs:
• Homelessness Prevention and Outreach Program – Providing community dinners on Thursdays, access to necessities, referrals to community programs and more.
• Fraser Valley Rent Bank – Offering one-time emergency loans to those at-risk of losing their housing or utilities.
• Circle of Friends – Sharing social support for those coming out of homelessness.