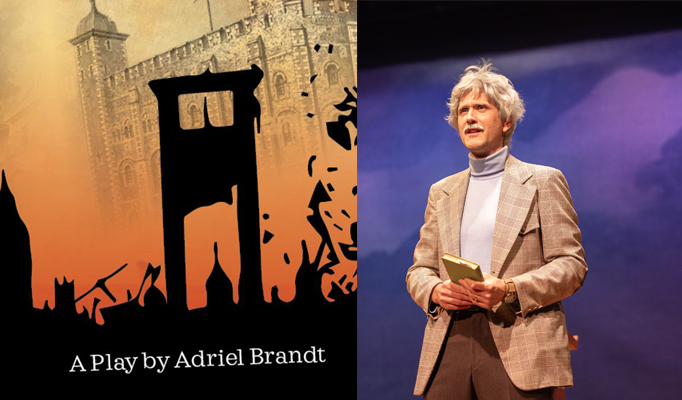 ROSEBUD THEATRE: Magic Lies: W.O. Mitchell comes to life at Rosebud Theatre
By Laureen F. Guenther
Magic Lies: An Evening with W.O. Mitchell opened September 15 on the mainstage of Rosebud Theatre in Rosebud, Alberta. The world premiere of this one-man show, written by W.O.'s son and daughter-in-law, Orm and Barbara Mitchell, is performed by Nathan Schmidt and directed by Karen Johnson-Diamond. It runs until October 21.
Schmidt plays W.O. Mitchell, doing what W.O. did for over 30 years — performing an evening of storytelling for a live audience.
Magic Lies wraps the story of W.O.'s own character and storytelling around the wild and original stories he told. Part-fact, part-fiction, W.O.'s stories spring from the rural southern Saskatchewan of the early 1900s that shaped W.O.'s boyhood. Though his stories aren't based on precise human experience, each one connects us to relatable human truth.
Though the set is spare, with only a chair, side table and podium, the backdrop, painted by Rosebud artist Cheryl Daugherty, gives us the living prairie sky. Under the moving lights, designed by Becky Halterman, the sky changes color, mood and forecast.
W.O.'s language is salty, and his bluntness is from an era before our own, when people could tell stories colorfully and express controversial opinions without fear of social reprisal. W.O.'s stories kept us engaged, engrossed and laughing for the full 100-minute ride.
There's the story of 10-year-old W.O. selling women's lingerie. The story about making rain. Dynamite as shock therapy. The grandma who gave smelly cheese for Christmas. The art teacher who was strapping — literally. And elocution class and the Gettysburg Address.
Nathan Schmidt brings W.O. to life in a way no one else could. He inhales snuff and rubs it on his shirtfront. He clears his throat to intentional effect. He displays just-right timing.
Schmidt's performance makes me feel I know W.O. Mitchell personally, and W.O.'s stories make me wish I could have met his characters too. Noreen Symington, the cornet soloist. Peanuts. Melvin Arbuckle. Melvin's wandering grandfather. And W.O.'s longsuffering mother.
In the stories of Magic Lies, we hear the writing voice we remember from reading W.O.'s books. It makes us long to read his books again soon. In the meantime, we feel we've just spent an evening in W.O.'s company. And that's even more satisfying.Tickets for Magic Lies come with a buffet meal. Get tickets and more information at 1-800-267-7553 and www.rosebudtheatre.com
Gallery 7 Theatre opens a new season early in November in Abbotsford, BC with a first in Gallery 7 Theatre history
– a world premiere of an original adaptation by local playwright, Adriel Brandt, developed at G7.
It was the best of times, and it was the worst of times. Set in the the days leading up to, and during, the French Revolution, a family is caught in a web of challenges and social upheaval.
Charles Darnay, having shirked his inheritance and any association with his brutal family, heads to England following his acquittal of treason. Having married Lucie Manette, who cares for her invalid mother, Darnay is soon called back to France, and with the tensions and unrest at an all-time high, he is found to be an enemy of the state and imprisoned.
Sidney Carton, a close friend of Lucie's and responsible for Darnay's original acquittal, dedicates himself to returning the beleaguered Darnay to his family, but faces the prospect of great self-sacrifice in the process.
A stunning and unrelenting story of family, justice and sacrifice, this exciting new adaption explores gluttony, tyranny, the excess of violent revolution and the power of love.
The show promises to transport audiences to the tumultuous times of the French Revolution and the contrasting landscapes of London and Paris. We had the privilege of asking a few questions of Brandt to delve into the creative process behind this adaptation and discover the insights that have brought this remarkable novel to life as a play.
Brandt gives us a behind-the-scenes look at the challenges and joys of adapting for the theatre, and his excitement about bringing a beloved character, Sydney Carton, to life.
How did you decide to write an adaptation of A Tale of Two Cities? What drew you to this novel?
"I've worked with Ken (Artistic Director of the company) and Gallery 7 since the beginning of this project. I was at the time performing as Mr. Darcy in their production of Pride & Prejudice, and thought to myself, "Hey, I could do this; I could write a stage adaptation."
"I reached out to Ken and asked two questions: 1) Would Gallery 7 Theatre be interested in staging an original script? and 2) What classic novel would you love to see on stage? Ken responded with "Yes" and "Either Dickens or Austen." Since I was performing in an Austen, I decided to turn to Dickens!
"I wish I had a more considered reason to pick A Tale of Two Cities from his bibliography, but honestly it was a case of looking at Wikipedia and selecting the shortest of his popular novels – it is 13th out of 14, not including Edwin Drood. (I suppose I forgot to look up Hard Times, which is shorter by almost 25,000 words!) All that said, I certainly don't regret the choice."
This is an incredibly epic story spanning multiple decades, two countries, a Revolution and many different characters. How did you approach fitting everything into a 2-hour-ish play?
"As a disclaimer, I don't actually know anything about the making of liquor, but adapting a novel into a stage play is like the act of distilling. You start with something voluminous, an alembic full of water and ingredients and five years later present a tiny bottle of pure flavour. The thing about playwriting is that science doesn't select what survives the process for you.
"Over the years of this project, I had to become familiar with all the story's elements and, very slowly (and often painfully), had to choose which flavours were essential, and which could be evaporated with the water. Dickens' novel has flavours galore: dozens of significant characters, an overflowing handful of themes, and that wonderful panoply of genres he's known for.
"Over the spread of a novel 137,000 words long, these qualities stand on their own and commingle deliciously. Crammed into a play of thousands less than 25,000 words, it would be a choking mouthful of bitter, sour, sweet, savoury, salty, and umami all at once (apologies for the departure from the distilling metaphor). So I had to pick what flavours to keep and how to mix them – and it was tough!"
One of the great things about Dickens is his language. Was it fun to adapt that to the stage? Were there any changes or adjustments that had to be made?
"I first read Dickens' Oliver Twist as a child, and to this day remember marvelling at the sheer length of his sentences – they were sometimes more than a page long, involving something like twelve commas, five em dashes, three semicolons, and a couple of full colons for good measure! Later, when I really learned how to use the semicolon myself in high school, I read Dickens again and found myself mirroring him in my own writing (in my Facebook statuses, for example; remember when they were "[Your Name] is … ?" I must have set some early records). It's been a treat to use and mirror Dickens' masterful diction again for this script.
"A difficult thing about adapting Dickens to the stage, and one of the reasons why Ken was looking for a Dickens adaptation and was unsatisfied with the selection out there, is that Dickens is all about the narration: about those intricate sentences and clever literary devices. Theatre, meanwhile, is all about dialogue, about the interaction of believable characters!
"Other playwrights have had narrators reading from the novel on the corner of the stage, or even had the ensemble doing "popcorn reading" of the text, but as early as version two of my script (of something like ten!) I dispensed with anything resembling narration. Which meant I really had to work with the dialogue from the novel: to make what existed palatable to a theatre audience, adapt narration into dialogue, and conjure brand new lines to cover essential character- and plot-points covered in the novel over chapters of beautiful, but long winded, prose."
Is this your first adaptation? Have you written other plays before this?
"This is my first company-produced stage play. I have written a few one-act plays in the past and have adapted works for audio. As a multidisciplinary artist who is privileged to work from home, I always have a project or two (or three) on the go – so A Tale of Two Cities may be the first to get on stage, but it's certainly not the last!"
Tell us a little bit about the process of adapting the show. What's involved in getting to a full production?
"Like many young voracious readers, I always wondered, when watching an adaption, why the writers didn't just use the words from the page! Sure, Peter Jackson's The Lord of the Rings trilogy is the pinnacle of film adaptation (or so they say), but why did he and his team cut the Scouring of the Shire? Why did Frodo have to betray Sam on the steps above Minas Morgul? Well, I was bound to find out.
"This script began with literally every word of dialogue from the novel, whether it was housed in quotation marks or written out as narration. This enormous first draft manuscript was over 300 pages long, and read terribly, of course! But preteen Adriel – who dreamed of directing a new, exactly adapted film hexology (obviously going back to the original six-book demarcation) of Tolkien's great novel – was satisfied.
"From there, it was cutting, cutting, cutting, until the core of the story became clear, at which point it was cutting, still, but also adding, tweaking, rearranging, and adding some more! There are certainly still lots of Dickens' words in the script, but five years and hundreds of hours after that first version, I'm pleased to no longer know exactly whose words are whose.
"Friendly, intelligent, and critical readers are also an essential element of playwriting. I had many friends, and friends of Gallery 7 read the script, and all contributed, even if just by reading the words aloud, to the final product. Without the eyes and intellects of others, this script would not be the same. If you participated in the development of this script, thank you!"
You're also acting in the show! We'll probably have more on that later, but for now, what are you most looking forward to about being in the show?
"Bringing a character to life with whom I have been journeying for five years! I really related to the character of Sydney Carton from the early days, and I am excited for him to come to life, buoyed by the creative team behind the scenes and by the energy of a full cast.
"I've read all the parts to myself, muttering at my computer, for so long that I am very eager to witness a real, live cast of performers breathe life and movement into the script."
Will it be strange to be the playwright and an actor?
"It was a real treat attending auditions and callbacks as a hopeful performer, getting to see and hear my words come to life. Often, at least in the first hour before the fact got spilled by close friends also auditioning, my scene partners were unaware that they were reading with the playwright, and it was a privilege to share the words with them as a peer. What will be strange about playing both the role of playwright and actor will also be wonderful.
"The act of bringing a script to the stage is always an invigorating and surprising cooperative process, and now I get to do it with a script I have brought up from a blank page. It will be very special and I am excited.
"A common refrain from Gallery 7 Theatre has to do with supporting local theatre. Well, it doesn't get more local than this! Thanks for your support."