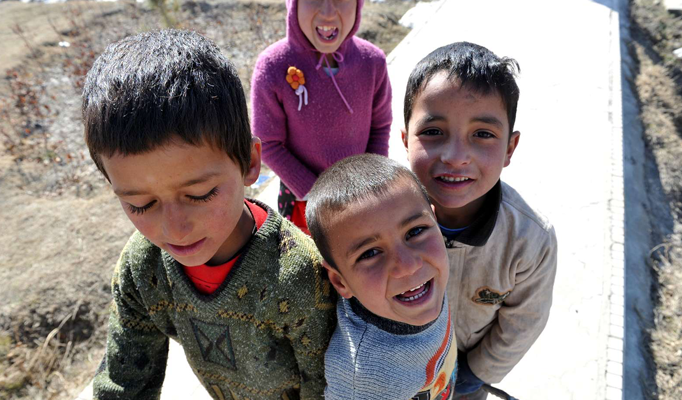 "I feel safe now!" 25-year-old Hanifa says. "22 years ago, the Taliban took my father from our Afghan village because he was Hazara and a resister. We never saw him again." She glances at the news flash of Ukraine as she sits on her uncle's carpet in Richmond, British Columbia. "August 15, 2021, the Taliban took Kabul and the trauma was back. This time, I was the target – along with my family."
A friend and I (Jack) from Faith Baptist in Vancouver had unloaded furniture for the new arrivals. We sat on the loveseats chosen earlier from the Burnaby organization, Helping Families in Need, now grouped with the bedroom and dining room suite donated from an estate of a church member. During the last six months, 7,550 Afghan refugees have arrived in Canada out of the 40,000 promised by the government. Meanwhile, 9,000 Ukrainians have been welcomed since January – 3,368 between February 21 and March 13.
Hanifa demonstrates the quality of individuals coming our way through her story and the toll on their transition here. "I graduated from the American University of Afghanistan and I worked with two international organizations where I was involved in projects that promoted women's rights and their participation in Afghanistan. When the Taliban took over the country again, I was in shock. I could barely sleep and even if I slept, I had nightmares all the time." The significant toll on physical, emotional and mental health is significant for those coming out of these war-torn situations. "The organization I worked for let me know that I was eligible for resettlement in Canada. I had to make a choice. I knew if I stayed, I would be either dead or living like I was dead with no freedom to work, study, do sport or anything that a human being deserves."
Recognizing our common humanity and our needs and rights is a foundation for those willing to assist. Organizations like Faith, New Hope Community Services, Kinbrace and Journey Home Association have been at the forefront in refugee housing for almost two decades now. Loren Balisky, founder of Kinbrace, says the five core values of his organization "emerge from this deeply held recognition that people seeking refugee protection are brothers and sisters, the you and me from another place."
Mindy Kozloff, New Hope operations manager, says I think New Hope's "living together" model is what really hooked me. By living as neighbours and friends, we share life together with mutuality and dependence on each other, as well as a lot of fun and celebration. At New Hope we get to enter into a family's story at a very vulnerable moment of life transition, but it's such an honour to witness the phenomenal growth that happens during their 18 month's at New Hope. A new Afghani resident joined our community gardening activity on her first day in the building. A volunteer said to her, "It's your first day, and you're literally planting roots."
Hanifa puts the need into perspective. "All I could take was a backpack. Everything else was left behind." Including some family members. "The journey was risky, going through the chaos at the airport with tear gas, guns firing and being herded from one gate to another. We had to stand in a bus with no place to even move – the worst was hearing the cries of the children. A bomb went off when we were on the tarmac and the pilot told us we had to load quick and go. We were the last plane out. We flew to Islamabad in a military airplane which was crowded. Many people fainted including children. We stayed for two days on the ground of the airport in Islamabad then flew to Kyiv in the Ukraine where we spent more sleepless nights waiting. For 14 days we were in lockdown in a camp and then we had to get our biometrics done before a flight to Canada. In late September of 2021 we finally came to Canada for another lockdown. Canadians gave us a warm welcome."
An Afghani, who was helped by Journey Home, says "we didn't know this country [Canada]. With no job or credit history, it wasn't easy to find housing for my nine-person family. Without a work permit, without social assistance and money depleting rapidly, I really started to worry." James, founder of Journey Home, was able to offer two partially furnished apartments in the Metrotown area, assist with their moving, help children with school registration and introduce them to legal procedures. "It's very important to be connected with people who care about you and who understand you."
In her new book, Becoming Neighbours – Five Values for a World of Welcome (it's a free read!), Anika Bauman tells a story of transformation where refugee claimants and their hosts flourish together based on her experience living with refugee claimants in the Kinbrace community from 2017-2020. Her exploration of Kinbrace's five values through stories is a wonderful resource for any person or group preparing to welcome people who are forcibly displaced and seeking safety. The Baliskys (Loren and Tama) spent their childhoods in East Africa and formed deep longings for an immersion in linguistic, ethnic and cultural diversity. Loren says, "I began to understand an even deeper motivation within me for welcoming the stranger: my own quest for belonging and search for home as a person born in Ethiopia to white missionary parents, never fully experiencing that the land beneath my feet, and the culture I was in, were where I ultimately belonged."
Since 2011 an average of 30,000 refugee claimants have arrived in Canada each year.
Kinbrace's national public legal education and information offers are accessed by thousands of refugee claimants across the country. Ready Tours provide in-person orientation to the refugee hearing process and the multilingual Refugee Hearing Preparation Guide supports their learning and understanding of the refugee claim process and of refugee law. Volunteers can get involved through the Beyond Refuge program, journeying with refugee claimants in mutually transformative relationships.
In the past 2 months, New Hope has had 3 newcomer refugee families move in – from Ethiopia, Sudan, Afghanistan and Mexico. "Our volunteer network has provided furniture and household items for each family, as well as neighbourhood orientation. The families have already joined several New Hope community events, including dinners, kids clubs, gardening, and ice skating.
Volunteers help create the loving community of care that makes New Hope so special. They teach English, help families move in, host community dinners, and lead activities for our children."
Hanifa says, "One of the biggest challenges is unfamiliarity with the system. However, I am learning every day, and I have met some great people here who have been helping and guiding us. I started volunteering in Richmond Multicultural Community Services, and will start my job here soon. I have many dreams and one of them is to contribute and educate the new generation to build a peaceful and caring world because I am tired of all that is going on in the world. I want to be an educator because I strongly believe that the future is bright if today, the children and young people are taught humanity."
Balisky concludes, "Canadians are uniquely positioned to welcome people seeking refugee protection. For many of us, we personally – or our ancestors – lived the story of migration or forced migration. Our memory is alive and prompts us to empathetic and compassionate action. We have resources and space to welcome others and share generously. We have developed some of the most outstanding mechanisms for welcoming people with lived refugee experience. Our government and private sponsorship programs resettle refugees from around the world, and our inland refugee determination system provides safety and protection for asylum seekers / refugee claimants."
On a final note on the status of women in Afghanistan: The Taliban announced March 23, 2022 that girls over grade 6 could no longer go to school. Instead, girls over 15 would now be wed to Taliban fighters.