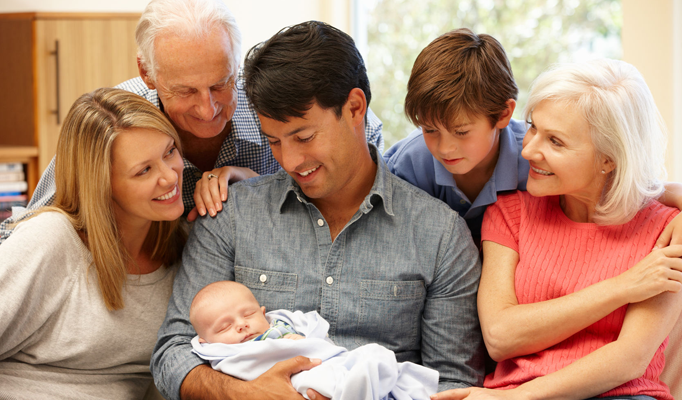 There are six biblical conditions that are central in transferring your faith to your kids and grandkids. These truths are anchored by two key words: authenticity and intentionality. In part 1, we learned to keep a soft heart towards God; to keep the passion alive in our marital relationships; and to practice perpetual re-engagement with our spouses and families. There are three more biblical conditions to discover…
And now, the conclusion to, An unbroken line of faith…
Condition 4: Let your love flow freely and fully with your family
Your faith is shown by the love that you express. Your kids can see and sense the reality of your care for others and themselves – or the lack thereof. You see, if you know the Lord, you need to treat people right, especially those closest to you. In Ephesians 5:1-2, we read, "follow God's example, therefore, as dearly loved children and walk in the way of love, just as Christ loved us and gave himself up for us as a fragrant offering and sacrifice to God." As a much-loved child imitates their father, we too are to live a life of love just like God does. We are to copy Him and create an unbroken line of faith.
After all, to love clearly is the mark of a Christian. Jesus' own words say, "A new command I give you: Love one another. As I have loved you, so you must love one another. By this everyone will know that you are my disciples, if you love one another" (John 13:34,35). We need to maintain a solid, caring relationship with each family member. We need to protect the belonging of all – that we are all safe in our home. Love needs to flow through support, encouragement, hugs, laughter, acceptance and more. And for parents, remember, the greater the relationship – the greater the influence. This kind of love – seen and felt by the kids – validates the Christ-difference and is clearly one of faith's anchoring points.
When our youngest, Mitch, was about age six, the loving experience in our home had already made an impact on him. His nightly prayer almost always included, "Thank you that we love each other." But why is it sometimes that we are hardest on those that we say we love the most? Be sure to show love where it counts most – at home!
One of the greatest 'across the board' demonstrations of love in our family happened when Keldy, our youngest daughter, felt she needed to break up with a boy she had been dating for over two years. Though she knew it was the right thing to do, it was likely the hardest thing that she had to do to that point in her life, at age eighteen. When I got word that she had "done it", I decided to come home early that Friday just to comfort and console my amazing daughter through this good, but hard step. Problem. When I knocked on the door of her bedroom and peeked in, she was in bed with her sister-in-law, Carly, who was already there listening, caring and praying with her. Fine. I will step in as Dad later that night. Problem. Our older daughter, Jody, had called and had invited Keldy over for the night just to be an encouragement to her little sister through the hard time. Well, that is great. I am looking forward to care but I will have to wait until the next day now to do it. My son-in-law, Chris, loved in his own way too by vacating their bedroom to let Jody and Keldy hang out, talk and crash in the same bed. I looked forward (finally) to taking Keldy out for dinner the next night – or so I thought. problem…again. By the time I talked to her Saturday afternoon to line up our dinner date of encouragement, she told me that Mitch (little brother of age 16) was taking her out for dinner and a movie. How can I love? When is it my turn? The point is – love had won the day. Christ was validated by the love that was being expressed at every turn amongst family members.
Condition 5: Model the difference Jesus makes in your daily life
When it comes to passing on your faith, if you want your kids to bleed spiritually, you have to hemorrhage. You can't be flakey as a Christian and expect your kids to be on fire. Your faith has to be lived out at home. You need to model what you want your kids to become. They will have very little chance of becoming what you say but will have a fighting chance – by the help of God – of becoming what you do! It's pretty simple and straightforward, "If you claim to live in Him, you must walk as Jesus did" (1 John 2:6). Kids will become like you if you are more than what you say.
Live the difference that Jesus wants to make in you. We need to conduct ourselves in a manner that is in keeping with the Gospel (Philippians 1:27). Let there be no doubt what your life is about. Your life is a God thing. Get your priorities straight – live them clearly. Kids will see and sense the difference. That is how the faith gets passed on. They see so clearly how it has shaped you as mom and dad.
Over the many years of working with youth, I would often ask a question of teens just to try to get what was really going on in their lives at home. One of my favourite questions was, "What is important to your parents?" Interesting responses. What would your kids say if asked that? Here are some of the answers I got. What's important to your Dad? His New Escalade. How do you know? You can't go near it because you might scratch it. Your Mom? Her new rug. Why? Cause you can't walk on it – it's just for company. Your Dad? His job, I guess. Why? Cause we never see him. He's always there. What's important to your mom? Oprah. Oprah, why? Well, don't try to watch anything else at that time and be quiet or get outside.
Here's the sad truth. Never once in over 20 years of posing this question to teenagers did one of them say, "My parent's faith in God." Not once. Are you clearly living the difference? What would your teens say?
Condition 6: Be intentional about transferring your faith and values
We know that more is caught than taught when it comes to faith. That's why if you review these conditions, the first five of them are about who you are and how you live and only this one is about saying something. The point is intended to be obvious. Let your life speak five times more often than your mouth opens. And yes, it's true, very true in parenting; actions speak way louder than words. Your changed life is the platform upon which your words can have meaning. Here's the 5 to 1 ratio. Let it sink in: LIFE, LIFE, LIFE, LIFE, LIFE then LIPS. Problem: most parents talk five times more often than they should and don't always have a consistent Christ-centered lifestyle as a living example of how to live. I have seen how the LIPS, LIPS, LIPS, LIPS, LIPS then LIFE fails over and over again. Be wise.
Determine what spiritual lessons need to be taught. What is important to you? What do your kids need to know about God, faith and life? Determine what you want to say on any of the major areas of life; values, work, school, friends, honesty, relationships, serving others, sexuality, finances and more. Talk it through as parents and then write down what it is you would want to convey. That's right. Write down what you believe and want to pass on to your kids. Try not to wing it.
The Scripture gives a great approach, "Love the LORD your God with all your heart and with all your soul and with all your strength. These commandments that I give you today are to be on your hearts. Impress them on your children. Talk about them when you sit at home and when you walk along the road, when you lie down and when you get up" (Deuteronomy 6:5-7). We must love the Lord fully with everything in us as parents. Then His word and His ways need to be on our hearts – genuinely understand and embraced. Then, you intentionally, passionately and consistently teach them to your children. Choose your words wisely.
We are to use teachable moments all day as they arise. We should include God's perspective on things in a wise, winsome and perspective-giving way, not in a top-down, guilt-ridden, demanding way.
Remember: truth is transferred best through relationship; the greater the relationship, the greater the influence. And your life is the platform for your words. Your tone is the microphone that your words are delivered through. Then be sure that your message matches what God would want for your kids.
Frankly, I love the truth contained for parents in 2 Timothy 2:2. As parents, we teach our kids (2nd generation) in a reliable way so that they will teach their kids (3rd generation) how to pass the faith on (4th generation implied). Here's my paraphrase in context of the family, "And the things you heard me say in the presence of the rest of the family, entrust to your family in a reliable way so that they will be qualified in turn to teach the next generation…and so on and so on and so on…" Be sure to pick the right times to share these truths. They will go deeper and last longer.
At one point in my parenting, when my oldest was just hitting Junior High, I really felt led to try to simplify our faith as a family down to a very short, but Biblically accurate, statement. Once determined, it become the anchoring mantra of our family. You discuss and decide what yours would be, here's ours: Put God First Life Goes Best! Talk about it. Refer to it. Put it on your walls. Pray it into their lives. I've even put it on our building where the Doing Family Right office is.
Where does that leave you? How authentic is the climate of your marriage? Are you authentic with faith, authentic with your friendships, and authentic with your forgiveness?
How intentional is the environment of your family? Are you intentionally loving the people in your world, intentionally modeling the difference Jesus is to make and intentionally teaching His truth on life in a warm and winsome way? What do you need to do as a couple to have an Unbroken Line Of Faith until the day that Jesus returns?
I would love to hear from you on ways that you are finding effective in passing your faith on in your family. Contact me through the DoingFamilyRight.com website. And yes, I thank Paul Henderson with this Godly push in my life.