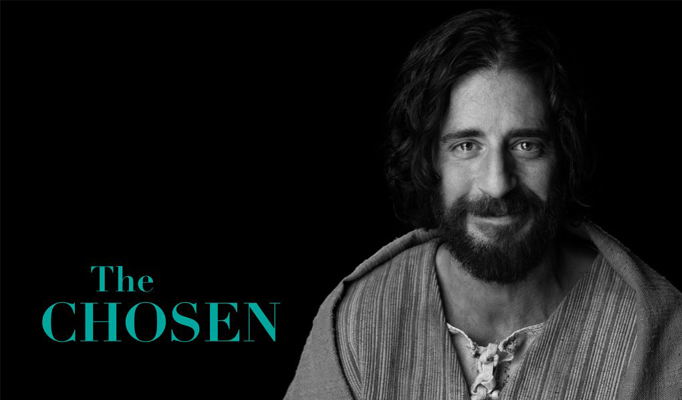 Arts news: February 19, 2021: The Chosen available on TBN, first-ever multi-season look at the life of Christ starts TV run;  Christian music artist Carman dies after health crisis; Veggietales® co-creator Mike Nawrocki announces kick-starter campaign to help bringThe Dead Sea Squirrelsto life; Cornelius Muller Productions releases its new film, Sacred Hearts, exclusively on Pure Flix
The Chosen available on TBN, first-ever multi-season look at the life of Christ starts TV run
TBN secured the rights to the first season of The Chosen, a crowdfunded TV series which garnered massive audience support with more than 16,000 people investing over $10 million into the project. The eight-episode season, created, directed and co-written by filmmaker Dallas Jenkins, aired for the first time on television on the network on February 8 and will continue every Monday night for eight weeks. Previous episodes will continue to be available.

Additionally, TBN is also airing an original teaching series, The Chosen Unveiled with Rabbi Jason Sobel to serve as a companion program that unpacks the theology behind the critically acclaimed show, The Chosen.

"We are thrilled to bring this television series to TBN and allow our viewers to experience Jesus in a way that has never been done before," said Matt Crouch, chairman of TBN.

The Chosen is the first-ever multi-season series based on the true stories of the Gospels of Jesus Christ and allows viewers to see Jesus through the eyes of those who knew Him. The eight-episode first season tells the stories of characters in the Gospels who encountered Jesus and were changed forever.

As of August 2020, "The Chosen" has been viewed nearly 50 million times in 180 countries and is currently being translated to 70 languages. Season one has earned two Movieguide Award nominations and has a 100 percent score on Rotten Tomatoes from eight reviews and 99 percent from audiences.

Monday Primetime Lineup:8:00 pm ET: Praise
9:00 pm ET: The Chosen Unveiled
9:30 pm ET: The Chosen
10:30 pm ET: The Chosen Unveiled (re-air)
11:00 pm ET: Praise (re-air)

For more information and promotional trailer visit: https://e.tbn.org/thechosen

About Trinity Broadcasting Network:Trinity Broadcasting Network is the world's largest and most watched faith-and-family broadcaster, reaching over 175 nations across the earth with inspirational and entertaining programming 24 hours a day in 14 languages and on 32 global networks. As the world's most influential non-profit religious broadcaster, TBN has led the way in expanding the impact of faith-based television across the earth through the creation of innovative content designed to reach every viewer demographic with the life-changing message of hope and grace. To find out more about the TBN Networks, visit us at tbn.org.
Christian music artist Carman dies after health crisis
Trailblazing Christian music artist Carman Licciardello, known to fans simply as Carman, has died.
An update on his Facebook page says he passed away Tuesday at a Las Vegas, Nevada hospital after fighting a series of complications resulting from surgery to repair a hiatal hernia.
Carman, a GMA Gospel Music Hall of Fame member, had turned 65 while in the hospital on Jan. 19
Veggietales® co-creator Mike Nawrocki announces kick-starter campaign to help bring The Dead Sea Squirrels to life
Renowned Disney Animator Tom Bancroft, Legendary Producer / Filmmaker / Recording Artist Steve Taylor Join Nawrocki to Create New Animated Series Based on The Dead Sea Squirrels Early Reader Chapter Books
Mike Nawrocki, VeggieTales® co-creator and voice of Larry the Cucumber, had no idea his next animated adventure would star rodents. However, a few years' time and one amazing idea led to the creation of Nawrocki's newest animated series The Dead Sea Squirrels. And just like squirrels gather resources for winter, Nawrocki and his team are gathering resources to bring this animated series to life by launching a Kickstarter crowdfunding campaign.
By April 1, Nawrocki and his team need to raise at least $1.2 million to fund the production and animation of the first six episodes of The Dead Sea Squirrels, the 13-episode animated series based on Nawrocki's book series of the same name. (See The Dead Sea Squirrels promotional video at https://youtu.be/iljjS7I8qzQ.)
"It's been a long-time dream of mine to bring this series to life," says Nawrocki. "What started as a title based on a 'cheesy' pun has developed into a fun-filled world kids will love while giving parents an entertaining resource to pass on biblical values and life lessons. Plus, with VeggieTales, 3-2-1 Penguins, and now The Dead Sea Squirrels, I hope to cement my legacy as the 'cheesy' pun title guy!"
In order to help reach the $1.2 million fundraising goal, donors to the Kickstarter campaign receive various rewards for donating, ranging from a sneak peek of the first full animated episode to the donor being "immortalized" as an animated character in one of the episodes. Anyone who would like to join the effort to bring these squirrels to life in homes everywhere is encouraged to visit the Kickstarter page to donate or go to www.deadseasquirrels.com for more information.
The Dead Sea Squirrels tells the story of Merle and Pearl, two 1st century squirrels from Israel who've been preserved in sea salt in a cave alongside the Dead Sea. When 10-year-old Michael discovers them 2000 years later and sneaks them home in his backpack, hijinks ensue after this salty couple reanimates and takes their new friend on adventures full of action, humour, music and character-building lessons.
To make this dream a reality, Nawrocki gathered an outstanding team of industry professionals with whom he teaches at Lipscomb University, including renowned Disney animator Tom Bancroft (Mulan, The Lion King, Beauty and the Beast) and legendary producer / filmmaker / recording artist Steve Taylor,with whom he co-wrote The Dead Sea Squirrels theme song. They are even employing some of animation's newest and brightest stars – their students at Lipscomb, who have been hired to help animate the series in coordination with New Zealand's Mukpuddy Animation Studios.
For all the latest news and information on The Dead Sea Squirrels go to www.deadseasquirrels.com, Facebook, Twitter, Instagram and YouTube.
Cornelius Muller Productions releases its new film, Sacred Hearts, exclusively on Pure Flix
Cornelius Muller Productions announced the release of its latest Christian film, Sacred Hearts, a tale of two families navigating through the trials of family and relationships. In this movie two families are introduced, and the audience can follow them through their journey of love, faith, struggles, differences and hard decisions. Starring Vanelle as Leigh Davis, Cornelius Muller as Marvin Davis, Joseph Gray as Brook Hamilton, and Directed by Burgess Jenkins, Sacred Heartsultimately showcases what it means to grow in love, spiritual faith and life making it the perfect film to indulge in this month of love and Black History where everyone is celebrating growth and uniqueness. Sacred Hearts can be streamed on the streaming service Pure Flix. 
 
Cornelius Muller is the co-writer and co-director of this film, as well as an actor. Cornelius Muller Productions is a North Carolina based film company creating Christian films that inspire and entertain. It was important for Cornelius to showcase Sacred Hearts in time for Black History Month, showcasing its diverse cast and storylines. Spreading a great message and showing other young, Black and Christian film creators that it is possible and there is an end goal worth reaching is what Cornelius Muller Productions is about.