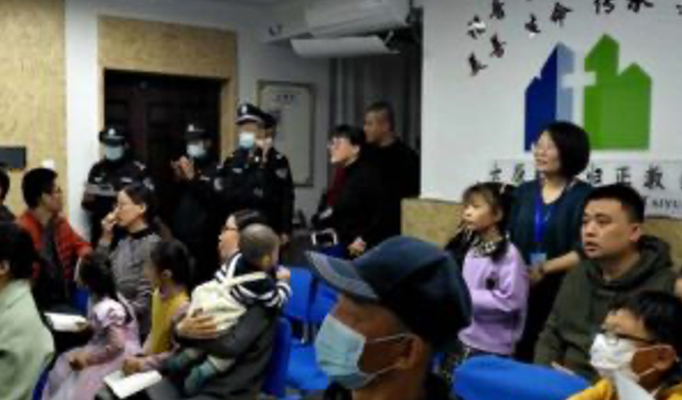 Local Chinese authorities raided a house church in Taiyuan, in Shanxi province, during its Sunday service on Nov.15, before detaining the preacher and six other members.
According to International Christian Concern (ICC) www.persecution.org, at around 9:20 am, a team of officials hailing from the public security bureau, ethnic and religious affairs bureau, ministry of civil affairs, and local police station, raided Xuncheng Church as the service was underway. The public security commander went straight to the pulpit and confiscated the cell phone of the presider, before demanding that brother Zhang Chenghao go with them.
Next, the commander requested that the preacher, An Yankui, engage with them, to which An responded, "We are in the middle of our worship; please wait until our service is over." The task force complied.
After the service, the commander and the staff from the ethnic and religious affairs bureau questioned An's qualifications as a preacher. They wondered whether his credentials were approved by the state and whether their gathering was registered with the government.
Unsatisfied by his answers, the task force demanded to take An away. In turn, the churchgoers asked for proper legal documents for their actions, to which the team only showed a disbandment notice from the religious affairs bureau instead of an arrest warrant. They also failed to show a summons letter and claimed that they were doing so verbally.
Regardless of the flawed legal procedure, the authorities still posted the disbandment notice on the house church's door, prevented people from recording the incident, and confiscated the members' cell phones. They also recorded everyone's personal information and confiscated Bibles, hymnals, and choir robes.
Around 1 pm, along with their preacher and his wife, five other Christians were brought to the Pingyang Road Police Station for interrogation. The police tried to mislead them into disclosing unfavorable information about their church. They were asked to provide the passwords to their cell phones. In response to their resistance, the detained Christians were handcuffed and transported to another police facility. In the process, sister Zhang Xiao-ai, who was keeping watch at the entrance, was also taken away.
At 3 pm, the Christians were asked to change into prison uniforms. They were then handcuffed in a detention room. It was not until 6 pm that they were able to change back into their clothes and asked to each provide a statement. These believers were only released around 9:30 pm.
According to China Aid, Xuncheng Church was planted by Early Rain Covenant Church (ERCC) in Chengdu. Preacher An Yankui graduated from the seminary founded by ERCC and is under the influence of reformed theology and ERCC Pastor Wang Yi, who has been imprisoned since December 2018.
Gina Goh, ICC's Regional Manager for Southeast Asia, said, "In this day and age, where any religion in China has to submit itself to the control of the Chinese Communist Party (CCP) and President Xi Jinping, it is no longer a surprise that a house church is seen as an enemy of the state and clamped down upon. China's blindness to its violation of religious freedom needs to be continuously exposed so that Beijing knows it cannot get away with performing these evil acts."