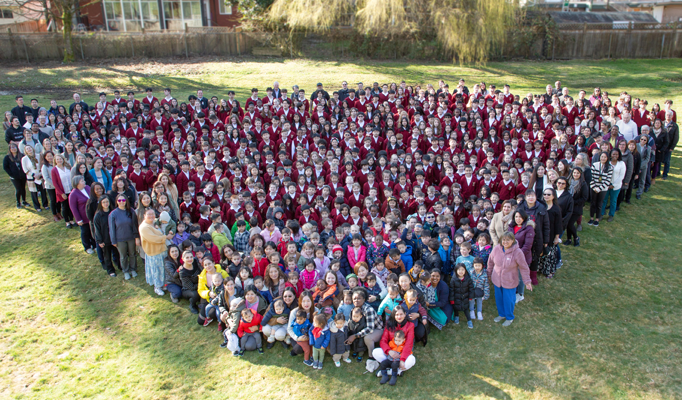 "What? We're here already?" said no child to any parent. Ever. Family road trips are all about the end-goal aren't they? Nobody loves the "getting there" part of a vacation though it must be endured in order to realize the anticipated delights of the final destination.
A typical family road trip always starts with frantic last-minute packing and loading, arguments over how much one family member is taking and heated protestations over who had been responsible for packing the critical item that was discovered, too late, NOT packed. There are twists and turns on every trip, delays and detours, mundane stretches of road, slow-moving vehicles, even unexpected natural events like a catastrophic nose-bleed in the back seat or a sudden bout of flu which interrupts a smooth and speedy arrival. However, one could argue that the journey, with all its surprises, is what makes the eventual end-reward so much more prized and the whole process, a great adventure.
The keen reader would not be wrong in noticing similarities between a classic family road trip and the 30-year adventure of becoming a mature and flourishing educational institute. At BC Christian Academy, an independent K-12 school community nestled beside Hyde Creek Forest in the heart of Port Coquitlam, getting to the 30-year mark certainly shares similarities to the proverbial "family road trip."
The founders of BC Christian Academy never imagined at its opening in 1992 that the School would operate without a place to call home for 28 years, "packing up the tents" and moving every few years when the lease could not be renewed or when growth demanded extra space be found. This 28-year "wandering" through Burnaby, Coquitlam and Port Coquitlam seemed like a detour but it has built a healthy spirit of dependence on God and of flexibility among the BCCA staff, students and families. Impermanence serves as an earthly reminder that this world is a temporary stop – the desire for security should not come from owning property, but from the Lord Himself. For it is written, "And my God will meet all your needs according to the riches of His glory in Christ Jesus." (Philippians 4:19)
One of these necessary moves involved a lengthy delay in securing the next new home for the school. Negotiations with the School District for permission to take up residence in one of their mothballed schools stretched long into the year, 3 months past re-registration date, causing many families to peel off to different schools in search of a guaranteed continuous program for their children.
Finally securing the old Lincoln Elementary School for BCCA's next home, mere weeks before the end of the school year, enrollment had plummeted by 18%, budgets were slashed and salaries reduced – these being some of the drastic but necessary measures taken by the Board as it steered the School ahead to become an established and trusted, Christ-honouring educational institution in the Tri-Cities. Within 3 years enrolment had further dropped to 186 students. Rebuilding the student body from this new low would take many years of prayer and hard work and feel like a significant U-turn in the journey.
Meanwhile, it became clear during the season of rebuilding enrollment that the old Lincoln Elementary School held all the promise of a potential new permanent site for the School and while the road to purchasing the unwanted site from School District 43 was riddled with potholes and washouts, God used this time to humble the community, teach the necessity of fervent, intercessory prayer and prepare the roadbed for God to make a move.
Which indeed He did.
During a pandemic when businesses were shuttered, fear had gripped the nation, schools were closed and hope had parked at a rest stop, the School's Board Chair admonished the community to "Continue steadfastly in prayer, being watchful in it with thanksgiving." (Colossians 4:2).
While kneeling in prayer before the Lord, the impossible happened. BCCA's 3rd attempt to purchase the Fernwood property garnered the approval of the School District Trustees. In June 2020, the beautiful 9 acre property and 50 year-old building they had leased for 12 years, became the permanent home of BC Christian Academy.
Immediately plans were drawn up for a new facility that would be able to house the nearly 600 students who are currently spread across three campuses. This spring as the School celebrates 30 years, obstacles and set-backs continue to slow down development plans. However, rather than clambering for the trip to be over, BCCA is learning that continual prayer has become a powerful force and a necessary posture along the way, with every answered prayer building the School's community in endurance, in character and in hope (Romans 5:3).
Thankfully, God has built in a rearview mirror that allows the School to look back and see His faithfulness along the entire journey as a powerful reminder and encouragement that the adventure of "arriving at the destination" is firmly in God's hands and will unfold according to His perfect will and timing.
By Beth Peters, BCCA Elementary Principal