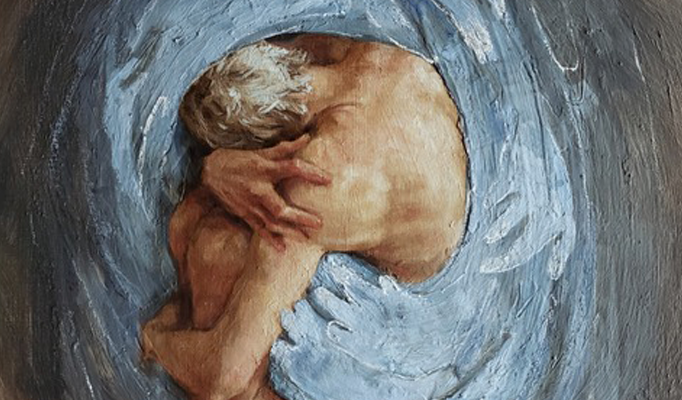 "Beauty will save the world" – Fyodor Dostoyevsky
Beautiful wounds
Beauty, art and justice. When the world considers beauty, rarely do wounds enter the picture. Christians, however, consider the wounds of Christ to be beautiful; they make us painfully aware of our need for healing. We ache with joy and gratitude when we consider the beauty of Christ's wounds on our behalf. The stripes on His back, the holes in His hands and feet and the wound of the spear in His side were the result of a gross injustice. Not only was Jesus innocent; everywhere He went, Jesus dispensed compassion, healing, wisdom and love. He prayed forgiveness for His tormentors. His love and compassion and the reason He submitted to the cross, made His wounds beautiful. They were for the healing of the nations.
What about our wounds? Can they be considered beautiful? Pain, if we choose to identify and face it, makes us vulnerable. In time, we are opened up. We notice others walking a similar journey; we learn empathy and compassion. We recognize the pain shards in others, hoping to be a polishing agent for the edges to become eventually smoother and less excruciating.
The job of artists
Two "useless" (as opposed to utilitarian) things that artists do, according to Andy Crouch, (For the Beauty of the Church – David O. Taylor) are:
1. Play – it is the job of an artist to play. Certainly there is work to it – to learn and practice the skills. But all artists play – with words, with paint, with clay, with ideas.
When we watch kids at play, we're often distracted by the thought that one day they'll grow up and lose their innocence about the world. They'll inevitably suffer pain, sorrow and grief. And that's when they'll stop playing, because life is too serious to play. Unless we believe that culture (what we make of the world) is a gift that can be taken, broken, blessed and given (as Jesus broke bread and blessed it), we will likely look at adults who spend their lives playing, and wonder, with Crouch, "How can you play in a world like this world? It is almost an offense – unless, in spite of the grave condition of our world, our world is still a place of grace."
2. The other "useless" thing artists do, according to Crouch, is to enter, and to put us in touch with pain. "There is a kind of art that is too easy, too willing to let us off the hook, too comforting and too culpably ignorant of what exactly grace cost," declares Crouch.
Play and pain must go together. Putting our head down resolutely in play can become a way of avoiding or escaping the pain in the world instead of confronting it, and confronting the cost of grace. (Grace received is free, but always costs the giver). On the other hand, pain without hope becomes depressing and nurses fear, despair and fatalism. Play generates the hope.
The cross is both an ugly (painful) symbol and a beautiful (hopeful) one. In order for wholeness to take place, pain needs to be confronted. Healed wounds are beautiful, pointing to grace and redemption. Who are the people willing to confront both pain and beauty? Who will take broken people and see them as beautiful – those who the rest of the world leaves on the sidelines because they are not useful? Who will dare embrace these image-bearers of God? "If not the church, then who?" asks Crouch.
Connecting Beauty, Art and Justice
Beauty makes life more vivid – it pulls us out of ourselves and towards the object of beauty. An unexpected byproduct of pain is clarity of beauty previously unnoticed – small details that provide us with an inexplicable hope. Can art depict brokenness as something hopeful, true and therefore beautiful?
Beauty and the recreation of it through art, can, like everything else in this world, generate joy or abuse. Take as an example, the beauty of the human body. We live in a culture saturated by the ideals of what constitutes beauty, especially the modern idea of beauty often revolving around the female form – mostly Caucasian, although certainly any culture. A sculpture, a painting, the graceful movement of dance – all these forms of art celebrate the beauty of God's image-bearers. In contrast, the abuse of the body comes in the oppression of it. (i.e. when humans are used as nothing more than a commodity in places of advertising, trafficking, or slavery – that is, forced labour, not fairly compensated). Models, actors, athletes, and dancers – these are a few professions that often depend on a certain body type. Desperation for success can lead to abuse of the body. Our societal acceptance of this kind of perception of beauty – the thin, lythe female or the muscular, testosterone-fed male form, feeds a kind of physical abuse where dangerous practices (including aesthetic surgery) become culturally acceptable.
Self-absorption – as opposed to a healthy love of self – is a result of our basic desire to be our own god. No different to Adam and Eve, we want to be independent about our choices. This is a foundational element of our sinful nature that inflicts wounds on ourselves and on others. Our selfishness spills over into creation care, political arenas, economics, and education – every realm of life. We too are building our towers of Babel – considering the possibilities of what we can do – make a name for ourselves, … we, ourselves. This leads to injustice and oppression – not loving our neighbour or even ourselves, as we ought.
Art in its different forms can be used to inspire, to teach, to bring a moment of beauty that hits home. It has the power to pull us out of our self-absorption. When we see God's truth and beauty, the Spirit draws us to the 'other'. So, too, when we view art that depicts beautiful wounds or brokenness, we are pulled out of ourselves – drawn to the hope of redemption.
Wabi-sabi
Japanese culture includes an appreciation for imperfection – an asymmetrical bowl, the patina on a rusty metal wall, moss on a log. Wabi-sabi appreciates the imperfect, impermanent and incomplete components of an object. When a vase is cracked, the crack is repaired with gold. The Japanese believe that an object with a past, that has suffered damage, becomes more beautiful. When a pot breaks, rather than gluing it back together into its former shape, the shards are sometimes used to create something entirely new and different (a mosaic tray, perhaps). The broken vessel is redeemed, becoming an object of renewed beauty.
Art, justice and beauty connect on a communal level. Mary's song speaks of the lowly being "lifted up", the humble "exalted". This inversion of place is counter-cultural in societies where the lowly are bullied and the humble mocked. We are called to "do justice, love mercy and walk humbly with our God," an invitation that invokes wholeness and beauty for the good, our world and everything in it.
"If you want justice, work for beauty. Justice is the work of making all things beautiful for all of us, restoring beauty to everything that is neither good nor true." Cecilia Gonzalez-Andrieu