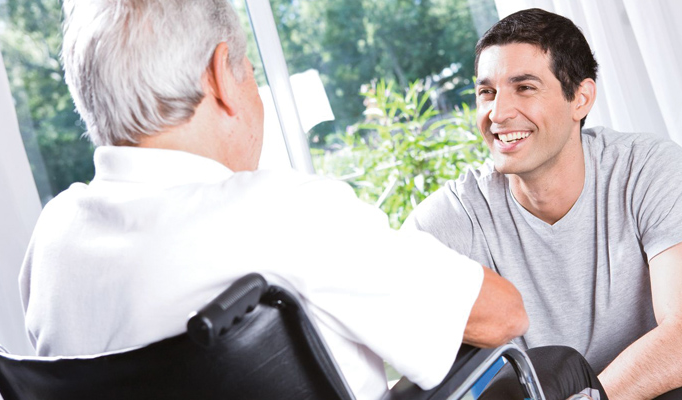 How many sermons have you heard in your lifetime? Do you remember many of them? I take notes each Sunday to help me process the content of the sermon. I write application notes to help me apply the sermon to my life and I try to talk about it after the church service. Even with all this processing work, there are only a few sermons in my life that stand out.
I don't know the answer to why certain sermons have been "stand outs", but I want to share one of them with you this Father's Day. It was difficult for me to get to church when my children were young as I was often alone on Sundays and I had four children, five years apart in age. It was just physically tough to get everyone dressed and get into the church. Most of my Sundays were spent in the nursery. I don't remember a lot about the worship services in those days.
On this particular Sunday, I had nearly given up getting into the church while we were still in the van in the parking lot. My husband was out of town and the task of getting the kids into the church was daunting. I gave myself a pep-talk and pulled all my energy together to get into the building. We were late. It took a long time to get each child into their respective classes and I sat down exhausted in the sanctuary just as the sermon began.
That Sunday, our pastor preached on blessing others. He told about how he was reading the various blessings in the Bible and was moved by the Holy Spirit to begin blessing others more intentionally and more consistently.
In the Old Testament, it was customary for an aging father to bring his children around him and give them his blessing. Our pastor began doing this with his own children. It was then that the Holy Spirit invited him to give a blessing to his own father. I did not know much about our pastor's growing-up years so his story of the abuse and neglect came as a surprise.
He told of the emotional day when he laid down the pain of his childhood and chose to bless his dad. It came when his father was given word that his life was coming to an end. The blessing he gave his father was full of love and reconciliation. It did not dismiss the pain of his childhood but focused on the areas where his father had given him what he could – wood working skills, appreciation for the outdoors, humour. He wrote his blessing, printed it and framed it. He read it aloud to his father in the last days of his father's life and mounted it to the wall at the side of his hospice bed. The blessing gave him a new level of joy and healing that was unexpected and unsolicited.
Why did this sermon stand out for me? It was the intersection of God's word which teaches us to bless others and the powerful way in which my pastor lived this out. It was the Holy Spirit opening my heart and mind to the way God blesses us. It was the powerful way that my pastor imitated Christ in his forgiveness and reconciliation toward his father. He didn't dismiss the pain and reality of his father's actions. Instead, he gave the gift of unconditional love and acceptance through the spoken word of blessing to his dad.
In Gary Smalley's book, The Blessing, we read that there are five ways that we can bless others:
We can touch in ways that convey concern, affection and encouragement (hugs, hold hands, rub back). We can speak words of admiration, gratitude, and appreciation. We can be deliberate in expressing how much we value a person – with them and to those around us. We can speak of a hope and a future for someone we love and we can share a continued commitment to the one whom we are blessing.
For children who are seeking to bless their parents in their elderly years, this may mean writing a blessing and sharing it with your mother or father. It may mean telling stories about your parent to your children and friends in a way that shows how much you admire and appreciate them. It may mean that you talk about their future, including how you'll be there for them if or when they need additional supports.
And so, as you think about your father, your children or others whose lives are linked to yours, consider the meaningful gift that is yours to give – the gift of a blessing. If your father is living, use The Blessing as a guide for your thoughts of admiration and gratitude. It may be that this initiative takes you into some hard memories and forgiveness might be the first step in the path toward blessing your father. If your father is no longer living, you may still want to do this exercise even if you can no longer share it with him in person. This Father's Day, consider giving the gift of blessing your father.