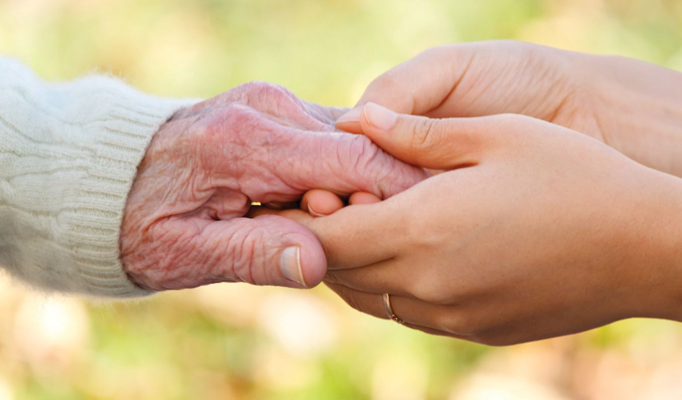 Editor's note: Each month, for many years now with amazing loyalty, Sharon Simpson posts an article to give our seniors hope and encouragement. At times, her articles have brought me to tears, at other times they have drawn laughter, often I am left pondering some important spiritual truth. This month, she is unable to send us such an article because she is busy caring for seniors amid the COVID crisis, and instead gave us permission to repost her recent Facebook post. She is working long days to keep seniors safe and cared for.  If you would like Sharon to know you are praying for her, please send me a note to editor@lightmagazine.ca.
From Sharon Simpson – Facebook post
Thank you to all who have asked how I am doing at work – if you don't know, I work at the largest campus of care for seniors in British Columbia, 700 seniors. My job includes communications and overseeing the community enrichment and nursing care for the Apartments (350 seniors).
First off, thank you for praying – please continue. Pray for wisdom, strength and endurance for myself and our staff. Some days have been better than others for me. It is a bit of a roller coaster, as can be expected, as we try to figure out what needs to be done and what needs to be communicated. I am constantly in gratitude for the people around me who work with amazing competency and a heart that is all-in for our seniors.
These last few weeks have involved a lot of decisions on the turn of a dime. This can be chaotic for people who are trying to follow directions and especially for seniors who may not understand what is changing, or why.
When we went on lockdown last week, it was a relief for the protection of our seniors and our staff – and families. It was a relief for me. It has been hard on the families and we are seeing how very much love there is between families and the seniors.
This has been very emotional for me. The idea to deliver messages to our seniors came to me one evening and we launched that online on Thursday. In the past 36 hours, we have 131 messages from families to their loved ones. We are printing these out and delivering them, along with attached photos. This has brought about a lot of tears from residents who are not connected on the internet. They know they are loved.
It sparked within our Menno Place families the desire to pass along messages to those who aren't getting any. That will be a real ministry and blessing as well once I get that up and running. And we have people who want to help and seniors who need help. We will have to work out a system to match these people together. That is next week's work, along with helping seniors learn technology so that they aren't so alone.
We can livestream onto all televisions across our campus, so that programming is something for us to figure out so that we can bring encouragement and entertainment and updates and spiritual support into the apartments of our seniors.
So, it goes like that… much to do and much to decide. At the end of each day, I think about my own family and the people I love and pray God's protection on you all. I worry about Bennett in Calgary. Hard to be so far away. I am grateful for Gary Simpson who is a source of spiritual strength and plays Beatles songs on the piano to entertain us both. I phone my mom on my drive home (she's awesome) and pray for the BCMB church where I provide leadership as Moderator for BC.
I'm a person of faith – if you know me, you know that. My life is a calling. I've always lived that way, even when times have been very difficult for me. God has been a source of strength even when I don't understand how He operates in this world, He gives me peace. I am emboldened by God's Spirit to do not only what is required, but what God prompts me to do for others. This doesn't change in a pandemic. I am prepared to serve others and to care not only for the body, but for the spirit. I pray that I will be able to do this well during the stressful times that are upon us and the ones to come.
Thank you for caring and for asking about me. I am blessed to have you as friends – and you are a blessing to me. I think we'll find that out more and more in the days to come.