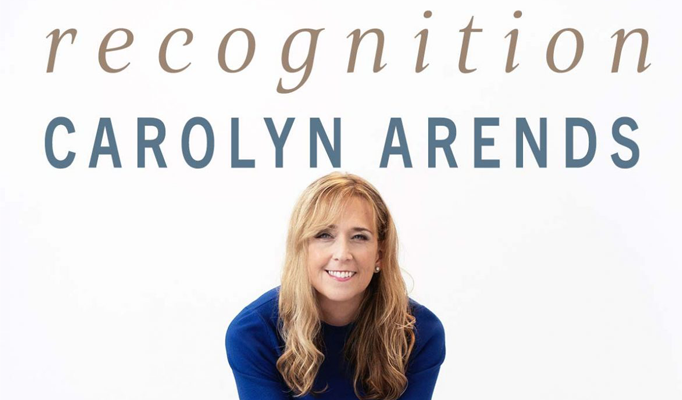 The story of how Carolyn Arends came to write and record her first new full-length studio album in six years is one worth taking time to hear before experiencing the 12 songs found on Recognition.
It started last March. Arends was giving her acceptance speech during the online Gospel Music Association Canada Awards. Her song "Seize the Day" was being inducted into the Song Hall of Fame. As she reflected on the words she was sharing to encourage songwriters across Canada, a desire to write was being born within her.
In the weeks that followed a wealth of new songs were birthed and a highly successful Kickstarter fund-raising campaign paved the way for her to start recording, not only Recognition, but also a companion acoustic worship album titled In The Morning, with seven new recordings. The poignant song writing found here draws from her life experiences as artist, mother, wife, daughter, author, speaker and teacher, with results that leave the listener not only with a lingering melody but a thoughtful muse. Highlights found here include the first single "Hard to Be Human" featuring backing harmonies from The McCrary Sisters (with engaging artistic animated music video https://youtu.be/9VE0TTVAR_A ) Next is a duet with Amy Grant on "Without Music" that features the lyric so many of us can relate to as we navigate this pandemic "So I guess this is my song for all the ones / Who keep singing as the world comes undone / Like a broken hallelujah, their melodies soar / And the world's not quite as hopeless anymore." Then come the soul-wrenching melancholy songs "Pool of Tears" and "The Cry for You". Things perk up on "God's Speed" with simmering groove and backing horns Arends sings "We've got to slow down to catch up / Grow young to grow up / No more chasing the wind / Let the Spirit lead / Till we slow down to God's speed / May we slow down to God's speed."
On her companion release, In the Morning she offers seven reflective songs of worship, including staples like "Holy, Holy, Holy" and "All Hail The Power of Jesus Name" (featuring Ali Matthews" along with "Psalm 5" a duet with Steve Bell. Both projects feature stunning performances as Spencer Capier adds violins, a suite of mandolins, bouzouki, electric guitar, and backing vocals to Arends' acoustic guitars and piano. Anyone who has seen Arends and Capier perform together know to expect the kind of musical interplay that can only come from a decades-long collaboration.
Roy Salmond not only recorded and co-produced both records but also contributes accordion, pump organ, & guitars, while acoustic bassist Miles Hill (Van Morrison, Eric Clapton) and drummer, Randall Stoll (k.d. Lang, Tom Cochrane) keep things grooving.
The album's artwork includes a beautiful interpretation of the lyrics to "Almost Didn't Recognize You", painted by Brian Buhler.
"One of the themes of the album is that there's much to be seen if we'll only take a long, loving look," reveals Arends. And, evidently, much to be heard if we'll listen. While singles from Recognition will be released to digital music platforms one by one throughout the year, you can get the entire project (CD or digital) here now ~ it's a great way to get an early scoop on the music and support Carolyn's artistry at the same time.