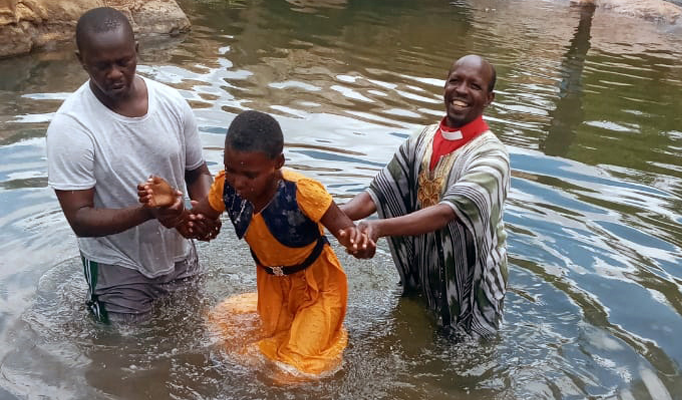 Even in the 21st century, some tribes in Kenya have not been reached yet with the Gospel. Cornerstone Evangelistic Ministries (CEM) is focused on having a successful outreach – no matter what obstacles are in the way.
"Today in Kenya there still exist 25 tribes that have not been reached with the Gospel of Jesus Christ. Our vision is to take the word of the living God to these unreached tribes," declares Timothy Kinyua, leader of CEM. "So many missionaries to Kenya want to stay in comfortable areas. They tend to live where the security is good, where there are facilities, good schools, clean water. We go to the difficult areas because we realize these people are perishing without Christ. It's amazing, we meet people who have never heard about Jesus or even a church."
Working in 13 of Kenya's arid northern and northeastern counties, the native mission group has planted more than 1,300 churches among semi-nomadic tribes, such as the Samburu and Turkana. "We have to go step by step, because most of them believe in traditional animistic religions, and they do sacrifices," Kinyua reports.
John Kirema, Timothy's father, served as a policeman with the Kenyan government for five years. While working in the streets of Nairobi, he picked up a Gospel tract that God used to change his life. He resigned and enrolled in Bible school. In 1976 he began Cornerstone Evangelistic Ministries, an indigenous evangelical Christian organization involved in church-planting, literature production and distribution, crusades, youth training, Bible correspondence courses, and feeding and clothing of needy people.
Since Kirema's passing in 1999, his son Rev. Timothy Kinyua has led CEM. More than 80 full-time Gospel workers and more than 300 part-time helpers work with CEM, reports Kinyua. "We also have 120 destitute children and 11 families who look to us for support."
CEM has a strong commitment to local churches as the instrument for Christian growth and outreach. Missionaries help churches get involved in missions within their own areas. Kinyua and his co-workers equip local pastors and laypeople with training and materials.
With help from Intercede International, CEM has been able to provide food to starving nomadic families and refugees from Ethiopia and Somalia who are now living in Kenya. Children provided for by the CEM sponsorship program are now able to grow up with both physical and spiritual nourishment.
Outreach to nomadic tribes
The Samburu and Turkana are nomadic tribes living in northern Kenya. Despite government efforts to assist them, most continue to live in poverty – isolated and uneducated. Chronic drought has affected their cattle trade and made them victims of hunger.
CEM is reaching these tribes through a feeding program assisted by gifts from Intercede. This enables the nomads to stay in one place to establish small communities and opens opportunities to share the Gospel. The converts are now evangelizing the rest of their family groups and other tribes.
Some tribal groups in Kenya have yet to hear the Gospel even once. Most of the rural natives of Kenya remain predominantly animistic and nomadic. Besides the Turkanas and Samburu, CEM also works among the Meru, Borana and Kikuyu tribes and extends its ministry to Muslim Somalis. These are among the poorest tribal groups in Kenya.
During one summer outreach, an astonishing 8,000 tribal people responded to the Gospel through house-to-house evangelism, open-air meetings, and showing of Christian films.
Ministry to youth and women
Many children in remote areas have no access to food, clothes or schools. CEM has been supporting about 70 children with necessities and school fees. They have identified many more children who desperately need support. Several have lost their parents through clan/tribal wars that dominate some parts of Kenya. The goal is to allow these children to realize their dreams by providing school fees, uniforms, books and above all, spiritual nourishment.
CEM offers lessons on discipleship and how to win more souls for Christ. CEM also hosts camps that equip young people with spiritual knowledge for tackling earthly tribulations, including cults, devil worship, economic destitution and HIV/AIDS – which is an epidemic among some youth.
"We praise God for our successful outreaches to women in different locations in Kenya," Kinyua declares. "We have seen the hand of God saving women. We have established 16 prayer groups of women and commissioned them to reach other women in their respective villages. Do you know that here in Africa the majority in our churches are women? They are good missionaries."
Ministry to the deaf
One of most unreached people groups in Africa is the deaf because there is a stigma attached to being deaf. People shun deaf people. Rev. Kinyua's wife, Yvonne, who works at a deaf school, has brought deaf children together in various villages and set up programs for them to learn about Christ.
Facing challenges
"Our family members are well during this difficult time in which we are facing the COVID-19 pandemic," reports Kinyua. "Here in Kenya we had locusts and experienced floods. All these calamities caused a big setback in our economy. Many families are in great need of food and other essentials.
"God has been so faithful because when we see the next day we say, 'Hallelujah!'
The number of victims of the Coronavirus here in Kenya has been on the rise each day and it's shocking. The closure of churches and a ban of all forms of gatherings has had a great negative impact on our mission and on pastors and Christians. But we are thankful that most of our pastors in remote areas have been visiting people in the villages, telling them the Good News of Christ, and sensitizing them on ways to stay safe from the virus.
"We thank God that many are being converted to Christ," writes Kinyua, "also, we have been able to provide face masks and soap to many families as ways of helping them stay safe. During the closure of churches 243 souls had been saved. During that period, we built six new churches and drilled five new wells. The water is helping thousands of families to keep hygiene as the requirement.
"The COVID-19 virus now has spread to every part of the country and many people have been affected. The doctors from public hospitals went on strike due to poor conditions in public hospitals. Many doctors lost their lives in the past couple of months. The general public, who depend on those public facilities, are badly affected at the moment. We need much prayer.
"The other thing that has affected us is that many our team members have lost their dear ones to COVID-19 and other sicknesses due to the recent doctors' strike," explains Kinyua. "Since we began this year, every week we have been burying at least two people. Please pray for our encouragement because if one of us is affected we are all affected. Pray for God to stop the premature deaths."
To face such challenges, Kinyua and his fellow missionaries turn to the Lord in prayer. "On February 19 we did a very successful prayer walk of 20 km around the place where I was born" he reports. "We were praying for various issues and the work of Lord throughout the world. We did witness to the people we encountered on the way, and we praise God that 81 souls were saved. We partnered with pastors and Christians from different churches in the area. Many churches in our regions have lost their church members since the time of lockdown and we shall be doing such walks again to reclaim our churches to the Glory of God."
Tribal tensions and conflicts in various parts of Kenya slow down the work of CEM and endanger its missionaries. Some years ago, CEM reported that a group of their missionaries were attacked at Lengusaka by armed bandits. The first vehicle was shot at and the driver's right hand was injured, but he managed to escape. The second vehicle was shot in the tire and the occupants given a thorough beating and robbed of all valuables. Security in northern Kenya and parts of the Rift Valley is getting worse.
CEM missionaries battle diseases such as malaria. They need your prayers.
In the past, CEM missionaries travelled on foot. Today they are using bicycles provided through Intercede. They can cover a much greater area because of them. One missionary was given a bicycle by Intercede several years ago. By the next year, when an Intercede representative visited him, he had planted 15 churches. What a difference one bicycle can make!
"In our mission we have been able to visit, support and encourage our pastors in their respective areas," explains Kinyua. "We thank God that they are not idly sitting as they are doing great work of reaching and doing follow-up."
"I was traveling recently when I noticed a puncture on the rear wheel of the Land Rover," writes Kinyua. "I got the jack out and changed the wheel, proceeding with my journey home. I compared the size of the jack to that of the vehicle. The jack is quite small but is able to lift the vehicle, which is thousands of times heavier than the jack. I analogized the jack and Land Rover to our ministry. Though it may seem very small, the Lord continues to bless us with greater accomplishments for the glory and honour of our Saviour. It is not necessary to be mighty in size. We all can do marvellous things for our Lord with faith alone."
Please keep Cornerstone missionaries in your prayers as they bravely reach out to the spiritually hungry people of Kenya.
Picture: CEM missionary Brother Thomas (right) baptizes a new believer in Samburu, Kenya.
(INS- Intercede International, Fort Erie, ON)