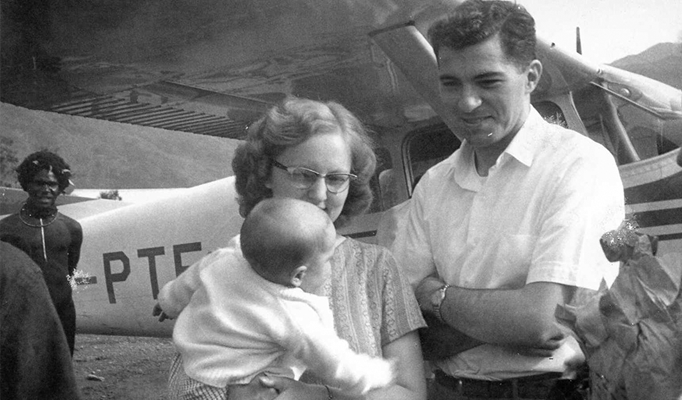 What would you say to God if He personally called you to serve among head-hunting cannibals? Might you be tempted to say like Moses "Who am I? Send someone else."
Don and Carol Richardson said yes to God, and courageously went to the Sawi people in Papua, Indonesia, just north of Australia. The Sawi welcomed Don Richardson because he was a 'white ghost', the first they had met, because white ghosts brought machetes, steel axes, matches, mirrors, and nails. The Richardsons didn't know, however, if they would be welcomed by the Sawi for dinner or become dinner. For the Sawi, the highest ideal was to "fatten a victim with friendship" before taking his head in treachery and feasting on him.
Don was born in 1935 in Charlottetown, PEI. He attended a one-room schoolhouse. No one imagined he would one day become a world statesman for global missions. Don had a deep love for painting pictures which he later used in telling the Sawi story. The oldest of four boys, Don was only 11 when his father tragically died. He gave his life to Christ at a Vancouver Island Youth for Christ rally in 1952. Later, he did missionary training at Prairie Bible Institute in Three Hills, Alberta.
While at PBI, he fell in love with Carol, who became his wife. With the sponsorship of RBMU (now World Team), Don and Carol went in 1962 for 13 years to Netherlands New Guinea (now Papua, Indonesia). The disease-infected tropical swamps where the Sawi people live are inundated annually with twenty-two feet of rain. The Richardson's transformed the Sawi from illiteracy to a high level of literacy. Using their training from the Summer Institute of Linguistics, the Richardsons gave them their first written alphabet, and translated the New Testament into the Sawi language. Carol, being a registered nurse, became known by the Sawi as 'the woman who makes everyone well'. She saved an average of two or three lives a day and delivered hundreds of at-risk babies.
Despite the welcome that the Richardsons received, the Sawi and neighbouring tribes seemed immune to the Gospel message. When the Sawi first heard from Don Richardson about Judas betraying Jesus, they laughed with delight at his deceitfulness. Judas was seen by the Sawi as heroic, because of his ability to even betray God's own son. They had always taught their own children how to lie, steal and be dishonest. If a child was deceitful enough and could trick his parents, they would get a reward.
Conflict between the three tribes kept flaring up. Many times, Don would rush outside calling the warriors to lay down their weapons. Carol would then bandage up many warriors who would have otherwise died of infection.
Violence and bloodshed was the norm among the Sawis, but the Richardson's kept on loving them. Don finally said to the tribes, "I am going to move away because you just want to fight. If we stay here, it is only a matter of time until people are killed, and you will be locked in a blood-feud." The Sawis were desperate to keep the Richardsons around. They said, "We will sacrifice a child for peace." After great wailing, one person Kaiyo gave up his only child Biakadon. Don was appalled, thinking that they were going to cannibalistically butcher the baby. They put their hands on the child and said, "This is the peace child." He did not realize then that the Sawis had an ancient tradition of exchanging babies with a neighbouring tribe. As long as the peace child lived, the two tribes would be at peace with each other. Don began to explain to the Sawi people that the ultimate peace child was in God sending his only child to bring peace to the people. The Sawi people then realized that Judas was actually bad because he killed the peace child. This was the moment when the Sawi people came to receive Jesus as their Lord and Saviour.
Don and Carol came to understand that in every people group, there is a cultural analogy embedded in their culture through which the Gospel can be shared. The role of the missionary is not to impose western culture, but rather to discover where God has already culturally prepared people to hear the good news of Jesus Christ. Don believed that in every culture there is already a seed of the gospel.
The Sawis became people of peace, sharing the good news with many tribes with whom they used to fight. They were sending out their own missionaries to other areas. Don and Carol had not just given them faith, but also protected them against people who sometimes wanted to exploit them. In 1972, the Sawi people built their own church building, the largest circular building in the world made entirely out of un-milled poles.
Don began painting the Sawi people and their neighbouring tribes, looking for similar cultural compasses like the Peace Child that show how God is already at work.
In 1974, Ralph Winters, director of the US Center for World Missions at Fuller Seminary, encouraged Don to write the best-selling book Peace Child. From the book came a movie featuring 1,000 people from the Sawi tribe. Because of the book and movie, the Sawis became one of the best-known tribal people in the world.
Don and Carol became ministers-at-large for World Team from 1977 to 2018, sharing at dozens of mission's conferences and local churches each year. Don was instrumental in launching the widely-received Perspectives on the World Christian movement course in which he taught about looking for the story teller and the person of peace in every new missionary setting. "I urge missionaries to make friends with the story-teller, because he will help you understand traditions of the people, including maybe a flood tradition which will help you explain biblical truth more effectively. Just as in every village there is a story-teller, so there will also be a person of peace. It is very important for the missionary to find out who is the person of peace. You need to ask whenever there is conflict, who do they look to, to arbitrate and bring about a settlement. Make friends with that person. That person will understand the gospel of peace more readily. That person will be a first responder to the Christian message."
Don Richardson spoke at the very first Vancouver Missionsfest conference in 1984. The packed-out conference began by showing the Peace Child movie.
Don died at age 83 from brain cancer in December 2018. Carol Joy had died from cancer in 2004, At Don's funeral, they described him as an Apostle to the Sawi, saying that Don's life is "proof that God can use one willing man to change the world."
Are you willing to also be that peacemaker that God can use to change the world?