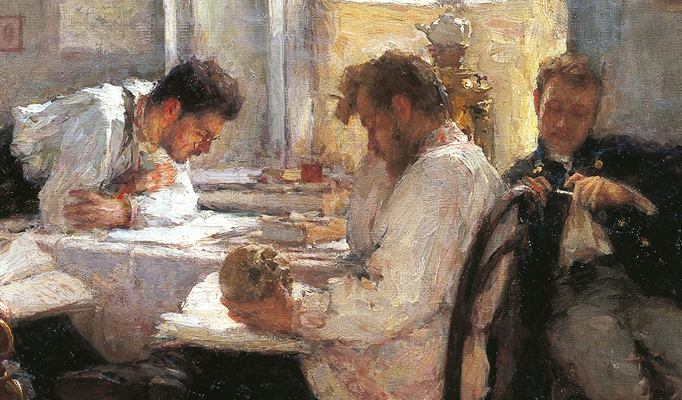 Do you enjoy 'who-done-it' murder mystery stories by Agatha Christie and Arthur Conan Doyle? Then you will love the Russian Christian author, Fyodor Dostoevsky. He was a master at using graphic crime stories to create the most remarkable psychological/philosophical novels ever written. You will be puzzled as you try to figure out which of the four Karamazov brothers killed his father. Is it possible that this book might hold the key to discovering brotherly love between the deeply conflicted Russian and Ukrainian people?
Dr JI Packer held that Dostoyevsky was both the greatest novelist and the greatest Christian storyteller, in particular, of all time. Some Russians hate Dostoevsky, but other Russians love him because he can expose the human soul so deeply. What Beethoven did for music, Dostoevsky did for literature. Reading Dostoevsky may forever change your life. As the Argentinian author Jorge Luis Borges put it, "Like the discovery of love, like the discovery of the sea, the discovery of Dostoevsky makes an important date in one's life."
Malcolm Muggeridge, a former atheist, stated that with Dostoevsky's special insight into humanity's relationship with their Creator, he had a prophetic voice, looking into and illuminating the future: "He was a God-possessed man if ever there was one." Muggeridge commented that: "Dostoevsky's works, far from seeming to belong to a vanished past, grow ever more relevant to the (current) dilemmas and distractions…"
Recently, the well-known Dr. Jordan Peterson has been introducing millions of us to the wisdom of Dostoevsky: "If you are interested in psychology, Dostoevsky is the one for you." Albert Einstein regarded Dostoevsky's book as 'the supreme summit of all literature', saying that he had learned more from Dostoevsky than any other person. Sigmund Freud called Brothers Karamazov 'the most magnificent novel ever written.' Nobel Prize winner William Faulkner was fascinated by this book's exploration of 'the problems of the human heart in conflict with itself.'
Dostoevsky deeply understood the truth of Jeremiah 17:9, of our enigmatic hearts being deceitful and desperately wicked. Few writers have so accurately described the Romans 7 battle between good and evil in every human heart and in every family: "The awful thing is that beauty is mysterious as well as terrible. God and the devil are fighting there, and the battlefield is the heart of man."
His final and greatest novel Brothers Karamazov was published in 1880, shortly before his death at age 59. One might even call Brothers Karamazov his literary last-will & testament. He began writing this novel shortly after his three-year-old son Alyosha died in 1878 from epilepsy, a condition inherited from Dostoevsky himself.
Dostoevsky had profound, Christ-centered insights into the complexity of family systems, and how tortured they can often be. Families at best are very messy. Why do we so often hide from family in our own little rabbit holes? We often suffer in the twenty-first century from rootless, disconnected families, which ultimately harms our intimacy with God himself: "He who has no roots beneath him has no god."
The hero of this intense family psychodrama is the Christ-like son, Alyosha. Unlike his brothers, he was passionate about brotherly love and truth. Some see Alyosha as a blending of Christ and Don Quixote, one of Dostoevsky's favourite books. Jesus is actually the central figure in most of his novels. He held that: "there is nothing more beautiful, more profound, more sympathetic, more reasonable, more courageous, and more perfect than Christ; and there not only isn't, but I tell myself with a jealous love, there cannot be."
All four of the Karamazov sons are psychological orphans, abandoned by their self-absorbed father. Alyosha was blessed to be 'fathered' in a monastery by a godly monk, Father Zosima, who "carried in his heart the secret of renewal for all." Brotherly love is rooted in the love of our Heavenly Father. He taught Alyosha to never lie, as it robs us of both self-respect and brotherly love.
As he died, Zosima unexpectedly commissioned Alyosha to sojourn in the world: "…you will go forth from these (monastic) walls but will live like a monk in the world." Alyosha truly embodied the missional ideal of being in the world, but not of it. Brotherly love both sent Alyosha out and sustained him in the midst of great family tragedy. Without a deep experience of the Father's love, missionaries will be swallowed up by the world, the flesh and the devil.
Alyosha and his three brothers represent various phases of Dostoevsky's spiritual journey. Identifying with 'doubting Thomas', Dostoevsky came to lasting faith in Christ through 'the hellfire of doubt'.
During his four years imprisonment in Siberia, Dostoevsky was amazed to find that, unlike the cynical nobles, the Russian peasant had God in their hearts. Salvation for Russia would come through these humble serfs.
The only book he had in prison was the New Testament. Every time that Dostoevsky liked a bible verse, he dug his fingernail into the pages, making hundreds of small marks in the shape of a cross.
His very soul and writings became saturated with biblical insights about the compassionate Father heart of God. He had his hero Alyosha say that he had never been able to read the book of Job without tears: "What a book the Bible is, what a miracle, what strength is given with it to humanity…what mysteries are solved and revealed!" Similarly, his mentor Fr Zosima said, "…forgive my tears, for I love the Bible. The people are lost without the Word of God."
The key verse in Brothers Karamazov, as well as on Dostoevsky's tombstone, is John 12:24 where Jesus tells us that a kernel of wheat must die in order to bear much fruit. Both Zosima and his disciple Alyosha sacrificially bore much fruit. They personified genuine brotherly love. Dostoevsky is implicitly challenging his reader to go and do likewise.
What might need to be put to death in our lives, for the sake of greater fruit?