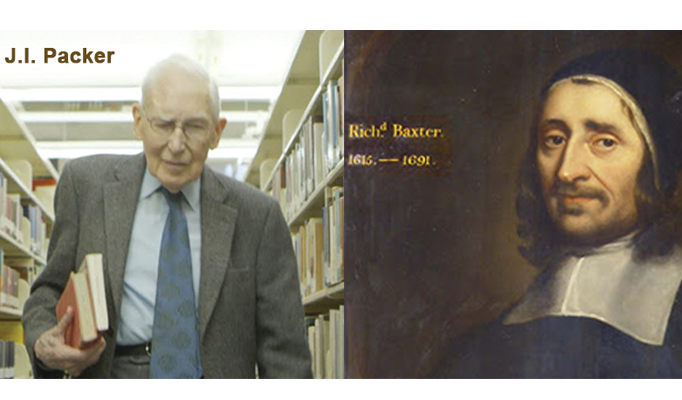 We hear a lot about essential workers and essential services in these COVID-19 times. At 7 pm each night, many of us have been cheering for them, as we bang on our pots and pans. Dr. J.I. Packer, God's essential worker, helps us rediscover Richard Baxter's essential writings; not just for mortal life but more importantly for eternal life.
What might it be like to cheer for God's essential workers, including our theologians, pastors, evangelists, and missionaries? Both Baxter and Packer knew from personal experience that physical death is not the worst thing that can happen to us. Both faced sickness and possible death early in life, but fixed their gaze on Jesus Christ in those difficult times. Packer, who did his Oxford doctorate on Baxter, has helped us rediscover Baxter's brilliant emphasis, derived from Lutheran theologian and educator, Rupertus Meldenius: "In Essentials, unity; in non-essentials, diversity; and in all things charity."
Many believe that Packer, born in 1926, will be remembered as the principal theologian of the 21st Century. Packer and Baxter each had the same puritan passion for knowing truth, seeing it as our first duty. Baxter in the 17th century commented: "I never discover a Truth in my studies, but it is as sweet to my mind as a feast to my body…I spend my time, and strength and spirits in almost nothing but studying after Truth." Many people nowadays dismiss theology as non-essential, ivory-tower speculation. We live in an anti-rationalist culture that worships one's feelings and denies any objective truth. Both men believed that the mind actually mattered, that reason and thinking were gifts from God that helped us discern truth. Their love for truth gave them a respect for the arts, sciences, history, as well as theology. In Baxter's day, theology was seen as the Queen of the sciences.
For both men, knowing God with our head and heart was essential. It is not enough to just know about God academically. Baxter held that "he is the best scholar who hath the readiest passage from the ear to the brain, but he is the best Christian who hath the readiest passage from the brain to the heart." Packer also warned against "hardness of heart and cynicism of the head." Being heavenly-minded for Baxter and Packer is the key to making the most lasting impact on planet Earth.
Recognized by Time Magazine as one of the twenty-five most influential evangelicals, Packer is best known for his most popular book, Knowing God. In reading Packer's doctoral thesis, I discovered that Packer's Knowing God classic is an unpacking of the wisdom of Richard Baxter.
Jesus prayed in John 17:21 that we would be one as the Father and Son are one that the world may believe. While Baxter and Packer were both ordained Anglican clergy, they had a deep love for the wider body of Christ. That is part of the reason that Packer has served since 1979 at Regent College, an interdenominational college. Baxter called himself 'a mere Christian', expressing the truth that God's people go beyond the bounds of any one denomination. Both have shown us that unity in the essentials of the Gospel is essential to reach the world for Christ, such as the creed, the Lord's Prayer, and the Ten Commandments. Are we willing to repent over our division and arguments over non-essentials? We can all agree to the full deity and humanity of Jesus, his virgin birth, his death for our sins, his physically rising from the grave. By contrast, the precise way that we baptize, celebrate communion, organize our church leadership, or sing worship songs are not essentials worth splitting over. Both men knew that not every Christian congregation has to be exactly the same, as sameness crushes creativity and spiritual intimacy.
After the heart-rending English civil war of 1647, Baxter felt called to be a peacemaker. All his writings sought to promote "in all things, charity (love)." As Packer put it, Baxter "meddled much with controversies…to end them." It was Baxter's respect for truth that kept him from 'undignified wrangling'. Even though he was often banned from preaching and forced out of town, Baxter stayed gracious and Christ-centered. Both Packer and Baxter have been deeply charitable in times of great controversy. While neither liked controversy, both had the courage to take a stand for gospel truth when waves of conflict occurred. Even when recently needing to say no to false teachers, Packer spoke the truth in love. He never became vindictive and negative. At age 93, he is finishing well, staying focused on the goodness of the gospel essentials.
Our prayer is that in this COVID-19 pandemic, we, like these brave Christian men, Baxter and Packer, might rediscover what is essential, how to celebrate diversity, and the urgency of charitable love in all circumstances.