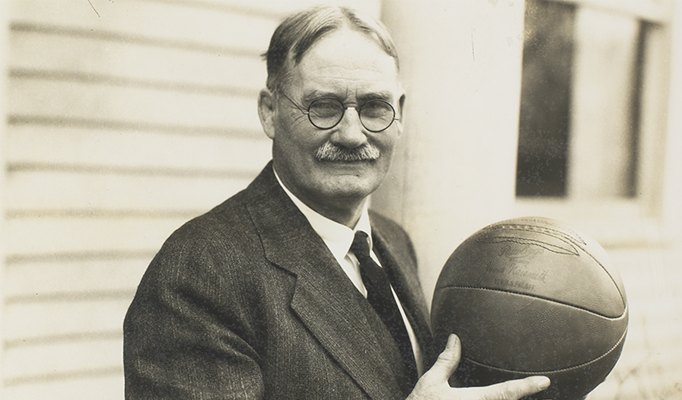 Few people realize that Dr James Naismith, a YMCA worker from Canada, invented basketball in order to reach young people for Christ. Who would have imagined that a missionary would create basketball?
Born in 1861, James Naismith had a very rough life growing up. When he was only eight, both of his 37-year-old parents, John and Margaret, died from typhoid fever. Earlier the family sawmill in Almonte, Ontario, had burned down. After leaving school at age fifteen, Naismith worked for five years as a lumberjack. During his lumberjack phase, he had a powerful encounter with Jesus Christ which led him to attend McGill University in order to become an ordained minister. He commented: "Finally I decided that the only real satisfaction that I would ever derive from life was to help my fellow beings…."
When Naismith discovered his true mission in life, everything changed for him. He commented,
I was lying on the bed on Sunday and thought, "What is this all about? What is life about? What are you going to do? What are you going to be? What motto will you hold up before you?" I put up on the wall, not in writing, but in my mind this thought: "I want to leave the world a little bit better than I found it." This is the motto I had then, and it is the motto I have today.
Naismith studied so hard at McGill in the 1880s that he initially neglected regular physical exercise. His friends convinced him that involvement in sports would make him a better student. He grew to love football, rugby, baseball, field hockey, and lacrosse. The violence of football and rugby gave him cauliflower ears (perichondrial hematoma). His permanently swollen ears were even highlighted in his passport as an identifying feature! Once, after being kicked in the face, Naismith received a concussion with short term memory loss and the inability to recognize anyone around him. This prompted him, with the help of his future wife Maude, to invent one of the earliest football helmets.
Naismith discovered that his passion for sports helped him connect with young people when he shared the gospel with them. His sister, Annie, however, was deeply disappointed that he chose sports ministry instead of looking after a local congregation. Sadly, she never attended any of his later basketball games. Many church people in the late 1800s saw athletics as the tool of the devil.
To pursue his sports ministry, Naismith moved in 1891 to the International YMCA Training School in Springfield, Massachusetts. The YMCA was a pioneer in the 'muscular Christianity' movement, being among the first to integrate prayer and bible study with athletics. Almost 50,000 men took part in YMCA college bible studies, including 1,000 at Yale University. Naismith greatly admired YMCA Coach Stagg in Springfield who made a point in the dressing room of saying "Let's ask God's blessing on our game." Naismith noted that Coach Stagg "did not pray for victory but he prayed that each man should do his best and show the true Christian spirit." He memorably commented,
In games, it was easily seen that the man who took his part in a manly way and yet kept his thoughts and conduct clean had the respect and the confidence of the most (thoughtless). It was a short step to the conclusion that hard clean athletics could be used to set a high standard of living for the young.
Naismith was asked by another coach Dr. Guilick to create an indoor winter game for bored students. Calisthenics, involving sit-ups and marching, was not exciting enough for them. Alluding to Ecclesiastes, Dr. Guilick had made the statement: "There is nothing new under the sun. All so-called new things are simply recombinations of the factors of things that are now in existence." Naismith responded by saying: "All that we have to do is to take the factors of our known games and then recombine them, and we will have the new game we are looking for." Two weeks later on December 21, 1891, basketball was invented, using aspects of soccer, football and hockey. The thirteen rules of basketball which Naismith drew up have remained as the foundation of the game. Drawing on another game called 'duck on the rock', Naismith had the students throw soccer balls into baskets. Initially they used real peach baskets and there were no backboards to bounce off.
Jesus said "Blessed are the peace-makers." Naismith intentionally invented a more peaceful game that would encourage less violence, fewer concussions, and more sportsmanship. By placing the goal way up in a basket, the participants were less likely to harm each other near the goal as in hockey. By not allowing players to run with the ball, he also eliminated the violent tackling found in rugby and football. Even today basketball has far less group violence than other active sports.
Who would have imagined that God would use basketball to help fulfill the Great Commission, making disciples of all nations? Basketball was first cross-culturally spread around the world by YMCA missionaries sharing the gospel of godliness and good games. Canada was the original country outside of the United States to start playing basketball. Japan was the first overseas nation to embrace the new sport. T.D. Patton, a YMCA missionary, initially introduced basketball to India. Today four and a half million Indians play the game. Ironically, because British women were the first to start playing basketball, British men saw it as a women's game and initially refused to play it. Basketball did not enjoy instant success at first. But now over 450 million play basketball around the world. Who can forget how millions of Canadians celebrated with a massive parade when the Toronto Raptors won the NBA championship in 2019?
Both Canada and the United States claim James Naismith, with each nation dedicating special postage stamps to his memory. Though Naismith is honoured in eight Canadian and American Halls of Fame, he never profited from his invention of basketball, even losing two houses to foreclosure. Unlike basketball players today, Naismith did not endorse sports equipment, or sell products in ads. In contrast to the forty-three-million-dollar top-NBA salaries today, Naismith saw basketball as being for fun, not for profit. His' stated mission was "to win men for the Master (Jesus) through the gym." Naismith memorably stated,
I am sure that no man can derive more satisfaction from money or power than I do from seeing a pair of basketball goals in some out of the way place. Deep in the Wisconsin woods, high in the Colorado mountains, halfway across the desert, all are constant reminders that I have at least partially accomplished the objective that I set up.
Naismith was not just the inventor of basketball. After his brother Robbie died unexpectedly from infection, Naismith decided to also become a medical doctor. As a minister, coach and medical doctor, he was able to minister to the body, mind and spirit. He was truly a holistic missionary caring for the whole person. The Journal of Health and Physical Education eulogized Naismith as "a physician who encouraged healthful living through participation through vigorous activities" and a builder of "character in the hearts of young men." As one of his students mentioned, "With him, questions of physical development inevitably led to questions of moral development, and vice versa." Naismith challenged the National Collegiate Athletic Association to "use every means to put basketball (as) a factor in the molding of character…" As an advocate of racial equality, he opposed segregation in all its forms.
Missions for Naismith was intimately connected with building Christ-like character in young people. With good coaching, said Naismith, basketball could produce the following results: "initiative, agility, accuracy, alertness, co-operation, skill, reflex judgement, speed, self-confidence, self-sacrifice, self-control, and sportsmanship." He saw self-sacrifice as 'a willingness to place the good of the team above one's personal ambitions,' saying 'There is no place in basketball for the egotist.' Sportsmanship was described by Naismith as 'playing the game vigorously, observing the rules definitely, accepting defeat gracefully, and winning courteously.' In short, Naismith wanted athletes to play by the Golden Rule and to love their neighbour. Our prayer is that Naismith the basketball missionary will continue to inspire our young athletes to greatness and godliness.