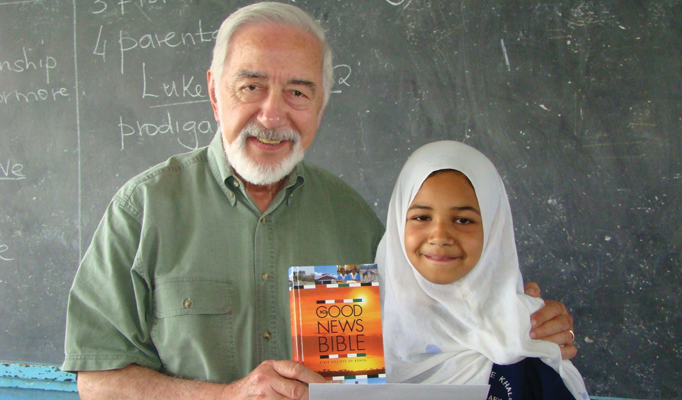 Born in Northwestern Germany in 1931, Max Lange was indoctrinated in the Hitler Youth as a young boy. When his Lutheran pastor in April 1945 denounced Hitler and the Nazis from the pulpit for the crimes against the Jews, Max didn't believe it. He used to warn his mother against the crime of secretly listening to the BBC.
At age 22, Lange went to work in Liberia where he met the world-renounced Christian philanthropist and inventor R.G. Letourneau. Renowned for giving away millions of dollars to ministry and missions, Letourneau lived on a salary and had given away 90% of the share capital of his company. After going to work for the Letourneau Foundation, Lange heard the gospel and met Jesus personally in April 1961.
Letourneau's missionaries had something that Lange wanted for himself. Before that time, faith had been a matter of the head, that never reached his heart.
Lange became involved in Christian East Mission and Underground Evangelism which helped the underground church in Eastern Europe receive bibles and Christian literature. In April 1981, Lange and his wife Marlies began Siloam Christian Ministries in India which helped poor blind people receive sight through cataract operations. They also gave out Vitamin A to children to prevent blindness. Many Indians received both physical and spiritual sight through this mission. They also helped in the healing of lepers who had been rejected as having bad karma. Through several TV specials, many people became supporters of Lange's work. He discovered that children were the ones who were hurting the most. This led him from eyecare to childcare. After this ministry spread to Africa, South America, and many other Asian countries, they changed the name to Childcare Worldwide. One young girl literally crawled to school every day until Childcare gave her a wheelchair, enabling her to live a more productive life.
Tens of thousands of impoverished children have been sponsored through Childcare Worldwide. The core of their impact are their Life Centres in ten countries, located in the centre of communities and hosted by a local church. Life Centres provide children with an opportunity to hear the Gospel, learn about Christ's redemptive love, and trust Him as their Saviour. They also receive nutritious food, clean drinking water, medicine, and are able to attend school. These children are enabled to grow spiritually and physically into thriving young adults. The cycle of poverty is being broken one child at a time through Christ-centred education. Some have become bank officers and teachers with stable marriages and families. Lange gives God all the glory for countless transformed lives.
Owen MacRae, a Childcare volunteer, said: Max has helped change the lives of thousands of people, impacting millions of people over the last forty years. I have greatly admired Dr. Max and count him as a dear, dear friend.
Through the television and radio advertising, many inquiries were coming in, along with donations, from Canada which led Lange to start a separate division in Canada now called Childcare International, under the leadership of executive Director Jose Prem. Childcare International in Canada operates in ten different countries, providing sponsorship programs for children and feeding programs while also building educational facilities.
In 2017, at age 87, after thirty-seven years, Lange stepped down from leading Childcare Worldwide, but the ministry continues in capable hands in both Canada and the USA.
For more information, check out Childcare International (Canada) at https://childcareinternational.ca/purpose/ and Childcare Worldwide (USA) at https://childcareworldwide.org/