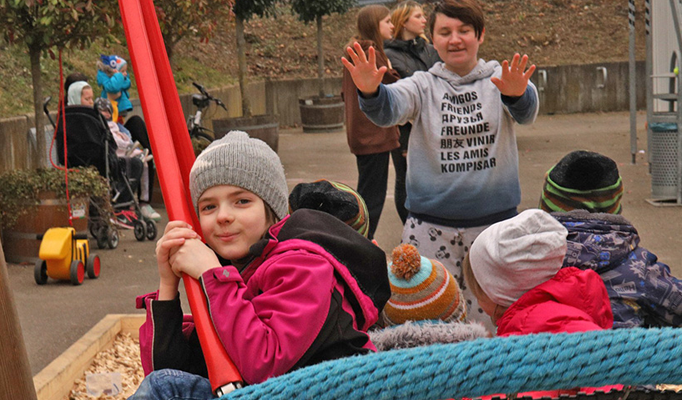 As the world focuses on the war in Ukraine, God is at work
"February 24, 2022 became a day that forever divided the lives of the people of Ukraine, as well as people around the World into 'before' and 'after,'" reports Ukraine-based Intercede partner Good Samaritan Mission. "It has affected almost everyone. We see destroyed houses, many deaths, young, old, children, long lines of people at the border with Poland, Romania and other European countries, trying to save themselves and their children. Therefore, we cannot stay away from this great calamity and be an observer."
GSM has helped displaced Ukrainians since 2014
GSM has not been only an observer but has been offering steady help to Ukrainian refugees and other people in need – during the current war and since earlier conflicts in Ukraine in 2014.
"Early in the morning of February 24, the Russian army launched a full-scale attack on Ukraine," reports GSM. "Despite assurances from Kremlin-backed propaganda outlets, who call this a 'special operation,' it is, in fact, the mass murder of Ukrainian civilians. Evil actions of the Russian army have uprooted the lives of millions of innocent people. The death toll includes women, children and the elderly. Thousands are wounded. No one was prepared for a crisis of this magnitude.
"Our women and children have to live in bomb shelters and basements. You have most likely all seen these images from Kyiv and Kharkiv metro stations where people lie on the ground with their children. These are just consequences of war for some, but for Ukrainians it is now a horrific reality. In some cities families cannot get out of the bomb shelters for several days in a row because of the indiscriminate and deliberate bombing and shelling of civilian infrastructure. So many people have lost their homes. Cities are experiencing a shortage of food and medical supplies for first aid. More than 2.8 million people have become refugees and are forced to start their lives anew. It is heartbreaking to see so much suffering."
The staff of GSM in Rivne, Ukraine, has responded by collecting food and medical supplies for first aid and sending them to the hotspots of the war, in Lugansk, Kharkiv, Kherson, Donetsk, Kyiv and Zhytomyr regions. They are evacuating people in affected areas; purchasing and delivering medicines to soldiers and the wounded; and helping refugees with housing and food in western Ukraine.
Generous help from prayer partners
Intercede's prayer partners have been quick to offer support to GSM with its rescue and relief work. Soon after GSM expressed its need for a large passenger bus to evacuate people from endangered cities and villages of Ukraine, Intercede and its supporters sent $21,000 for this purpose. Intercede has also sent GSM $29,000 to help evacuate 500 people from Kyiv to Poland and Romanian borders, and to provide 1,500 survival kits for people hiding in bomb shelters in Kyiv, Kherson, Kharkiv, Sumy and Luhansk regions of Ukraine.
GSM also wants to provide 25,000 Bibles to Ukrainian refugees in Romania and Poland. "Recently, our fellow ministers from Romania have asked us to send them Ukrainian-language Bibles requested by refugees from Ukraine," reports GSM. "It hurts to realize that people have started turning to God only when tragedy came. Therefore, we would like to send the spiritual bread for the refugees of Ukraine to Romania, knowing that it will not only provide spiritual life, but also preserve physical life. For now, in Romania there are 95,000 Ukrainian refugees. In Poland are more than 1.2 million refugees. People are asking for Ukrainian Bibles.
In mid-March, GSM received this letter from a worker stranded in Mariupol, on Ukraine's Black Sea coast: "Good day, my friends! We really need your prayer support. You cannot even imagine what's going on here. My family and I are in the church on the west side of the city. By the grace of God, we are still alive. The city is simply being wiped off the face of the earth. It is almost completely destroyed. There is no electricity, all wires are on the ground. There is no gas, the gas pipeline is blown up. People cook food on stones on the street. There is no clean water, but we are thankful to God for salty seawater. People are hungry. Shops are smashed and looted. The city is bombed every 30 minutes. Some bombs fell a few metres away from the church. We believe that God is in control. Our windows just flew out, but we are alive. Now we have turned on the electric generators to charge the phones. Finally, the network appeared, and I write faster until it disappears.
"Pray for us, please. We wanted to leave when there was 'a green corridor,' but the car immediately broke down. I hope that God will help us and show the way out. Apartments are burned out, schools are broken, there are holes in the houses, and everything is broken. The Bible says that we should not be horrified, because this is not the end. But still, it is very scary. Corpses lie on the streets. There are lots of looters in the city. By the grace of God, we are fed twice a day in the church. Pray for us! We don't know how to live… But we believe that the Lord is with us, and He is strong."
Although the war situation in Ukraine became much worse this February, Russia's armed forces have been fighting a war of attrition with Ukraine since early 2014, when the Russian government suddenly annexed Crimea, and started supporting armed conflict in eastern Ukraine.
Pray for God's continued protection of and provision for GSM's missionaries as they help suffering Ukrainians in many ways. Pray for a peaceful end to the current turmoil in Ukraine.
Intercede International News Service (INS)