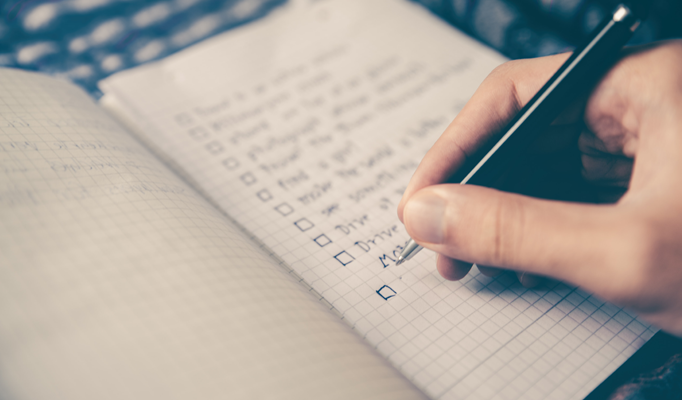 Just like nobody wants to think about death or the need for life insurance, encouraging people to think about emergency preparedness or potential catastrophes can be difficult. And then encouraging them to creating some sort of emergency plan can be even harder. 
I'm hoping I can help make that process a little less painful by sharing my experience with you. This month I hope to set the stage and get you thinking about emergency preparedness. In future months I'll get into the nitty gritty of putting together both an emergency kit and a 'go-bag'.
I recently reviewed my own personal emergency plan, updating and refining it (largely following the advice of Prepared BC) and thought you might find the process, the list, and the thinking behind it all helpful. The Canadian government highly recommends that we are fully self-sufficient for three days at a minimum (but ideally up to a week) in the event of a major emergency. Just last year the floods in Chilliwack and mudslides stranding people on the highway for days were a stark reminder of the necessity to prepare. Major fires further inland (remember the town of Lytton) further drove the point home. I remember a time, many years ago now, when Highway 1 on both ends of Boston Bar was closed due to an avalanche and it took about a week for the military to make the town accessible again. In each of those instances, prepared households fared better than unprepared ones.
Like most things in life, emergency preparedness isn't binary – we can never be fully prepared for every possible eventuality. It's just not possible to predict exactly what calamity will befall us next or which ones will impact us directly. And it's not feasible to prepare for anything and everything, no matter how unlikely. On the other hand, not preparing at all because "we trust God" is like refusing to bring along a life jacket when you're on a boat. It's simply prudent to take a few small measures that will likely help in the event we face a calamity of some sort.
It is generally recommended as part of an emergency plan to create a two-part kit:
1. A go-bag with some very basic essentials that you can grab and go if you need to leave with little to no notice, usually because the area becomes unsafe. In fact, it's recommended to keep multiple go-bags with one at home being the most crucial, but also having one at work and in your car.
2. A home emergency kit that can be used at home (but possibly loaded into your vehicle relatively quickly). This kit would contain food and water to sustain you for an extended period of time along with a few additional emergency items. While government recommendations consider this to be strictly a shelter-in-place kit, I tend to think of it as something that could also be packed in your vehicle if time allows and it's safer to leave the area than stay.
I find it easier to think of the go-bag as a subset of the emergency kit. The idea is that the emergency kit and the go-bag together will give you absolutely everything you need for three to seven days. But if you need to leave your home and go to a shelter somewhere, the go-bag (while it won't have all the food and water you need) will at least have medication, a change of clothes, and a few other basics.
Your go-bag doesn't have to be physically located inside your emergency kit, although it certainly can be. If you don't want it there, it should be close to your emergency kit and should definitely be easily accessible, easily transportable, and ready to go.
I'll go over what's in my go-bag in future articles, but for now I just want to go over the process conceptually, point you to some resources, and get you thinking. Before creating your emergency kit, think about what hazards you are most likely to face in your area (flood, earthquake, fire, etc.) and make a plan. In fact, I've made these first steps easy for you.
• Take a look at the BC Hazard Map for what the most common hazards are in your area.
• Download and start filling out the Emergency Plan from the Prepared BC website.
It's also quite possible that your local municipal website has additional resources pointing to likely hazards for your area along with some suggestions for emergency preparedness.
Knowing what the likely hazards are for your area will help you customize your own personal emergency kit. When I checked my location (White Rock) on the Hazard Map, the most likely hazards were: Power Outages, Earthquakes, and Severe Weather. So, when I put my kit together, I considered those specific hazards and determined I should have a more robust solar/battery backup.
Go ahead. Get started now. Review the Hazard Map and start filling out that Emergency Plan.
Next month we'll take a look at how I put my emergency kit together and how you might want to do the same. Spoilers: You don't need to do it all at once, and it doesn't need to be expensive (although it can be). Stay tuned.
And for those of you reading this article in print form, all the mentioned resources and links are from www.PreparedBC.ca
"…you do not know what disaster may come upon the land."
Solomon
Arnold Machel, CFP® lives, works, and worships in the White Rock/South Surrey area. He is a Certified Financial Planner with IPC Investment Corporation and Visionvest Financial Planning & Services. Questions and comments can be directed to him at dr.rrsp@visionvest.ca or through his website at www.visionvest.ca.  
Please note that all comments are of a general nature and should not be relied upon as individual advice. The views and opinions expressed in this commentary are those of Arnold Machel and may not necessarily reflect those of IPC Investment Corporation. While every attempt is made to ensure accuracy, facts and figures are not guaranteed.