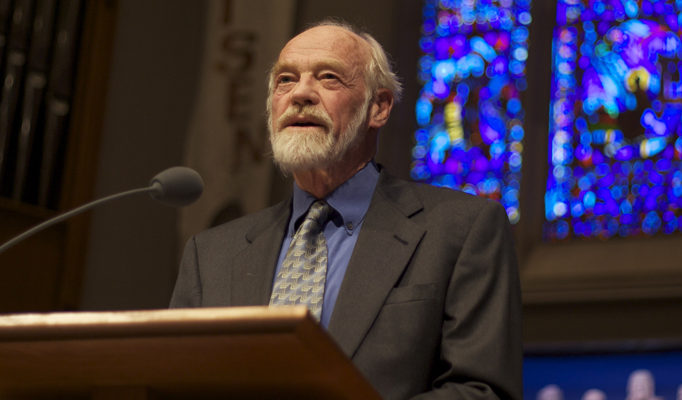 Who would have imagined that 1.1 million people would watch an interview with Eugene Peterson and the musician Bono, on YouTube?
Peterson was the author of over thirty books, including The Message, written over ten years, with 20 million copies in print. Bono, lead singer for U2, commented: "it's very clear to me that Eugene Peterson is a poet as well as a scholar. He brings the musicality to God's Word that I'm sure was always there." Bono loves The Message, even reading it out loud at his concerts. Peterson's writings kept him sane, "there is no other translation that I have read that speaks to me in my language." Like King David, Peterson had the pastoral heart of a poetic shepherd. More than half of the Bible is written by poets. Poetry slows us down and makes us stop. It breaks the illusion of control. "In poetry," Peterson said, "we are prepared to be puzzled, to go back, to wait, to ponder, to listen. We become engaged participants, rather than detached observers."
Peterson commented, "One of the things I remember when I was about 14 years old was lying on the couch in our living room, reading the psalms, and realizing that these are poems. This is poetry. Poems draw you into something so you experience it in a way that you may not have done without those rhythms and metaphors."
Born in 1936 in Stanwood, Washington, Peterson spent much of his life in Kalispell, Montana. He loved to assist his father, Robert, in the butcher shop. His mother made him a white apron just like his dad, "We were sacrificing animals all the time, so I always thought of myself as Samuel wearing a priestly robe, and my dad was a…priestly kind of person. Everyone who came in that place, including the local prostitutes, were greeted by their first name and treated with dignity. It was holy work for him."
His young mother would go out every Sunday night in Montana to small village churches and preach the gospel to lumberjacks and miners. Her only companion was her small son, Eugene. The men in these churches were very happy to have her sing, pray and preach the gospel to them. When he was older, he asked his mother why she didn't go out and preach anymore. She told her son that someone showed her in the bible where it said women were not allowed to speak so she stopped preaching as she didn't want to disobey the bible of her Lord. His mother brought many of these lonely men, during the Great Depression, to meet Jesus Christ and have Him as their Lord. This time with his mom helped shape his pastoral call.
In 1962, Peterson, at the age of thirty, became the founding pastor for Christ Our King Presbyterian Church in Bel Air, Maryland. Unexpectedly, he stayed there for over twenty-nine years. His time at this church taught him that he really was a pastor, even though he didn't know how to be one. In his delightful autobiography, The Pastor, Peterson tells how after an exhausting building campaign, the attendance dropped by 30 per cent. His supervisors encouraged him to rebuild the attendance by having yet another building campaign.
One day, his young daughter complained that she hadn't really seen him for 34 days in a row. In frustration, Peterson resigned from running the church. His elders agreed to relieve him from attending the endless committees. Then he was able to focus on his real pastoral calling of reading and listening to the bible, praying, and walking alongside others at Christ the King. He discovered that his people were struggling in the areas of listening to scripture and walking this out in community. At Christ the King, he learned how to pay attention to the everydayness of life.
In 1992, Peterson began serving as the Professor of Spiritual Theology at Regent College in Vancouver. He was passionate about integrating spirituality and theology in practical ways, "Theology without spirituality is dead, while spirituality without theology is mushy." Spiritual theology for Peterson unified the head and the heart.
Peterson had a passion to reawaken the pastoral imagination. He taught that it is not enough to read the bible just to gather abstract information. We also need to deeply listen from our heart. What we prayerfully pay attention to shapes who we become.
Our ears are so plugged up with consumerism that we cannot hear God speak. "Are our ears," asked Peterson, "thick with callouses, impenetrable like a heavily trafficked path?" Peterson transparently admitted that too often he was "thick-skinned to the Spirit's breeze, dull-eared to the heaven-declared glory of God."
Peterson was a pastor's pastor. Too many pastors have become shopkeepers who produce consumers. He believed that pastors needed to become spiritual directors rather than program directors. He prophetically taught pastors and Jesus-followers that it is vital to be ourselves and stop mindlessly imitating other people's so-called successes. Romantic ideas about the pastoral ministry are the death of us all. They turn us into cynics. They turn us into liars.
Consumerism consumes life itself. The North American worship of numbers and outer appearance kills the soul. Authenticity, said Peterson, involves being ourselves, nobody else.
He practiced the ascetic, monastic disciplines of solitude and silence. By being slow to speak and quick to listen, Peterson gave hope to many desperate lives. Leah Kostamo, Cofounder, Arocha Canada, commented that Peterson was not one for small talk, a fact his wife Jan confirmed in an interview when she quipped, 'the boy doesn't talk much.' …But when he did speak you wanted to gather up his words and display them on a shelf with your most treasured possessions. We will never forget his playful smile and infectious humour.On October 22, 2018, the late Eugene Peterson completed his long obedience in the same direction. His obedience to the Lord Jesus brought blessing to millions. We pray that many will pick up his mantle as poetic shepherds to a lost and hurting generation