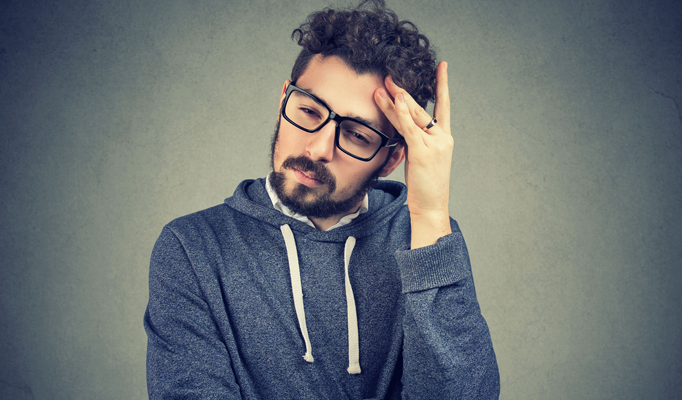 A Biblical worldview results in your behaviour following your belief system.
"Every answer to every problem can be found in the holy bible but only if we read and obey what it says," a quote from President Ronald Reagan.
This includes how to overcome worry and fear: 60 percent of adults worry daily – Gallop poll; 60 percent of adults feel stressed or anxious – Gallup poll; Trials and no doubt, tribulations, which affect most of us; 26 percent of our population will suffer a mental health disorder – Johns Hopkins University
How then shall we live today? The Bible clearly identified this question and gives answers in three ways:
• The Problem
• The Promise
• The Provision
I call this God's University of Adversity. If we obey this teaching, we can graduate with a PH.D.!
"Behold, I will do something new, now it will spring forth; will you not be aware of it? I will even make a roadway in the wilderness, rivers in the desert." ~Isaiah 43:19
The problem
Why do we have problems and where do they come from? Problems for mankind began with the disobedience of Adam and Eve in the garden and it is called sin. (Genesis 2).
God gave Adam and Eve four commands to follow:
• Be fruitful and multiply (Genesis 1:28)
• Replenish (v.28)
• Exercises a dominion (v.28; 2:15)
• Refrain from eating the fruit from the tree of good and evil (2:17)
When Adam and Eve sinned, because God is holy, sovereign and omnipotent, which means He, as Creator, has the right to do anything, He chose what He did because He cannot tolerate sin.
The sin of Adam and Eve introduced three major types of disobedience and mankind is involved in these sins today. These were the same temptations presented to Jesus by Satan:
• Lust of the flesh
• Lust of the eyes
• Pride of life (Genesis 3:6; I John 2:15-17; Proverbs 16:18)
The promise
"A worldview is the most important thing that we know about a man or a woman." ~Richard Weaver
"A Biblical worldview approach to life and learning has never been more needed than in today's pluralistic/postmodern culture. Christians today face hostility to their faith from one side and apathy from anything of importance on the other side. Sadly, the casualties are high," ~Chuck Edwards
Part of God's promise is that in the world today we will have trials and tribulations. (John 16:33; II Timothy 3:12; John 15:20; Psalm 34:17-19)
The provision (or how to live today)
The only way a person can experience the provision of God is to have a personal relationship with God. This opportunity is simply to accept Jesus Christ as your personal Saviour for the forgiveness of sins and life everlasting. (John 3:14-21)
God's way of provision for handling a problem. James 1:2-8. This is a life-changing provision experience. Trust me. I know. This provision includes trials of all kinds, whether it be:
• Financial
• Business
• Health
• Marriage
• Family
• Personal
James 1: 2-8. I make a strong recommendation – read out loud as often as necessary as a prayer to the Lord.
Count: (to lead the way/to rule over/to be chief). The Jewish culture believed that the more trials you have the closer you are to God. Paul, in II Timothy 3:12, teaches that trials are part of a godly life.
Joy: (calm delight/cheerfulness/exceeding gladness). The joy with which we endure trials in the present is a signal of hope for future relief.
Fall into: (to fall into something that surrounds you/to light upon you). Like the story of the Good Samaritan, you may not even have caused the trial. Read the Good Samaritan story (Luke 10:25-37). Remember, Jesus taught that the two greatest commandments are: To love God with all of your heart/soul/mind, remember, your body is the temple of the Holy Spirit (I Corinthians 3:16,17; 6:17-20). To love (agape) others as you love yourself.
Knowing this: (to understand/to realize)
The trying of yourself: (trying means to test). What is faith? "Faith is the substance of things hoped for, the evidence of things not seen." (Hebrews 11:1). How important is faith? "Without faith it is impossible to please God, but He rewards those who diligently seek Him." (Hebrews 11:6). Faith is a gift that God gives us, but we have to make it grow. (Romans 12:3).
Patience: (abiding under). Patience perfects the Christian character, so let patience have her perfect work. Patience is the ability to persevere through increasing levels of trials.
Perfect work: "but let endurance and steadfastness and patience have full play and do a thorough work, so that you may be perfectly and fully developed lacking in nothing." (Hebrews 12:4).
Wanting nothing: Jesus promised in Matthew 6:24-34 where He tells us to put God's Kingdom first and all will be given to us. "Worry is a sin and can produce anxiety/fear/disease/even mental illness." ~The Dake Annotated Reference Bible. "What happens when you worry? Your mind and body go into overdrive as you constantly focus on what might happen." ~Web MD
Wisdom/if: There are about 1,600 "ifs" in the Bible and the word usually means that someone has to make a decision. God asked King Solomon what he wanted, and Solomon's answer was found in I Kings 3:3-15: "Lord, give your servant an understanding mind." God asks us the same question with a promise and instructions. We are to ask, which means 'call up' or 'to do something.
Give: To give is a present participle which means continual or repeated action with no indication of timing. In other words, it's up to God. But remember that God does want us to ask. John 15:7.
Liberally: (unconditional supply)
Faith: Faith is our choice because if we do not ask in faith, we are like a wave in the sea. 'Ask' is a present imperative which means a 'command to do something, including continuous or repeated action. Matthew 7:7,8 tells us to keep on asking, keep on seeking, keep on knocking. If we do not follow the principles of verses 2-6, we will receive nothing from the Lord. Why?
Double-minded: (two-spirited), vacillating in our original purpose, and we are unstable (restless). James 4:1-10. Loving the world means hating God. When you're hanging by a thread, make sure it is the hem of His garment.
Remember, as the Temple of God, the Lord calls you such things as:
• A Holy Priesthood
• A Chosen Generation
• A Holy Nation
• A Peculiar People (a peculiar possession).
Our response to this is to praise the Lord. (I Peter 2:1-11) "The Bible was not given for our information but for our transformation." ~ D.L. Moody
Read and re-read each Bible verse in this article to really understand these truths. When you do this, the Holy Spirit intercedes and helps make the Rhema (revealed) Word of God to take effect in your life.