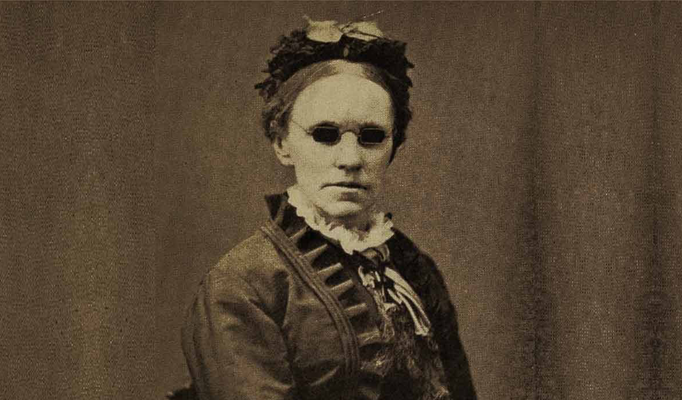 Fanny Crosby, the poetic songbird was blinded, while only six weeks old, by a quack unlicensed doctor. He permanently scarred her corneas by applying hot mustard poultices to her mildly infected eyes. Her father died when she was just twelve months old, forcing her mother to become a maid to support the family.
Despite these tragedies, Crosby never fell into self-pity. "Don't waste any sympathy on me," she said. "I'm the happiest person alive." Crosby went on to become one of the best-known women in North America. She taught for 23 years at the New York Institute for the Blind, becoming the personal friend and confidante of every sitting American President during her lifetime. As the first woman to ever address the U.S. Congress, Fanny left a lasting impact wherever she went.
She had a life-changing spiritual encounter at age 30 in November 1850, which she said 'flooded her very soul with celestial light'. Fourteen years later at age 44, Fanny wrote her first song. Her life goal was to see one million people come to Jesus through her songs. Over the next 51 years, she wrote over 8,500 songs, often producing six or seven songs per day! She wrote so many songs that you would have to stack 15 hymnbooks on top of each other, just to show how much music she produced. Fanny was so prolific that publishing companies would only sell more of her songs by using her 200 pseudonyms. She literally glutted the market with her incredibly popular music. One of the reasons we still sing many of her songs today is that she was a gifted poet, writing over one thousand sacred and secular poems. As a strong abolitionist and supporter of Abraham Lincoln, her songs helped free the American slaves.
Her partnering with the famous 'DL Moody/Ira Sankey' team launched her into world renown. Sankey (who was also blind for his last five years) would often provide the tune, and Fanny Crosby would write the words. After the infamous Chicago fire that burned down Moody's premises, Moody and Sankey went to England, speaking and singing their way into the hearts of the British people. Even Queen Victoria and the Princess of Wales came to hear Moody preach and Sankey sing Fanny Crosby's songs.
She had a photographic memory, memorizing five chapters of the Bible every week. Remarkably, she knew by heart the first five books of the Old Testament, the four Gospels, Proverbs, Song of Solomon, and many of the Psalms. Some of her most well-known songs were "To God be the Glory, Great Things He hath Done", "Draw Me Nearer, Precious Lord", "Blessed Assurance", and "Praise Him! Praise Him!".
Crosby actively supported the Water Street Mission in New York, the first Rescue Mission in North America. It had been founded by Jerry McAuley who himself had recovered from alcohol and prison. Crosby did not focus on pointing out other people's faults. "You can't save a man by telling him of his sins. He knows them already. Tell him there is pardon and love waiting for him. Win his confidence and make him understand that you believe in him, and never give him up!" One of her best-known songs "Pass Me Not, O Gentle Saviour" was written specifically for a prisoner who cried out at her meeting: "O Lord, do not pass me by!"
Crosby was married for 44 years to Alexander Van Alistine, her former student and fellow instructor at the New York Institute for the Blind. He wrote many of the tunes to her songs. With Alexander being a top organist and Crosby an accomplished harpist, they must have been an amazing duo. Curiously they lived apart for much of their marriage. Perhaps it was because their baby died and she was so famous that she travelled extensively. Crosby commented, "He had his faults – and so have I mine, but notwithstanding these, we loved each other to the last." The loss of their baby Frances inspired the writing of one of Crosby's most famous songs: "Safe in the Arms of Jesus". Near the end of her life, she wrote, "Now I am going to tell you of something that only my closest friends know. I became a mother and knew a mother's love. God gave us a tender babe but the angels came down and took our infant up to God and to His throne."
Her song "Safe in the Arms of Jesus" even reached Uganda in 1885. The Anglican Bishop James Hannington was captured by King Mwanga and put for a week in a filthy rat-infested hut. Bishop Hannington's last words in his diary were: "Go tell Mwanga that I have purchased the road to Uganda with my blood." As they speared him to death, Hannington was joyfully singing "Safe in the Arms of Jesus". His courageous death inspired 32 servants of King Mwanga to accept being burnt alive rather than renounce their faith and moral convictions. Such sacrifices have produced the second largest Anglican Church in the world, with over eleven million Ugandan Anglicans attending church each Sunday.
We thank God for Fanny Crosby, a poetic songbird, who has shown tens of millions in every continent how to be 'safe in the arms of Jesus'.