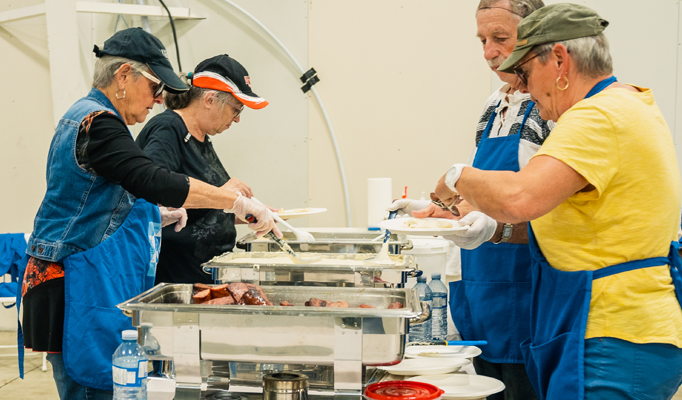 C.S. Lewis memorably commented, "You are never too old to set another goal or to dream a new dream." God wants each of us to finish well, becoming more fruitful for God as we age. As we age, self-surrender to God and His purposes is always the way forward. If there is breath in their lungs, God still has something for his servants to do. We are never to stop serving others until the Lord takes us home. Never stop learning, reading and listening. Do you still have fire in your bones to make a difference? Would you like to get your fire, your zest for living, back?
Ed has taken many funerals over the past decades of ordained ministry. When we hear the funeral eulogies from family members, it often makes us wish that we had known the deceased better. Many people often wait until the loved one is dead to say how much they loved him. We often wonder: "Why wait?'
One of Ed's favorite mentors, Dr. E. Stanley Jones, entered his 50's by deciding that it would be the most fruitful decade of his life, and it was. When he became age 60, age 70, and then age 80, he decided the decade was once again the best, and it was. While he was officially 'retired' by the Methodist Board of Missions in 1954, he went on to have a remarkable fruitful phase of ministry for almost two more decades. In 1963, for instance, he preached 736 times. Jones deeply lived out Psalm 92:14: "They still shall bring forth fruit to old age, they are ever full of sap and green."
Jones reminds people in his 28 books that there is no such thing as a retirement from a biblical perspective. Retreading, recycling, repositioning, yes. But we can never retire from being fruitful in life and making a lasting difference. "Never retire", said Jones, "change your work. The human personality is made for creation; and when it ceases to create, it creaks, and cracks, and crashes." Creativity is at the heart of staying fully alive. Without growing in creativity, we shrink and become less human, less Christlike.
Secular retirement is often sold to people as getting something that they deserve. This is their time to focus on themselves first. Jones commented on that, "Those who come in to enjoy themselves the balance of their days wither prematurely and become inane and empty…Where there is no creative purpose, there is nothing but the creation of frustration."
When Ed left St. Simon's North Vancouver after serving for 31 years, he intentionally did not have a retirement party, but rather a 'new chapter of ministry' party. In our current culture, we don't often do transitions well. What new chapter are you currently writing in the book of your life? Are you stuck in any way? Is it time to turn the page? Paul says, I have fought the fight, I have finished the race, I have kept the faith. Paul did that till the end. A number of pastors when they get older don't finish well. They may become grumpy, critical, and negative. With aging, we have our aches and pains, and we have to work harder at being positive. When you're older, it is easier to be negative, to be a no-centered person. Jones said that we are not as old as our arteries, but rather as our attitudes. Are you growing in becoming a more positive, thankful person?
Dr. Martin Gumpert in his book You are Younger than You Think says that 'idleness is the greatest enemy of the aged and presents them with their ticket to death.' When the retirement age of 65 was invented by the USA in the 1930s, the average man only lived 18 months after retirement. It was too much of a shock to their system in ceasing productive activity. The AA Big Book comments that many people never become alcoholic until they retire. They say to themselves "I've worked hard all my life, now I will do what I want to do with my life." In contrast, Those, who seek first Christ's Kingdom, say no to idleness and addiction.
As we age, it is too easy to succumb to nostalgia, resenting newer expressions. Are you still passionate about God's future revivals? Many people involved in an earlier revival resist a newer revival because it doesn't look like the older revival. That is tragic. What we admire about Bill Prankard, even though he's a classic, old-school Pentecostal, is that he's aged well. John Arnott invited Bill Prankard to speak at the Toronto Airport Fellowship/Catch the Fire. Bill initially refused, saying that he was too old-school Pentecostal. John pushed back, saying that we need your healing anointing. You can see that their friendship was a win-win. Those who say no to nostalgia are those who can say yes to the next revival.
A key verse that can help us finish well is "He who has begun the good work in you will carry it on until the day of Christ Jesus." (Phil 1:6) We need to never settle down, never get stuck in a rut, never give up on life. Jones commented: "We don't grow old, we get older by not growing." Are you growing older gracefully? Are you still growing in creativity? As Christians, we grow from the inside out. God cares about producing true beauty of character. It is a good work that God has begun in us, and will continue to carry out until he takes us home. There is no retirement from growing in Christ in the Christian life.
Winston Churchill, when he turned 77, commented, "We are happier in many ways when we grow old than when we were young. The young men sow wild oats. The old grow sage." In a study of four hundred outstanding people as reported by Sunshine Magazine, they discovered that people in their 60s accomplish 35 percent of the world's greatest achievements, people in their 70s 23 percent, and people after age 80 produced 8 percent. This means that 64 percent of the greatest achievements have been done by people age 60 and over. Think of Michaelangelo who was writing poetry and designing buildings up to the time of his death at ninety. Finishing well is about growing daily in gratitude.
Jones said: "To grow old, not only gracefully, but gratefully, is the Christian's privilege. For the Christian is not to bear old age but to use it. Is there anything more utterly beautiful than a face, now grown old, but chiseled into tenderness and sympathy and experience?
There is a beauty of holiness into which we can all grow in Christ. Think of Mother Theresa as she poured out her life sacrificially for the least, the last and the lost. Her gray hair truly was a crown of splendour. (Proverbs 16:31) Those who finish well live for others. Is it all about you, and getting your way, or do others come first? Those who live for others grow perpetually young in spirit. As Psalm 103:5 puts it, he renews our youth like an eagle. They that wait on the Lord shall renew their strength, mounting up with wings like eagles. (Psalm 40:31)
Every season of our lives has beautiful possibilities for fruitfulness. Think of Revelation 22:2 where it describes the tree of life having unique fruit for each month. Don't fight the current season that you are in. Embrace it and use it for God's glory. Your current season of life is full of adventure if you have eyes to see it. May the Lord give us the courage and strength to bring forth lasting fruit even into our older age. Everyone can finish well.