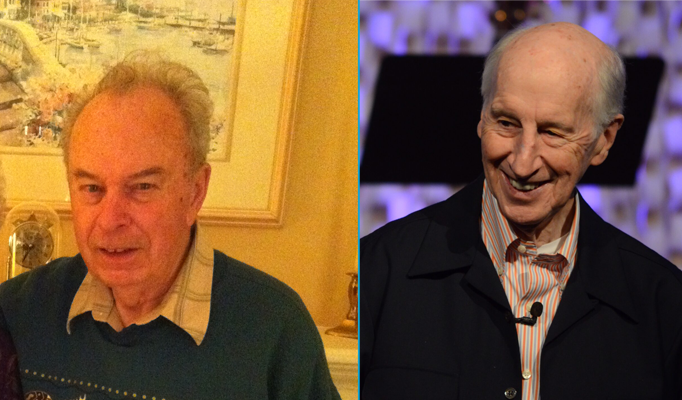 February 22, 1926 – February 3, 2023
Archdeacon Jack Major was so quiet and gentle that few would initially suspect that he was an Anglican apostle of spiritual renewal. It was Jack that introduced us to the remarkable world of Anglican renewal as we accompanied him to the major Anglican Renewal West Conference at UBC in 1982. Though we had already privately experienced the outpouring of the Holy Spirit, it was through Jack that we came 'out of the closet' spiritually.
While attending theological school, Jack first met the Rev Dennis Bennett, father of charismatic renewal. After hearing him pray in the Spirit, Jack was not impressed. Later, while serving as Rector of St. David's Tsawwassen, he was given Dennis Bennett's new book Nine O'Clock in the Morning at a funeral. Jack was so busy in ministry that such a book would normally gather dust on the shelf. Instead, Jack devoured the book, finishing it in one day, and began praying in the Spirit. From that point on, all the congregations that Jack served became renewal centres.
Venerable Jack was never supposed to become the rector of St Matthew's Abbotsford, as he was asked interview questions designed to eliminate any charismatically oriented priest. Jack admitted to his renewal experience and told them that he would not agree to come to St. Matthew's unless they chose him unanimously. Upon returning home, he told his wife Pat that he would not be going to St. Matthews. God surprised Jack when the St. Matthew's search committee unanimously selected him.
Ed served as Jack's first assistant priest at St. Matthew's Abbotsford from 1982 to 1987, during a time of remarkable renewal and revival. When first participating in the weekly prayer meeting with Jack, we were deeply impacted by the power of the Holy Spirit changing lives. God was definitely on the move.
Jack and his late wife Pat hosted two Renewal Missions at St Matthew's every year, bringing in unforgettable, life-changing speakers like the Rev. Dennis & Rita Bennett, the Rev. Charles Alexander, and the Rev. John Torley.
With Jack as an Order of St. Luke the Physician Chaplain, there developed a powerful healing ministry at St. Matthew's with much prayer ministry for body, mind, and spirit. Jack was a true shepherd at heart with his love for people, a gift of encouragement and discernment.
Jack's favourite bible character was John the Baptist who told people that Jesus would soon be baptizing people with the Spirit and fire (Luke 3:16). For many of us, Jack was a John the Baptist leading the way into spiritual renewal. Our lives have been impacted immeasurably through his life and witness.
During this time of renewal, the attendance and giving doubled, resulting in the building of a new sanctuary to seat the overflowing congregation. We will never forget attending the final service in that building before St. Matthew's ANIC processed up the street to their new location on McMillan Road.
We will miss Jack, but we are so grateful that he is safely home in the presence of the heavenly Father. He has been promoted to glory at age 97. He has truly been a 'well done and faithful' servant of the Lord Jesus.
Pastor Jack Hayford
In this age of scandal and disappointment, what a blessing it is to see a leader finish well. Pastor Jack Hayford, who was promoted to glory on January 8, 2023, fought the fight, ran the race, and kept the faith.
Pastor Jack was born as a breech baby with a near-fatal neck condition. After prayers for breakthrough, Jack was miraculously healed. A few years later, he was healed from childhood polio. These healings gave Jack a deep reliance on the power and gifts of the Holy Spirit for daily living.
For thirty years, he was the lead pastor of Church on the Way, Van Nuys, California, growing to over 12,000 people by 1999. Fifty percent of his congregation was Spanish-speaking. Randy Remington, president of the Foursquare denomination, commented, "Pastor Jack was a Kingdom ambassador whose influence transcended denominational, generational, and global boundaries."
Jack served as President of the Foursquare Denomination from 2004 to 2009. However, he was widely accepted across the Body of Christ as belonging to all of us. As a child, he had attended, along with his parents, Presbyterian, Methodist, Foursquare, Quaker, Alliance, and Baptist churches. He left a remarkable legacy as a Christian statesman and bridge builder. Ed Stetzer, editor-in-chief of Outreach Magazine, commented, "He was both a great man and a humble man."
Jack was remarkably Christ-centered. It was all about Jesus, rather than all about himself. So often, even as Christians, we put our leaders on pedestal, and then knock them off.
Jack was a deep person of prayer, loving to pray privately in both English and in the Spirit. He commented, "Once I come out of the prayer closet, I need to be the kind of person like Jesus, that touchable, true, human, desirable kind of person."
You may wonder how he accomplished so much in his eighty-eight years. We can imagine the saints in heaven welcoming Jack perhaps with a rendition of Jack's song Majesty. It is hard to believe that he wrote more than 600 songs, and over fifty books. He was passionate about enabling others to penetrate spiritual darkness. Jack helped people rediscover God's Kingdom presence in worship:
"Worship has often been misunderstood as the musical prelude, rather than the means by which we, as the people of God, invite the dominion of his kingdom to be established on earth."
Jack was President of Life Pacific University (1977-1982) and in 1997 became the founder and Chancellor of The King's University (TKU) and Seminary in Southlake, Texas. He also was the General Editor of the Spirit Filled Life® Bible and the Spirit Filled Life® Commentaries. Jack had a remarkable gift of seamlessly integrating Word and Spirit.
We thank God for Pastor Jack's life and witness and pray that his example will inspire many to seek first God's Kingdom.
Majesty, worship His Majesty.
Unto Jesus be all glory, honor and praise!
Majesty, Kingdom Authority,
Flow from His throne, unto His own
His anthem raise!