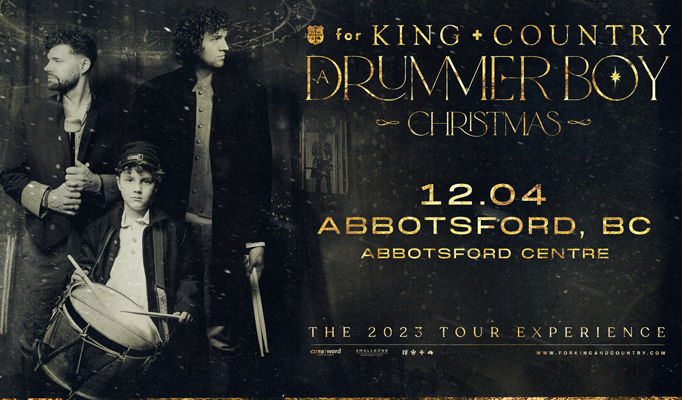 Multi-GRAMMY® Award winning duo and Curb | Word Entertainment recording artist for KING + COUNTRY will bring their"A DRUMMER BOY CHRISTMAS | THE 2023 TOUR EXPERIENCE" to Abbotsford Centre on December 4 for the very first time. The highly-anticipated annual holiday spectacle will feature an extraordinary production, blending festive visuals and stunning lighting and staging effects, for a high-octane show that the brother duo (made up of Joel and Luke Smallbone) have become known for. With 13 sold-out arena shows in 2022, this year's Christmas tour will span 16 cities with tickets in high-demand at some of the largest venues across North America and Canada.
"A DRUMMER BOY CHRISTMAS | THE 2023 TOUR EXPERIENCE" kicks off on Nov. 25 in Chicago, Ill. and travels coast-to-coast visiting arenas in major markets including Phoenix, Seattle, Houston, Las Vegas, Portland and Minneapolis, among others. And for the fourth consecutive year, for KING + COUNTRY will bring its annual show to Nashville's iconic Grand Ole Opry House, closing the holiday tour in the band's hometown with three consecutive performances at the Opry before wrapping up with a world-wide livestream concert event on Dec. 22.
Each evening on the tour, for KING + COUNTRY will perform holiday classics and more like their world renowned version of the fan-favorite holiday classic "Little Drummer Boy" as seen on ABC's CMA Country Christmas here, as well hits from their latest Billboard Top 200 album, "What Are We Waiting For?" and other acclaimed projects.
"To sing the most nostalgic songs ever written…to celebrate the miracle of all miracles – God coming to earth, offering redemption…to gather together and to experience it all with you and pepper in a few theatrics and spectacle…these ingredients culminate into what has become our favourite tour of the year!," says for KING + COUNTRY.
For over a decade, for KING + COUNTRY has garnered a dedicated following, and has won numerous awards and accolades, positioning them as one of the music industry's most respected and decorated acts. Their chart-topping hits such as "Fix My Eyes," "God Only Knows," "Burn the Ships," and "Love Me Like I Am," have become anthems for millions around the world, connecting on a deeply personal level and offering inspiration and encouragement. With their live show being hailed as a must-see concert event that continues to wow sold-out crowds around the world, fans can catch for KING + COUNTRY on several festival circuits this summer. Their 12 No. 1 hit songs have produced two billion career streams, and the act's live show has been hailed as a "must-see" concert event that continues to wow sold-out crowds around the world.
For more information, visit: www.forkingandcountry.com.