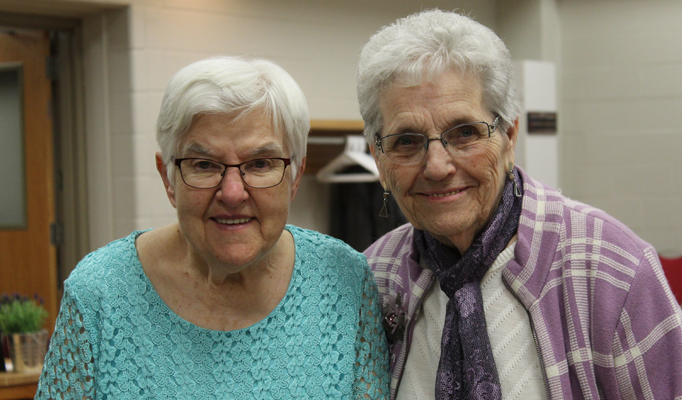 Rebecca's mom has dementia. She lives at home with her husband, her primary caregiver. When a family friend asked Rebecca* if her mom would like to go with her on an outing, perhaps for ice cream or a picnic, Rebecca wasn't sure how her mom would respond. But when Rebecca suggested the idea, her mom's face lit up. She said, "I would LOVE to do that!"
When Rebecca told me the story later, she reflected, "Of course! It makes sense. We all want to be pursued."
Yes, we all want to be pursued. We all want friends for life.
We all delight to know someone likes to spend time with us. We all want – and need – to know we have friends who value us no matter what. After someone's life is touched by dementia, they still need friendship. Their journey with dementia will be much less dark and lonely if their friends don't walk away after the diagnosis.
Here are some insights and ideas to help us stay close.
Of high value
People with dementia may be counted among "the least of these" Jesus described in Matthew 25.
They may be least in strength and youth, wealth and beauty. Yet when we minister to "the least of these", Jesus said, we minister to Him. He didn't say that about the strong, the powerful and the wealthy. He said that about people who are poor and small and frail.
So people who are "the least of these" are not least in value. It seems to me they're actually worth more. And when we're faithful in friendship to someone who has dementia, we minister to Jesus Himself.
Care for our own emotions too
In your friendship with a loved one who has dementia, you matter too. And as the friendship continues, you may find yourself grieving. You may mourn their diminishing skills, knowledge and potential. You might grieve because you know they're nearing the end of their life.
That grieving isn't comfortable, but it's okay. It's good. It's necessary. To be an effective friend, we need to process those emotions and take care of ourselves too.
We can remember for both of us
Sometimes people ask about my mom, who has dementia, "Does she know who you are?" I appreciate their desire to understand. But sometimes this question seems to be a dividing line, indicating whether a person with dementia is worthy of our love and energy.
It is true that, depending on the type and progression of their dementia, our loved one may – or may not – always know our name.
But long past the point they know what to call us, they'll keep us in their emotional memory. And even after that, we know who we are. And we know who they are.
We know we're friends or cousins or mother-and-child. We remember that our struggling loved one is a precious human being, made in the image of God. And we know we'll keep showing them the compassion and love of Christ. We can do the remembering for both of us.
Lots of things are still the same
Many things about our friend with dementia are still exactly the same. They still need us – and we need them – just as we both did before. Our friend likely enjoys many things they've always enjoyed, though they might need to experience those things in a slightly different way. That gives us important clues for how to spend time with them.
If they liked music or dancing, they probably still like music or dancing. If they liked drawing or painting or carpentry, they may be glad to do those activities together or to appreciate the art or carpentry of others. If they liked family time, they'll still like to gather and be surrounded by voices in conversation, whether or not they talk too.
If they liked sports, we can share sports together. If they liked gardening, we can discuss seed packets together and ask their advice about planting. We can plant a raised bed garden together or plant flowers inside. If we're not skilled in these areas, our friend with dementia can teach us.
We can enjoy their favourite foods together. Go for a walk or a bike ride. Read a story. Read Scripture. Sing together. Tell a joke. Watch a happy movie.
I have an elderly friend who had careers as a teacher and then a hairdresser. Early in our friendship, she'd always give me a "mark" on my hairstyle. She was very frank about her opinion, but, thankfully, 90 percent was her lowest mark! Now my beloved friend has dementia, but she still assesses my hair and says I "did a good job". And looking at people in magazines is an activity we can do together; she enjoys critiquing the people's hair!
The feelings linger
Dementia often affects the brain in such a way that emotions linger, though the memory of what caused those emotions may be gone. With that understanding, we shouldn't remind our loved one with dementia of sad events they can't process or remember. If they don't remember someone close to them has died, we shouldn't remind them. They'll feel sad all over again, and may grieve more deeply, saying, "Why didn't anybody tell me?" Later, after they've forgotten our conversation, they may still feel sad without knowing why.
If our friend with dementia talks about a person who's gone, we can help celebrate their memories of that loved one. But we can do that without "updating" them that the person passed away. This aspect of dementia also has a bright spot: the joy we bring to someone with dementia may also linger long after they forget why they're happy.
After we've spent time with them, our loved one might or might not remember what we said and did. But the joy of being in a friend's company, the lightheartedness over our friendly conversation, the renewed confidence that they're loved – those emotions may stay in their heart for a very long time.
Two are sometimes better
When conversation with a friend with dementia gets awkward or repetitive, it sometimes helps if two visitors come at the same time. They can engage in conversation while the person with dementia listens, talking as much or as little as they like.
To extend the joy even further, take a child to visit. It's good for the person with dementia, and it's good for the child. My mom perks up when she sees her five-year-old grandson. His aunt provides toys and puzzles to make Grandma's room a fun place to hang out. And he loves to do his grandma's hair – combing, brushing, inserting clips and barrettes, and spraying it with water. She enjoys it all – until spray water starts trickling down her back!
Put technology to work
I don't live near my mom, so I often talk to her on video calls. My siblings set up a device that automatically answers in Mom's room, so she doesn't need to press a button or hold a receiver. As long as she's sitting in front of the screen, she can see and hear me.
Celebrate nature
Our friends need time outdoors, especially if they live in a care home. Instead of confining them to the same bland walls, day after day, let's bring them to the beauty of nature and the delight of growing things. Even if our friend uses a wheelchair or a walker, we can take them for a walk down the street. If the only safe place is the courtyard of their care home, we can walk there or sit and soak up the sunshine.
If you can't take your friend outside, sit together near a window. Watch the weather, changing clouds, plants and animals, and people and vehicles going by – and chat about everything you see.
Remember their spiritual needs
We don't need special qualifications to meet our friends' spiritual needs. Let's ask how we can pray for them. Let's pray with them and for them. We can read aloud from Scripture or their favourite devotional. We can sing their favourite worship music together.
And if we can take them to church, let's do it! If they live in a care home that has chapel services, we can take our friend to chapel. If we don't take them, they may miss out. And isn't it nicer to sit in church with a friend? But if you can't bring your friend to church, bring "church" to them.
When I visit my mom, on video call or in person, we sing familiar hymns together. She lets me do most of the singing now, but she listens intently and thanks me as if I've performed a concert just for her. I sometimes read aloud from Scripture or from the devotional she and my dad used to read together. Before I say good-bye, I usually pray for her. I pray aloud for "my Mom, Tena Guenther", saying her name often, to help Mom remember who this prayer is about.
Precious words
The words of people with dementia are precious and worthy of attention, even if we don't always agree or understand. If our loved one with dementia describes a memory incorrectly or with confusion, we don't need to correct their "truth". We may give a non-committal reply like, "That's interesting. I've never thought of it that way." Or "The way I remember it is…." But, unless it's going to harm someone, let's not correct their version of the facts or their memory.
And it seems obvious, but sometimes those of us who don't have dementia also need reminding: Let's not scold someone who has dementia for not remembering. That's like scolding someone with a broken leg for not being able to run! Let's just re-give them the information they need and then go on.
Sharing life
When visiting loved ones with dementia, it may be best to tell simple, concrete stories. We should avoid stories that cause them confusion or worry. We can share our experiences, describing what we see, hear, feel, taste and smell. "Isn't it a beautiful day, Mom? I see only a few little clouds over there. The rest of the sky is bright blue!"
Or "This ice cream tastes great, doesn't it, Jake? I like those little chunks of chocolate. I could eat this ice cream all day!" And, "How's your ice cream, Jake?"
No memory testing
It's not a kindness to test the memory of our friend with dementia. Don't show up and say, "Do you remember me?" Don't show them a picture and say, "Do you know who this is?" If we're not sure they'll know our name, we can simply re-introduce ourselves. Say, "Hi Jane, I'm your friend, Andrea. We went to college together," or "Hi Mom, I'm your daughter Laureen." If we're not sure they'll recall information we want them to have, we simply tell them. "Here's a picture of your brother Bill!"
The power of touch
People with dementia need loving touch just as the rest of us do. Perhaps they need it even more.
People living in care homes especially need to be touched by those who love them. It's not enough to be touched by people who are paid to do it. Let's find a way, considering our friend's preferences, to give them gentle, loving touch. They may like a hug or handshake or arm around the shoulder. We can walk arm in arm. They might want to hold our hand.
They might enjoy having us do their hair, trim and polish their nails or rub lotion into their hands or feet.
At a recent family picnic, I loved watching a family friend attend to my mom. Mom wasn't talking much, but her friend laid her hand gently on Mom's arm, letting Mom know she was still part of the conversation.
Just do it
The most important aspect of being a friend to someone with dementia is just do it.
Let's not hold back because we've never encountered dementia before – or because we don't understand it. Let's make sure we don't give in to fear – or walk away to escape the discomfort of not knowing what to do.
Let's be the kind of friend we want others to be for us.
Let's be friends who are faithful, loving and true.
Resources
These resources have been invaluable as I journey with loved ones who have dementia. Although both titles specify Alzheimer's, they're applicable to all types of dementia.
Creating Moments of Joy Along the Alzheimer's Journey, by Jolene Brackey.
Keeping Love Alive While Memories Fade: The 5 Love Languages and the Alzheimer's Journey, by Gary Chapman.
*Name has been changed.