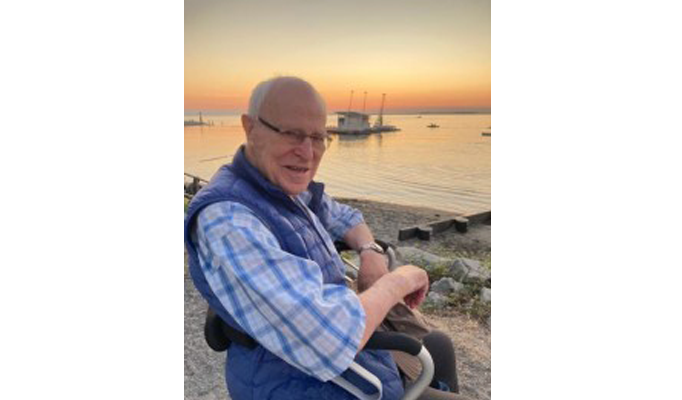 Jesus shone through his smile and the twinkle in Dr. Neil Yorkston's eyes. He loved the Lord and he loved people. When he took your hands, it was like Christ was reaching out to you with His compassion and kindness. Yorkston was a great prayer warrior with a gentle, gracious spirit.
He was born in 1928 to China Inland Mission missionary parents in Yunnan-Fu, China. When Yorkston was six years old, his parents took him to Chefoo school, on the east coast of China, where he attended as a boarder. He often talked about his being sent during WW2 to a Japanese internment camp in Weihsien. There he continued his education, and he worked in the kitchen. Yorkston often commented that Eric Liddell of Chariots of Fire renown was an inspiring missionary teacher in his internment school. His athletic friend Stephen Metcalf was thrilled to be given Eric Liddell's worn-out Olympic running shoes. Yorkston was interned in the camp until American soldiers liberated him in 1945. He was then reunited with his parents in Australia. Sadly, Yorkston's two brothers died in March 1945, while in the Royal Australian Air Force.
In 1995 and 2005, Yorkston returned to China with his daughters where he saw first-hand how the Christian Church had grown throughout great persecution. He wanted the Chinese people to know the truth that would set them free. He never carried grudges and fondly remembered his 2005 reconciliation tour in Japan.
His son Ian said of his dad at the funeral: "His faith and work as a doctor were a unified whole. He did what he did precisely because of his yearning to be faithful to his service to God, caring for those in need." As a medical student and young doctor, he and his future wife Elizabeth were very involved in running children's camps for C.S.S.M, now known as Scripture Union. Following the birth of their first daughter in 1958, Yorkston became a medical missionary. He served as head of the medical department at the Haile Selassie 1 Naval Base, Massawa, Eritrea, from 1958-1960. In 1959, their second daughter was born.
Relocating back to London in 1960, he served in Guy's hospital. There his wife Elizabeth gave birth to their son and youngest daughter. In 1965, Yorkston went on to become a psychiatrist in London. In the late 1960s, he spent three years at Temple University, Philadelphia, as Associate Professor of Psychiatry. From 1970-73, he worked in the Department of Psychiatry and Medicine at the University of Minnesota in Minneapolis. In 1973, he left the USA and returned to southeast London. He worked as a Consultant Psychiatrist at Friern Barnet Hospital in North London until he was appointed Consultant Psychiatrist at the Royal Bethlem and Maudsley Hospitals.
In 1980, the Yorkston family moved to Vancouver, where Yorkston served as Head of Psychiatry at the University of British Columbia. He later practised psychiatry in Australia in 1990, and Durham, England in 1992.
The All Saints Church community in Crescent Beach knew Yorkston for just over three years, the same length of time Jesus served on earth. During that relatively short period, Yorkston had a lasting impact on our congregation. His good friend Dr. J.I. Packer of Regent College recommended All Saints Church when Yorkston and his wife Elizabeth moved to White Rock. In fact, Yorkston was the one who made the church leaders aware of a newspaper article advertising the sale of Holy Cross Church in Crescent Beach. That was the catalyst for All Saints Community Church to miraculously purchase the building during the COVID pandemic! When it was felt impossible to finance the purchase, Yorkston quoted Hudson Taylor: "God's work, done in God's way, will never lack God's supply."
Yorkston was a regular, not only on Sundays, but also during the prayer and Bible studies which sometimes lasted for forty nights. Not even rain or snow could keep him away. He loved to read and teach the Bible to fellow seniors. He kept current with medical literature and never stopped learning, even at the age of 94 years old. Yorkston introduced many All Saints parishioners to his favourite book Revival, authored by his mentor Dr Martin Lloyd-Jones. David Short, rector of St. John's Church Vancouver, said at Yorkston funeral: "He would want us to encounter the astonishing joy that was at the centre of his life, that is the person Jesus Christ."
Dr Neil Yorkston was a blessing to so many people. We thank God for a faithful servant in whom the Lord is pleased, whom He promoted to glory in the Father's presence.
To the question, "What is home?", Yorkston once answered: "Heaven is home." His family find comfort in knowing that he has reached his final, truest home after travelling a long, extraordinary journey. Indeed, there is no place like home.
"No eye has seen, nor ear has heard, and no mind has imagined what God has prepared for those who love him." 1 Corinthians 2:9