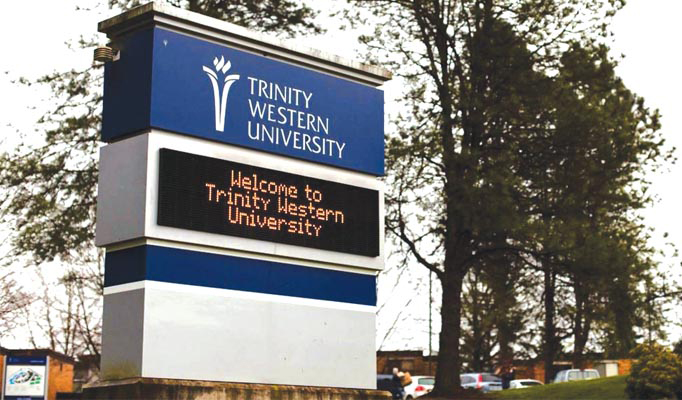 All five local campuses of Trinity Western are primed and ready to pursue innovation and reinvention like never before. Surging out of the creative hearts and minds of faculty, staff and students, reimagined learning centres celebrate a vital, multi-access, global, Christian University finding strength during adversity. Students from 70 countries access the university's educational opportunities. TWU is opening its doors to the world even wider. 1,600 international students are newly registered for the fall semesters which represents 40 percent of the total student body of 4,000 students.
Daniela Lombardo Arce, an international student from Mexico and TWUSA President, is pursuing her BA in International Studies. She says Covid-19 has given students "the opportunity to be creative problem solvers. Being in a student leadership position, like being student body president, means that I get to lead our team to think differently than how we normally operate." One of the results of thinking outside the box has been the creation of "a virtual lounge and possibly an app to enhance the student experience." She admits that the demands have created extra work while the students still deal with "our grief, loss of community and the anxiety brought by all the uncertainty." For balance, she says "I truly believe my faith is helping me survive this season full of both challenges and possibilities."
According to Winnie Lui, Public Relations Director, over the summer, international students were cared for through "grocery deliveries to campus, grocery gift cards… and staff-student meal programs, in which students received home-cooked meals delivered by TWU staff… which were then … shared together over Zoom." She says, "We are committed to exploring all the opportunities we can for social interaction, academic support, tutoring, community and service-learning outside of traditional classroom settings."
Robynne Rogers Healey, PhD, is a professor of history and co-director of the Gender Studies Institute. She gives the faculty perspective on how the virus has affected teaching. "We are adapting to our current reality. We are deploying technology in innovative ways, practicing spatial distancing, and following evidence-based health protocols. TWU faculty are learning a lot about multi-access education. I am excited about the 2020-21 academic year and the classes I am preparing! There are unknowns. But we have an incredibly supportive community committed to learning, integrating, and disseminating the most recent developments in our disciplines. We will, we must, remember and learn from this important historical moment as we adapt and journey forward together."
TWU's innovative Facilitated Academic Resource Centres (FAR) have sprouted in Chennai, India, in Jaipur, India and in Mbarara, Uganda. Online learning materials offer international students access to high-quality Canadian degree programs. Technology, group discussion, case analysis and content contextualisation increase the opportunity for success in all deliverables.
Sonya Grypma, PhD is an RN, TWU Senior Health Advisor, Associate Provost of Leadership and Dean of TWU Global. She says "We are living in a historical moment that is going to challenge students to rise to the occasion. We attract a lot of people to Trinity Western who have a sense of mission in the world, of wanting to make a difference in the world, of wanting to know what it's like to reflect Christ in serving others. Students are going to get that opportunity here, because a challenge of historic proportions is unfolding here and now for everyone in the world. This next year we will learn much about ourselves, about Christ's love and about God's sovereignty as we journey together through this pandemic."

Laurie Matthias, EdD and TWU Associate Provost, Teaching and Learning says "We want to prepare students for the post-COVID world. And we believe coming and experiencing the community and support here at TWU will better prepare a person for whatever life is going to bring."

Trinity Western University is ensuring that students can access their extraordinary TWU education while enjoying proper health safeguards. As such, every aspect of TWU life – including learning, community, student ministries and leadership opportunities – is being re-wired for a new Multi-Access format.
Multi-Access ensures that students can access their TWU education and signature student experience wherever they are and prepares students for a seamless return to campus as soon as it is safe to do so.

New Journey Forward Grant

Next to health and safety, finances are top-of-mind for many students. Trinity Western is ready to assist students with financial aid through a new Journey Forward Grant. Through this special Journey Forward Grant, Trinity Western offers every undergraduate student up to $2,000 to reduce financial barriers to education in light of COVID-19. All eligible full-time undergraduate students can receive $1,000, with an additional $1,000 available to those with need.

In terms of building developments, the Trinity Commons is a newly transformed space at the centre of campus that features custom-made large study tables, a quiet reading room, and a mobile concierge desk, which will be hosted daily to help the community navigate the campus and find resources. Newly renovated with the generous support of donors, the Trinity Commons is designed to foster campus community, while accommodating health and safety measures such as social distancing.
Minoru, Lansdowne, Langley, Ottawa and Bellingham – which TWU is for you?
With the need for upgraded safety and health measures at all five campuses, remote learning was necessary and thanks to the visionary thinking of leaders like Dr. Phil Laird, TWU had devoted considerable energy and resources toward "high-quality, multi-access delivery platforms for international students overseas. It is this expertise which is being leveraged to design and deliver education at a high standard for student learning."
New Robert Kuhn Building houses Business and TWU Global
The first concrete pour for the four-storey Robert G. Kuhn Building on the Langley Campus took place June 10 and while all else may be off schedule this construction is right on time. The School of Business and the TWU Global Centre will find their home here.
What other dreams might there be?

How about growth in enrolment to follow up with the steady increase over the past eight years? Graduate, online and adult education programs have helped set the pace.

Going forward, TWU has a clear and keen interest in the trajectory of global Christianity and in how Trinity Western makes a vital contribution. We are committed to fostering new generations of global Christian leaders and inspiring them to bring hope, healing and renewal to their communities and to the world.