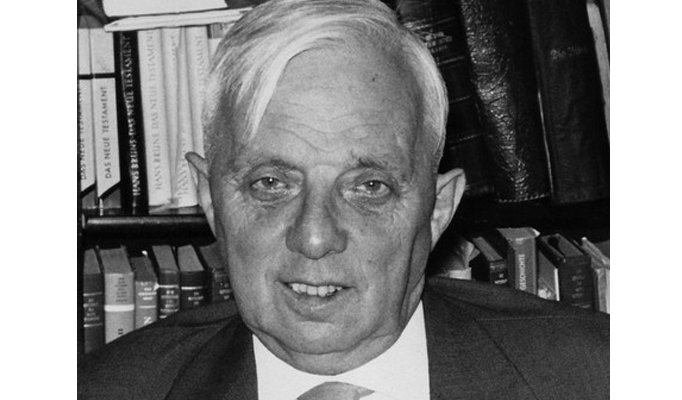 Most of us know about Dietrich Bonhoeffer. But who has heard about Hans Bruns who also impacted Germany with the good news of Jesus' forgiveness and transformation?
Hans Burns' father and mother were Pastor Bernhard Johannes Bruns and Bernhardine, née Müntinga. His mother died in 1895 when he was just a baby. After graduating from high school in Stade in 1914, he studied Protestant theology in Tübingen. After serving in World War I, he did more theological studies in Göttingen and Berlin. Hans participated in the German Christian Student Association (DCSV), even attending international conferences in Denmark and the Netherlands. After serving as an assistant pastor (vicar) in Kirchlinteln near Verden, Bruns then worked as a private tutor for Prince Knyphausen at North Lütetsburg Castle. In 1923 he served for a year in a congregation in Drochtersen. This did not last as he became conflicted with the farm owners, when he openly advocated for the poor people working on their land.
In 1923, Bruns was wed to Marianne Jänisch, a friend of his sister. He had earlier proposed to her by letter, saying: "I only have one question for you: Do you want to go with me through life following Jesus?"
Hans and Marianne Bruns had eight children together over twenty years. Three died prematurely, and three later served in the ministry. Bruns was a grandfather nineteen times. "A true marriage", he said, "under God's guidance, is a piece of paradise on earth." He recommended four things for a healthy marriage: "give, forgive, give in, but never give up."
After moving in 1924 to Hollen in East Friesland, he became caught up in a revival movement in the East Friesland Reformed communities. This place, where his ancestors came from, was where he felt at home. He got along well with the locals. Traugott Hahn senior. and Erich Schnepel, then head of the Berlin City Mission, joined him in evangelism. When he traveled by train, he talked to the other travellers, telling them about Jesus. Bruns loved to build bridges of Christ's love between Lutherans, Reformed, Baptists, and Methodists. He often shockingly said: "I am a Lutheran, Reformed, Methodist Baptist." His own Lutheran officials sometimes threatened to discipline him over his associating with non-Lutherans. This threat fortunately was never carried out.
Bruns poured himself into preaching God's Word each Sunday. The East Frieslanders, in this revival season, overcame their reluctance to attend church and regularly received holy communion. Wherever people needed help, wherever comfort and assistance or advice was needed, there was Hans Bruns. Every day after his quiet time, he wrote up to twenty postcards and then phoned his parishioners. Bruns visited all two thousand parishioners of his parish at least twice a year during his ten years of service. In his biography, he wrote:
"In these ten years I have often visited people for hours, inviting them to come to the services, discussing their needs, and reading God's Word in prayer."
In 1933, Bruns naively became a member of the German Christian faith movement. Fortunately, after the Berlin Sportpalast rally on November 13, 1933 where the bible and cross were mocked, he publicly resigned from the German Christian Faith Movement. Then the next year, he became an evangelist, moving to Elbingerode, and later to Marburg and der Lahn. A central question for Bruns was "Are you converted?" (Sind Sie bekehrt?). His motto was "Einmal muss sich jeder festlegen" (Everyone has to decide at some point). Bruns saw himself as a midwife for people experiencing the new birth. He encouraged people to radically change their life and entrust it to Jesus. Some church people however saw evangelism as outdated. Others were disturbed and frightened by his clear, open words. One of his church members who used to run an inn was deeply offended by Bruns' warning against alcohol abuse. Bruns however was never uptight, downcast, or self-righteous, but was remarkably filled with a healthy, cheerful optimism of trust in God's victories. With him, faith and life were one.
During World War II, Bruns worked in Fulda and Frankfurt am Main as a Wehrmacht support officer. Because of his evangelistic work, he was dismissed in 1943 and was forbidden to speak by the district administrator in Marburg. During that time, he was dismissed from the "German Community Diaconal Association." Consequently, he used his new 'free time' in writing articles and books, many of which were banned by the Nazis.
After WWII, he restarted his work in the German Community Diaconal Association. Bruns was one of the most committed supporters of Frank Buchman's Moral Rearmament organization, formerly called the Oxford Group movement. Based on Moral Rearmament principles, Bruns helped start the Marburger Kreis/Circle in 1956. This movement employed 4,300 people, and was instrumental in the birthing of the charismatic renewal. They spoke practically, compelling, and honestly without pious jargon.
His son Warner Bruns wrote about the zeal of his Father:
"So, his life was filled to the brim. Our mother sometimes longed to have a holiday without ministry happening […] Her husband needed people around him, and he spoke to them a lot, always with the holy concern that they would like to get to know Jesus."

Over the years, Bruns wrote over sixty books and articles. His greatest literary contribution was in translating the Bible into contemporary language in 1957 (New Testament) and in 1961 (Old Testament. Selling over 700,000 copies, it was among the first modern German Bible translations since Luther' Bible written during the Reformation. His son Warner commented, "It was important to him to reach people today in understandable German. That is why the explanations of the biblical texts were so important to him." In 1993, Bruns' translation was republished in a revised, newly designed version. While seen as reliable, some of Bruns' introductions and notes were seen as technically and theologically controversial. In 2020, the 18th edition of Bruns' bible was published.
God used Bruns mightily in the reconciliation of many conflicted marriages, families, and churches.  He was the first to ask for forgiveness when there was conflict.  In Denmark, shortly after WW II, he publicly asked for forgiveness for the wrongs done by Germans there. The impact was palpable. He was a great supporter of the Evangelical Sisterhood of Mary in Darmstadt, Germany, with mother Basilea Schlink, who prayed daily for blessing on Israel. Travelling to Israel, he publicly repented to the Jewish people on behalf of his nation over the tragedy of the Holocaust.  He often asked others: Do you have forgiveness? Can you ask others for forgiveness? Will you personally forgive others?  Commenting on the Matthew 18:23-24 parable, Bruns notably said:
"We expect forgiveness from God but easily forget to forgive others as well. Jesus knows that God is truly forgiving; but he now expects the same of his disciples towards all men. At ten thousand talents, the Lord thinks of the "millions" of debts we owe to God, but which He crosses out at our request. In this way, we often bear less of the guilt of people and are not willing to forgive and forget."

He often asked people: "Has anyone in the past year come to serve Jesus through your witness?" In everything he did, said, or wrote, Bruns wanted that people should hear, see, get to know, and experience the living Jesus. Thank God for such a faithful revival leader and evangelist. Do we also need a Canadian revival of evangelism in 2023?