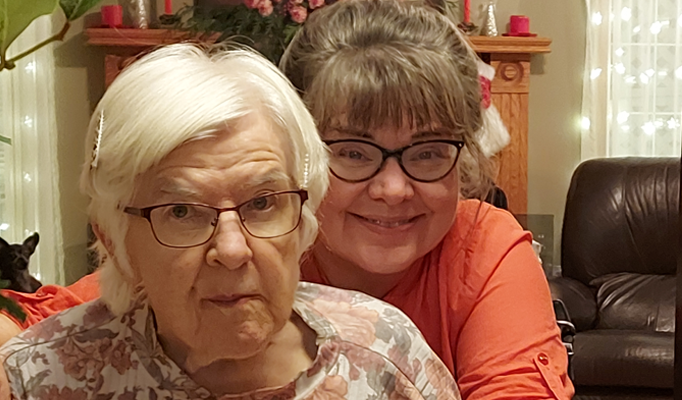 When someone asks, "How's your mom doing?" I usually stumble through a reply. Sometimes I shrug and say, "She's about the same." Yet that's not exactly true. My mom is slowly, gradually declining. My mom has dementia.
Yet even though the question is hard to answer, I'm grateful when people ask. I need to know that Mom still matters to my friends, as she matters to me, and as I believe she matters to the world. And I need the support of friends who understand that my mom's journey has put me on a journey too.
Considering that, every year, approximately 76,000 Canadians are diagnosed with dementia*, you may also have a friend whose loved one has dementia. If you don't now, perhaps you will in the future. Or perhaps you're caring for a loved one with dementia yourself. Some of us are supporting a parent who is the primary caregiver for their spouse.
Whatever our relationship and whatever our caregiving role, the person whose life is touched by dementia needs your friendship and care. This isn't the time to abandon them. They need your faithful friendship. Here are nine simple ways to be that kind of friend.
Understand the journey
Roy*, who's been the full-time caregiver for his wife who has dementia for over seven years, says, "Anyone looking at this (dementia) situation from the outside cannot possibly understand the full scope of what it is and how it affects both the one with the disease and those close to that person." I agree. I don't expect others to fully understand the dementia experience, because I barely understand it myself. At the same time, I appreciate it when people take time to grasp a few concepts.
One helpful understanding is that there are several kinds of dementia, Alzheimer's Disease and vascular dementia being the most common, and that each diagnosis affects the brain in a different way. Yet even individuals who have the same diagnosis – and their loved ones – aren't all affected in the same way. But one experience most of us share is that we're grieving.
We may be grieving our loved one's skills and memories, while we're glad our loved one with dementia is still here. We celebrate life with them each new day, even while the way we love them is changing. This is ambivalent grief.
This grief is also ominous, because we know our loss and our grief aren't likely to get easier. And as we discover what each new day brings, it makes a world of difference to have friends who care for us along the way.
Ask the Question
Like me, Roy struggles to describe how his loved one with dementia is doing.
"To answer 'How is (your wife) doing?' would require a baseline to measure against," he says. "The only meaningful baseline would be more than seven years ago before diagnosis. … Since this is a degenerative disease the only possible answer is that she is worse than before, which is not what anyone is hoping to hear."
While dementia is hard to describe, and it's hard to give good news, we're still grateful to be asked the question. But please don't stop there. Ask how your friend, the caregiver, is doing too.
Rebecca*, whose mom also has dementia, also struggles to tell how her mom is doing, yet she also wants to be asked. She also admits to watching whether her parents' friends ask about both her mom and dad, who is her mom's caregiver.
Roy notices that distinction too. "I'm often asked how (my wife) is feeling, but seldom asked how I'm doing," he says. "When someone does ask how I'm doing it is an acknowledgement that this disease affects more than the individual with the illness, but it also affects and changes the lives of those close to that person." When someone asks how he is, he says, "I feel validated."
Listen beyond the words
A few months ago, a family friend asked how my mom is, but he answered his question before I could reply. She's okay, he informed me, because someone who saw Mom once had told him so. I was stunned; it's obvious to anyone who sees Mom that she is not "okay". But this man would not let me persuade him otherwise. He preferred his own story, rather than the less-comfortable truth.
It's an unfortunate reality that if we Christ-followers are to "weep with those who weep", we must be willing to accept unpleasant truths, and enter into each other's discomfort. So whether your friend says a little or a lot, take time to hear what they say – and don't say.
Rebecca notices that sometimes people who ask how her mom is will listen for one positive note – such as, she's sleeping well – and then quickly move to another topic. But it makes a difference when people simply take time to listen. "When people listen to my unique circumstance and do just that, listen," she says, "Not relating anything to their own experience of this disease. Just listening."
I hope you will listen carefully to your friend. And after you've listened, keep their story to yourself. It's not your story to pass on.
Casseroles and coffee
"Once (my wife's) condition became known, I felt people began to pull back, not knowing how to approach a person with this illness, very likely fearful of not being able to say or do the right thing," Roy says. "I was disappointed in what I thought was their apparent lack of caring or sensitivity."
But now his friends seem to have figured it out. "There is one individual in my life who has made a point of connecting with me about every six weeks," Roy says, "to either go for coffee, or during COVID, we would chat over Zoom." Their church group also brings them a meal once a week, which makes them feel loved.
What's helpful for one person may not be the same for everyone. I invite you to ask your friend what they'd like from you. Maybe your friend doesn't need any practical help, but they'd be thrilled if you ask.
Please do ask. Don't assume you know exactly what they need – and don't assume you can do nothing. Even if your deeds are small and ordinary, they may make the difference your friend needs today.
What to say
Your friend needs to know that their private, personal sorrow is important to you. They need to know you recognize the care they give to their loved one with dementia, and that their care is valuable in the kingdom of God. They need to know that their loved one with dementia also matters to you and to the God Who made them. Don't assume your friend knows this.
What not to say
It's just as important to know what not to say. In the early stages of my mom's dementia journey, when I said Mom was struggling with her memory, it bothered me when people said quickly, "That happens to all of us." It felt dismissive.
Roy also finds those comments unhelpful. "People, in an effort to be helpful or protect me, when I mention things (my wife) has trouble recalling, will often say something like, 'We all get forgetful as we get older', or 'I forget things too'."
It's also unhelpful, Roy says, "when I begin to tell our story and they hijack the story with one of their own. It discredits anything I had to say."
Please also refrain from "sympathizing" by saying that dementia is an awful disease. I promise that your friend has already figured that out! You can empathize with the challenges of dementia, while focusing your comments on the value of the person who has the diagnosis, and how precious they'll always be, to you, to God, and to their family.
Remember who the expert is
Your friend's journey is unique and constantly evolving, forcing them to learn new things every day. They've never done this before, but on their dementia journey, they are still the expert. Even if you've had your own dementia experience, please don't rush to tell your friend how they should manage their lives. "Some people try to help by offering suggestions about how to deal with different issues when they have had no practical experience with the disease," Roy says. "The suggestions or comments can make me feel that in their eyes I'm not capable."
Rebecca has the same concern. "As ironic as this sounds," she says, "it is unhelpful to receive unsolicited advice on this disease."
"When we give advice to someone before we listen to what the caregiver is already doing," she emphasizes, "we minimize their pain, their overwhelmed state, the situation."
Keep them in the church
When my parents lived independently but could no longer drive, I was dismayed that the friends at the church they'd attended for decades, rarely, if ever, offered them rides to church services. After a while, my parents accepted that their "church" was in front of the TV at home. It was hurtful. The Church is people, and your friends affected by dementia need to know they're as much a part of the Church family as ever. Whether they need your help to get to services, or still attend as faithfully as ever, or find it's best to stay home, they need to know they still belong – and are valued.
Pray with them. Read to them from a comforting psalm. In keeping with your tradition, share Communion together. Bring them a meal or dessert and eat it together. Give them a hug. All the ordinary ways we do Church in a church building can also be done in a home. And if your friend doesn't belong to any congregation, this is a prime opportunity to reach out as Christ taught us to do.
Working memory
The tragic irony about dementia – usually defined as memory loss – is that people with dementia, and their caregivers, are often forgotten by people whose memories are perfectly fine. As Christ-followers, we're called to do things differently. Let's remember our friends who are caring for loved ones affected by dementia, and let's remember those they care for. Let's keep them inside the fold of the Church and make sure they know they're neither alone nor forgotten.
*Dementia in Canada, including Alzheimer's Disease: Highlights from the Canadian Chronic Disease Surveillance System – Canada.ca
**Names have been changed.