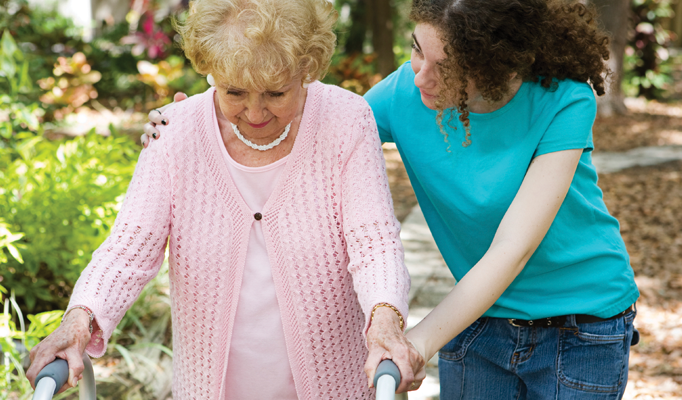 As people age and their need for care increases, there is one statement that is echoed from the depths of every soul: "I don't want to be a burden." This is a common sentiment that comes from the very centre of a person's being. It's our heart-cry to be valued for who we are without being judged as "less than" when we require assistance.
Having once been an independent, self-sustaining individual, it is extremely difficult for any of us to move into a place of dependence. And yet, this is what is frequently required as people age. For some it's a rapid change (stroke) and for others it's a slow and consistent decline in their health.
A few years ago, I had a visit with an elderly couple who had finally been able to live together in the same residential care facility. His body wasn't working and she was completely blind. It has been two years since I had first met this couple. At that time, he could still walk and help her find her way around. Time went by and they had been on the rollercoaster of declining health and finding appropriate care support. They had been married for almost 70 years. For a long while, they had been separated and needed help from others just to be together for a visit. They had a constant and changing need for physical, financial, emotional and spiritual support.
"This isn't what we planned," he told me. I could only imagine what they had planned… to live out their days together on a beautiful porch watching the sun rise and set, sipping iced tea. They would be enjoying the fellowship of their kids, grandkids and great-grandkids until their final day here on earth – which would be at the same moment so that neither would have to go it alone, not even for one second.
The reality is, like thousands of other elders in our province, they are completely relying on the advocacy and care of others. Dependence. It's one of our fears. We strive to be independent and yet, dependence is intertwined throughout our lives.
What is a good marriage if it is not mutual dependence? We need each other and the journey to mutual trust is rewarding, but never simple or easy.
We may feel independent in our employment, but even the self-employed farmer is dependent on the weather, the livestock and the markets.
And then, for those of us who walk in the way of faith, there is the very real journey of dependence on God – for insight, strength, direction, courage and companionship. There are seasons of dependence on God that are effortless and other times when we wonder if God is trustworthy or even present.
In some ways over the years we've grown to be comfortable with a certain degree of dependence on others. The challenge is when this degree of dependence increases in our elder years and we require a higher level of care.
Does receiving care automatically mean that you are a "burden" to those who help you manage your life at this stage? Interestingly enough, the Bible talks about burdens that can be shared, burdens that can be lifted, burdens that can be laid down. It talks about burdens that have been carried long enough, burdens that are too heavy to bear, burdens of guilt and burdens of shame. There are burdens of unbearable religious requirements and burdens of a ministry heart.
What the Bible doesn't talk about is how people are the burden. No, the Bible talks about people who are burdened and need their load lightened. Jesus called all of those who carry a heavy burden to come to Him, for His yoke is easy and His burden is light. He provides relief for the heavy soul (Matthew 11:30).
And so, we open our hearts and minds to the unnatural idea that our needs can be burdensome and exhausting, that our hearts can be burdened and heavy… but our spirits are not the burden – they are a joy – both to the Creator and to those who surround us in compassionate love and care.
I am reminded of the time a group of friends brought their paralyzed friend to see Jesus by lowering him into a crowded room through the roof (Mark 2: 1-12). Do you think the paralyzed friend was game for this desperate final idea? He would be in danger of sliding off of his gurney as they hauled him up the roof. He would be helpless as he watched his friends sweat and work to dig a hole in the roof. He would be useless as they lowered him into the room. And then, at the end of this plan, he would be dangling in front of Jesus and the crowd – embarrassed, helpless to move and unable to change his circumstance. His friends were above him controlling the ropes.
I wonder if, during the course of this day, the paralyzed man cried out from the depths of his soul, "I don't want to be a part of this crazy show. I just want this all to end! Get me out of here! People all around me are doing things to me and I can't make any choices anymore."
Many seniors can relate to that feeling. Their life circumstances change and they are thrust into a whirlwind that involves nursing care, medical crisis, family decisions and relocation. Someone else is holding the ropes. Someone else is running the show.
But who is helping you? Is it someone who feels that helping you is a terrible inconvenience or is it someone who has a connection with you that is energizing them to take action on your behalf?
Did the friends of the disabled man feel he was a burden as they lowered his gurney through the roof? Did they feel burdened as they watched with hopeful eyes as Jesus spoke to their friend? I'm sure their arms ached after carrying him for miles and lowering him carefully. But their hearts were linked to him in a bond that energized them to do what was required.
Is it possible that the first step in not being a burden is recognizing that as we move through our elder years, there will be people whose hearts are linked to ours in a loving bond that energizes them to take action on our behalf?
Is it possible that the second step in not being a burden is allowing the people who love you to do things for you that are, at times, uncomfortable and even frightening?
The paralyzed man had an encounter with Jesus that day and that encounter changed his life. First of all, Jesus cared for his heart-burden. He saw the faith of the caregivers and he granted the disabled man forgiveness for his sins. Both the disabled man and his care-giving friends were included in Jesus' reaction. Sometimes those on whom we depend for our daily needs are the conduit for Jesus' grace in our own lives.
This story of the disabled man is not primarily about being a burden or not being a burden. It's a story of Jesus' authority – both to forgive sins and to defy natural outcomes – after all, in the end he healed the disabled man.
And yet, it's a good place to use our imagination and speculate about how these men loved their disabled friend, about how difficult it is to be physically dependent and how normal it is to desperately want to be healed. It's a good place to imagine Jesus' heart of love and care even in this difficult circumstance. This story is one of hopeful co-operation between a disabled man, his care-giving friends and the God of all creation.
So, we open our hearts and lives to embrace the bonds that energize others to caring, necessary action on our behalf. We recognize Jesus is eager to encounter us when we are unable to care for ourselves. We discover that Jesus understands that those who care for us can be a conduit of faith on our behalf.