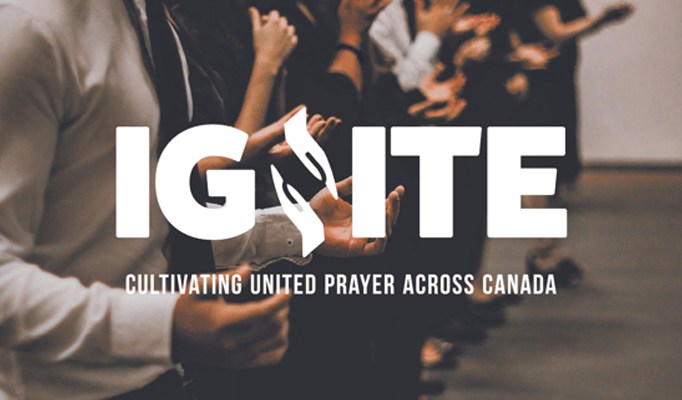 Are you hungry for unity, to pray for revival and see churches come alive in prayer? Pastors David Koop of Coastal Church and Darin Latham of Broadway Church are hosting 'Ignite: Cultivating United Prayer Across Canada'. This gathering will include a free prayer and worship seminar and summit in Vancouver, November 17 at Broadway Church.
Ignite is being co-sponsored by The Evangelical Fellowship of Canada, The Billy Graham Evangelistic Association of Canada, the National House of Prayer, the Peace and Reconciliation Network, Vineyard Canada, and local leaders.
The summit includes a half-day seminar to guide church and ministry leaders on how to cultivate a culture of prayer in their churches, (2 pm – 6 pm), followed by a complementary dinner. Registration by November 10 is required.
In the evening, there will be a free public prayer and worship gathering to seek God's presence for unity and spiritual awakening (6:30 pm – 9 pm). Prayers will be led by local leaders, event organizers and guests. There will be worship led by David Ruis and time for small group prayer.
Registration for the evening gathering is not required. This is open to everyone, including junior and senior youth. Ignite has been held in Ottawa, Calgary, Kelowna, and Regina where God's presence was strong.
There is no cost for the seminar and dinner for pastors and church leaders nor for the public worship and prayer summit. Registration for the Vancouver seminar-dinner portion is required by Nov. 10. Mandarin and Cantonese translations will be available at all Vancouver events.
· Register today at theefc.ca/ignite 
· View 45 second promotional video: https://www.youtube.com/watch?v=Ymi0Jhohf5E