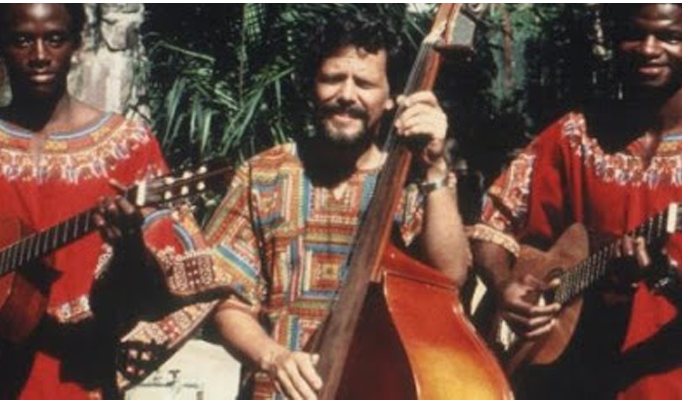 Some people have a romanticized idea of missionaries where everything goes well.  Meeting personally with Jim and Dawn Sawatsky was a reminder that the missionary life is no bed of roses.  While they have seen many miracles and breakthroughs, the Sawatskys have also experienced much suffering, persecution, betrayal, and setbacks.  Spiritual warfare is key in any missionary breakthroughs. In their 33 years as missionaries in the Congo, they saw God reach countless Congolese who have never before even heard the name of Jesus.  One remote village in the Geba/Yowa area near the Angola border had never heard the gospel.  Jim's team sang, showed the Jesus film, and preached the good news. At the end of the meeting, no one would leave, as the entire village wanted to give their lives to Christ.  
Being from Mennonite heritage and raised in the Chilliwack Alliance Church, Jim went through a rebellious phase before he finally surrendered his life to Jesus. At age 17, he described himself as an angry young man, angry at God and his parents. While running from Jesus, God gave him a dream in which he was standing by water, handing out literature, and telling people of another race and culture about God. Jim responded in shock, "God, I don't even know who you are! How can I tell anyone about you? You can't call me!" At age 18, after working up north as a lumber jack, he gave his life to Jesus, and immediately wanted to go to the Canadian Bible College in Regina Saskatchewan. While there, he served as a member of the CBC Kingsmen Quartet.
As mentioned in his autobiography Some Called Him Maverick, Jim has always been an 'out-of-the-box' thinker. Both Jim and Dawn on their first date told each other that they felt called to be missionaries. When they first came to the Congo in 1973, Jim was so impressed by their dynamic worship music that he began weeping,
"I couldn't sing, I was overcome with emotion; I literally broke down and cried. My first thought was, 'What in the world am I doing here? These people already have a vibrant life in Christ.' Immediately on the heels of that thought came the realization that people at home must hear this! This was the fruit of many; all their sacrificial financial giving, all their sacrificial sending of their young, married and single, of sons and daughters and all their sacrifice of prayers for the missionaries and the church leaders…Yet God seemed to whisper, 'Don't worry, I have something special for you.'"
Jim eventually became so fluent in Lingala that he was chosen to guide the Old Testament translation in the Lingala language. For a season, he was powerfully used in thirty new church-plants. When that door closed, the music door opened widely in 1979. Music is deep in Jim's Mennonite heritage. His grandfather, though a pacifist, was forced to serve in the Russian army, and became a key military bandmaster, writing his own marching tunes.
Before Jim's conversion, he wanted to become a Jazz musician. From the earliest stages of his walk with Christ, music ministry was central in how Jim shared the gospel both in Canada and the Congo. He is a musical missionary minstrel. Music, as Jim says, is the heart language of the Congolese people. While in the Congo, Jim formed a music group, known in North America as the Kinsasha Trio, and in Africa as Trio Sango Malamu (Good News Trio). At times, their singing group packed stadiums and produced ten music albums, mostly singing their own unique songs in English, French, and Lingala. Working closely with the Billy Graham Evangelist, Howard Jones, they ministered to audiences ranging from 10 to 100,000 in West Africa. Often there was a 10 percent response rate of people coming to Christ. God powerfully used the Kinsasha Trio which extensively toured Canada and USA, deepening the commitment of many North American churches to missions. From 1987 to 1989, while on furlough, Jim and Dawn served at Peace Portal Alliance Church as missionaries-in-residence, and travelled with Trio Sango Malamu right across Canada.
One day, Jim asked the Lord, "Why is it that the enemy of our souls has the worst message (morally) and always has the best equipment to herald it and we who have the best message have nothing but a megaphone, at best, to announce it to the masses?" He went on to pray, "Lord, if you give me the best equipment (or really good equipment), I will proclaim the best message, loud and clear." Dr Raymur J. Downey commented about Jim and his Congo team, "Admittedly, their greatest ministry impact came through what continues to function today as Studios Sango Malamu Ministries (SSMM)." Their recording studios were the first of their caliber in Christian sound production in Kinshasa – maybe in all of the Congo. Financing, equipment, and workers miraculously appeared through fervent prayer. With a day shift and a night shift, the recording studio was functioning 24/7. Jim's goal was to flood the music market in Kinshasa and in all the Congo, with praise and worship music for the honour and glory of King Jesus. Two years later, most people on the streets of Kinsasha were choosing Christian music cassettes over the secular alternatives. In the first five years, they recorded over one hundred cassette albums yearly.
Open Doors were key to Jim's mission strategy. He once said to a group of young people,
"You need to pray that God will give you a vision for what he wants to accomplish. When you have this vision, give it to the Lord and ask him to open the doors for you to walk through. Don't force the doors and see how he develops the gifts he has given you in that vision."
As often happens in missions, one open door led to another. Jim and the team ended up starting a Music and Worship Academy, teaching the basics of music, worship, and sound reinforcement. For over thirty years, the dictatorial President Mobutu had not allowed any other radio stations than his own. Suddenly, God opened the door for a Christian radio station Radio Sango Malamu, reaching up to four million listeners daily. One day, out of the blue, government bureaucrats shut down the station. The Lord spoke to Jim and the team at a church service through tongues and interpretation, saying "This is my radio station, says the Lord, 'I will bring it back on the air." Miraculously, they were back on the air. In his role as C&MA Africa Media Consultant & District Missions Consultant, Jim gave oversight, starting in 1998, to the birthing of other sister stations in Pointe Noire, Republic of Congo, and Libreville, Gabon. Other radio stations, some which were solar-powered, were set up in Guinea, Mali, Burkina Faso, and Cote D'Ivoire.
By 1995, SSM had become Studios Sango Malamu with three or four different studios for different projects. They were also running their own video studios, post-production studio, distributing house, music academy, and worship seminar ministry. Their studios were also adapted for Campus Crusade, for a certain time, to make various language sound-tracks for the Jesus film. In one year alone, they ministered to 100,000 people using the Jesus film, mostly in remote areas. SSMM (Studio Sango Malamu Ministries) developed into a Radio/TV Network with one Television station (TVSM) and 4 FM Radio stations (RSM) in four major cities of the DRC, including the parent station in Kinshasa.
President Mobutu, in his final days, had proclaimed that blood would be running in the streets of Kinsasha, but instead he was peacefully replaced. The RSM radio station filled a stadium on Dec 31st 1997 with 120,000 people repenting and giving God thanks that there was no bloodshed. Jim commented: "We were all down on our knees, bowing our heads, confessing our sins, and thanking God." Mobutu had the stadium built for his own rallies, but he never filled it (80,000 legal capacity). Football teams tried and the most popular musicians tried, but no one could fill the stadium… but that day God filled it for His Glory to overflowing… Jim and the RSM team actually had to close the doors.
In the Congo, supernatural healings and deliverances are more common in their churches than in many North American churches. Jim shared how a woman with a paralyzed arm was healed through prayers. So instead of divorcing her, her husband started coming to church with her.
Jim also learned through his wife Dawn to slow down and open his house for the ministry of hospitality, "I began to understand that slow was good, especially if you wanted to last a long time in Africa." Jim and Dawn are wonderful listeners, and great storytellers. Some of those relationships built through their open-door policy were lasting and life-giving.
The Sawatskys also lived through several times of political instability. In September 1991, the military in Kinshasa were not paid and went on a rampage looting, raping and pillaging. The Sawatskys had to find refuge in the Gulf Oil compound. Amazingly, nothing was stolen from the SSM studio. Seeing the devastation deeply affected Jim, "If I had not had that experience of the deep darkness of depression, I would not have believed that people could get so low."
Sadly, from time to time, Jim and Dawn experienced great rejection and betrayal. Deep forgiveness kept them from just leaving for Canada and never returning. There was even a time when after 30 years, people tried to remove Jim in 1998 in order to take over the independent Christian radio station. Back in Canada, he was completely despondent and stressed out, resulting in a heart attack. God intervened, protecting the Sawatskys in a very precarious time.
After Dawn's bout with life-threatening illness in 2003, the Sawatskys returned to Canada, but they never lost their heart for the Congolese people. When Dawn got well, Jim commuted to the Congo for several more years working chiefly with SSMM.
We thank God for these missionaries, Jim and Dawn Sawatsky, who discipled an entire nation through the gifts of music and hospitality.