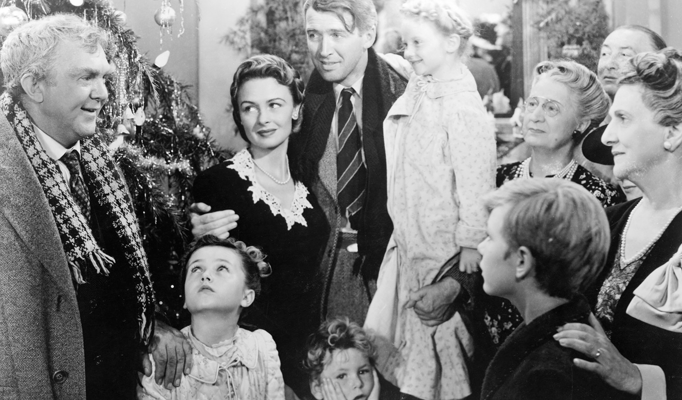 One of our favourite Christmas movies is It's a Wonderful Life where Jimmy Stewart plays the part of a generous but discouraged businessman who discovers that he really was making a positive impact. You will remember how the Christmas angel Clarence had to earn his wings by helping out Jimmy Stewart (aka George Bailey). George was so distraught at Christmas that he was about to jump off a bridge. Clarence, the delightful angel shows George what an amazing impact his generosity is making, and how much poorer his town would be without him.
The movie was based on a short story and booklet The Greatest Gift, written by Philip Van Doren Stern in 1943. Stern wrote a Charles Dickens 'Christmas Carol' spinoff for the North American audience. In 1946, Frank Capra wrote the movie version. It was initially seen as a box-office flop, falling three million dollars short of breaking even, and not even winning one Academy Award Oscar. In 1947, the FBI and Senator Joseph McCarthy's House Un-American Activities Committee (HUAC) secretly investigated It's a Wonderful Life, fearing it was "communist propaganda", stirring up class warfare, because it portrayed the villain as being a "scrooge-type" banker.
Since It's a Wonderful Life was seen as a failure, the producers didn't even bother to renew the copyright license in the late 1970s. This meant that television studios could show the movie for free at Christmas. After a few years It's a Wonderful Life became a cult classic. It later went on to become the number one inspirational North American movie ever made.
Who can forget the conflict around the Christmas tree as George Bailey was close to committing suicide? We loved his honest prayer: "Dear Father in Heaven, I'm not a praying man, but if you're up there and you can hear me, show me the way. I'm at the end of my rope. Show me the way, God." His unscripted tears were genuine. Stewart commented in a 1987 interview, "As I said those words, I felt the loneliness, the hopelessness of people who had nowhere to turn, and my eyes filled with tears. I broke down sobbing." Actress Carol Burnett called this one of the finest pieces of acting ever seen. Because Jimmy Stewart was suffering from post-World War II PTSD, he was able to connect with George Bailey's trauma with unusual depth. On his twentieth combat mission flying over the city of Gotha, the floor of Stewart's plane was hit, blowing a hole right below his feet. It was one mission too many for Stewart. He was grounded because of his paralyzing fear of making a mistake and causing someone to die. Friends observed that he had aged ten to twenty years. He began suffering from shakes, sweats, a short temper, mood swings, and nightmares. He couldn't keep food down, and had to live on just ice cream and peanut butter.
Christmas 1946 was surprisingly healing for both George Bailey and Jimmy Stewart himself. Who can fail to recall the final scene around the Christmas tree when all his friends come together and unite in support? Who can forget the joyful Christmas carols sung by Jimmy Stewart, friends and family as they thanked the baby Jesus for the true meaning of Christmas?
This Christmas, let not forget to unwrap the true gift of Christmas, the Christ Child come to earth to save us.