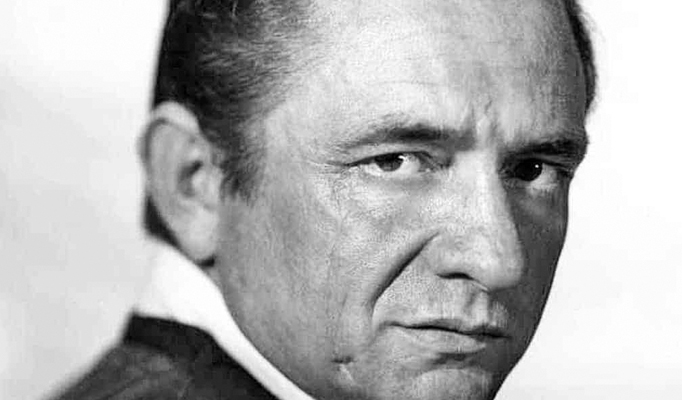 Johnny Cash's mother, Carrie, said to Johnny at age 15: "You've got a gift, JR. You're going to sing. God's got his hand on you. You're going to carry the message of Jesus Christ." Cash saw the song, "I walk the Line", as his first Gospel hit. He sang it not just to his wife, but also to God. His mother Carrie always believed in her son even through the worst of his addictions. Sadly, Johnny's alcoholic father did not know how to bless his son. When his older brother died tragically, his father unfairly blamed Johnny, saying, "Too bad it wasn't you instead of Jack."
Johnny Cash was a seventeen-time Grammy winner who sold more than 90 million albums in his lifetime. But his life was full of tragedy and heartbreak. Johnny Cash 'fell into a burning ring of fire, (he) went down, down, down.' He self-medicated for much of his music career, saying: "You know, I've had my years in the wilderness, had my years when the demons crawled up my back. That was only when the drugs started, and they've gone away now…I had to finally accept it, you know, that God thought there was something worth saving, so who was I to say, 'You're wrong'? I had to accept it and go along with it, and that's what I did."
Cash said he used drugs to escape, but it devastated him, making it impossible to communicate with God. Amphetamines and alcohol were literally killing him. Cash admitted: "you're on the suicide track when you're doing what I was doing."
Through his addictions, many family members and co-workers were deeply hurt. As part of his recovery, Johnny Cash worked hard to rebuild many destroyed relationships. His son, John Carter Cash, said: "When Dad returned from the Betty Ford Center, he had a new lease on life, a new direction. Like the Apostle Paul, the scales were pulled from his eyes." As Cash sang about painful broken relationships, many identified with his struggles. Bob Dylan said of him: "If we want to know what it means to be mortal, we need look no further than the Man in Black." Cash was described as the poet for the common person: the cotton picker, the gravedigger, the roughneck, the coal miner, the train engineer, the lumberjack, the spike driver.
Cash's music spoke up for the voiceless, the rejected, the abandoned, and the prisoner. Who can forget when he did a live album in Folsom Prison?
Time Magazine said that "Cash and his songs are rooted in the basic of country life: the land, lost loves, wanderlust, the seasons, lonely trains hooting across the still prairie night, preachers, prison, Sweet Jesus and home sweet home."
A major part of his recovery was the relentless love of his wife, June Carter Cash. Johnny Cash said of June: "She loves me in spite of everything, in spite of myself…She's always been there with her love and it certainly made me forget the pain for a long time, many times." June often flushed his drugs down the toilet, and prayed for him when he was near death with an overdose. She and Johnny's mother were there waiting for him when he pulled out of a suicidal tailspin at Nickajack Cave near Chattanooga, Tennessee.
Another key to Johnny Cash's recovery was the loyal friendship of the late Billy Graham. John Carter said: "When my father fell short, he could always reach out to Billy Graham. Billy didn't judge my father. He was there as his friend unconditionally. Billy would lift him up, support him and say, 'You can do this. Stand back up. You know who you are.'" He and June would eventually share and sing at nearly three dozen Billy Graham Crusades in front of nearly two million people.
Many people don't know that Cash wrote a novel about the apostle Paul, saying: "If God could embrace an avowed and bloodthirsty enemy of his son Jesus Christ, he'd make a place for Johnny Cash." Few were aware that he was an ordained minister, even performing weddings, including one for his daughter Kathy. Johnny Cash commented: "The Master of Life's been good to me…He gives me strength to face past illnesses, and victory in the face of defeat. He has given me life and joy where others saw oblivion."
In the last ten years of his life, Johnny Cash came back to his creative roots and was rediscovered by the younger generation of musicians. Bono of U2 commented: "To me, Johnny Cash – with all his contradictions – was a quintessential character of the scriptures, or at least of the characters in the Bible that interested me. If God had time for these flawed characters, then God had time for me." Bono said that he would rather spend a day with Johnny Cash than a week with most other pop artists. Bob Dylan said: "Listen to (Cash) and he always brings you to your senses. He rises high above all, and he 'll never die or be forgotten, even by persons not born yet – especially those persons…" As an artist, Johnny Cash wanted to make records that made a difference.
Johnny Cash finished well. His last producer Rick Rubin drew out that which was best and truest about Cash, particularly in the video, Hurt. Cash noted: "Rick saw something in me that I didn't know was there anymore." Johnny Cash rediscovered what made him tick musically. Rick Rubin commented: "When I asked artists what they admired about Cash, that's what they often mentioned – that vulnerable, hurt aspect, that man who wouldn't give up. "Bono said that Hurt was perhaps the best video ever made. It was raw and real. Cash's unshakable faith in Christ shone through this remarkable video. He was on fire with God's love. His daughter Rosanne commented: "It's so unflinching and brave and that's what you are. I thought it was an enormously courageous. It was a work of art, excruciatingly truthful."
May we, like Johnny Cash, finish on fire, creative and faithful.