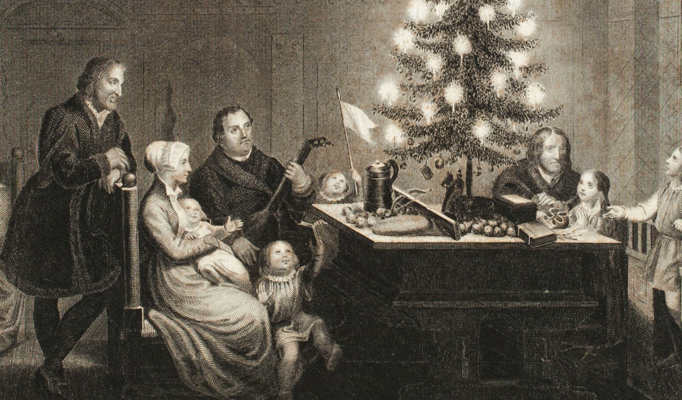 Martin Luther & his wife Katharina dearly loved Christmas. Tradition even credits them with having the first Christmas tree. On this 502nd anniversary of the Reformation, it is worth remembering that Luther's marriage revolution allowed pastors to marry for the first time in over 500 years. Marriage and family went from being second-best to something to be celebrated. Many priests' housekeepers with children were promoted to become legal clergy wives. Some suggest that allowing clergy marriages was even more definitive than the doctrine of justification by grace through faith.
Luther not only endorsed pastors marrying, but took the plunge himself, marrying a runaway nun. King Henry VIII of England, famous for marrying and divorcing several wives, ironically accused Luther of starting the Reformation out of sheer lust. Luther's bride, Katharina von Bora, was sent at age five to a nunnery by her widowed father when he remarried a widow with her own children. In 1524, the year after Katharina escaped the convent, Luther published a pamphlet: A Story of how God Rescued an Honorable Nun. This told the true story of a young woman, Florentina, who was shipped off to a convent at age six and flogged and imprisoned in a convent prison cell when she tried to leave. He also wrote about "children…pushed into the nunneries by unmerciful parents who treated their own so cruelly."
When these nuns tried to leave, they would be arrested and even beaten. Luther commented, "…no vow is valid unless it has been made willingly and with love."
Katharina and eleven other nuns escaped on Easter Eve, one of the few nights they would be permitted to stay up late. Leonhard Köppe delivered herring in barrels to the Nimbschen convent, in exchange for twelve nuns hidden in and among the herring barrels. It has been described as one of the most stunning jail breaks in history.
Luther's job was to find husbands for the nuns. Kate had romantically fallen for Jerome Baumgartner who never returned back to Wittenberg for her, as he had promised. Luther wrote Jerome on October 12, 1524: "If you want to hold on to your Kate von Bora, you better hurry up before she is given to some other suitor who is on hand. Until now she has not gotten over her love for you. And I would be very pleased if the two of you were united with one another (in marriage)." Jerome's parents married him off instead to a wealthy 14-year old heiress.
Luther then tried to marry Kate off to Dr. Kaspar Glatz. Kate turned in desperation to Luther's colleague, Nikolaus von Amsdorf, saying she would accept a marriage proposal from Amsdorf or Luther, but not from Glatz. He met with Luther, saying: "What the devil are you doing, trying to coax and force the good Kate to marry that old cheapskate whom she neither desires nor considers with all her heart as husband?" Luther responded: "What devil would want her then? If she does not like him, she may have to wait a good while for another one!"
After Luther asked Katharina what he was to do with her, she said: "You could marry me yourself." This shocked Luther, as he saw himself over the hill at age 42, as well as likely to be martyred. He decided to ask his father, Hans Luther, who recommended that he settle down and give him some grandchildren.
Luther later commented: "I never loved Kate then for I suspected her of being proud (as she is), but God willed me to take compassion on the poor abandoned girl." Upon Katie's finding out that she would marry Martin, she prayed: "Now I shall no longer be Katharina, runaway nun; I shall be the wife of the great Doctor Luther, and everything I do or say will reflect upon him…It is like an assignment from God. God, keep me humble. Help me to be a good wife to your servant Doctor Luther. And perhaps, dear Father, you can also manage to give me a little love and happiness."
After marrying, the Luthers made the former Augustinian Black Cloister their home. Luther, as a former confirmed bachelor, commented: "There is a lot to get used to in the first year of marriage. One wakes up in the morning and finds a pair of pigtails on the pillow which were not there before." Katharina also shockingly put up curtains and washed his bedsheets. Luther commented: "Before I was married, the bed was not made for a whole year and became foul with sweat."
Katharina was a true biblical Martha, always working and practically serving her family. Drawing on her nunnery experience, she was up at 4 am each morning, causing Luther to call her the Morning Star of Wittenberg. She provided a financial and emotional stability in Luther's life, that helped him be more grounded. Being an ex-monk, he refused to charge his students for attending his lectures or be paid for his books. He was also radically generous, even cosigning expensive loans on which others defaulted. Fortunately, Katharina was a gifted businesswoman, who turned their home into a profit-making hotel for students and others. Luther commented: "I am rich. God has given me my nun and three children: what care I if I am in debt, Katie pays the bills." With forty rooms alone on the ground floor of her Black Cloister home, Kate functioned as a Protestant abbess. She was busy with "a motley crowd of boys, students, girls, widows, old women, and youngsters."
Katharina, with her sheer energy, gave Luther the local base for a global reformation. In a 1535 letter, he wrote that his Katie was busy planting crops, preparing pastures, and selling cattle. Kate became gardener, fisher, fruit grower, cattle and horsebreeder, cook, beekeeper, provisioner, nurse, and vintner. Katharina also served as Luther's publishing agent. He entrusted to her the task of printing and distributing his prolific writings.
Over time, they developed a very romantic marriage, as Luther commented: "Kiss and rekiss your wife….A married life is a paradise, even when all else is wanting." He began to write about Kate as 'my true love' and 'my sweetheart'.
Luther commented, "I would not trade my Kate for France and Venice: Because God has given her to me and me to her; I have seen time and again that other women have more faults than my Kate; She is a faithful marriage partner; she is loyal and has integrity." "Kate," Luther told her, "you have a god-fearing man who loves you. You are an empress; realize it and thank God for it."
May each husband thank God for the empress in his life. Our marriage and families are better today because of Kate and Martin Luther, a global firestarter family.