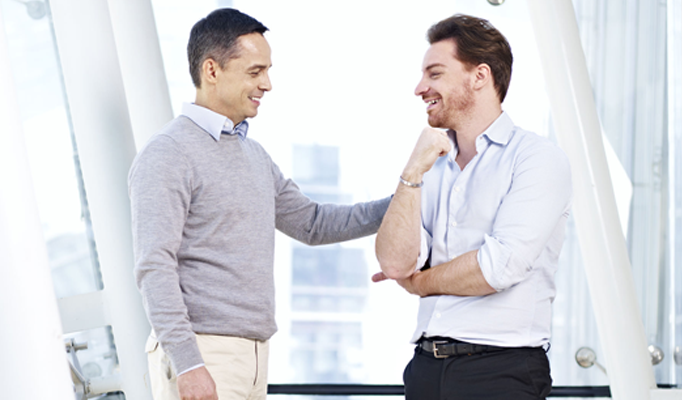 Brene Brown defines a leader as "anyone who takes responsibility for finding the potential in people and processes and has the courage to develop that potential." You may be a leader in ways you haven't imagined yet.
Last month, I shared the four relationship-oriented behaviours of effective leaders identified by Michael Sessions. These included support through friendliness, careful thought to the well-being of others and concern for the needs and feelings of others. They also included active involvement in developing the skills and confidence of others so that others see increased skills, adjust to new responsibilities and advance in their career. In addition, we saw the importance of praise, appreciation, giving credit where it is due and rewarding achievement. Lastly, we noted that verbal and written communication must be clear in sharing the plan, the direction needed and the expectations involved so others are set up for success. These four habits practiced consistently over time can bring about great achievements in the workplace.
I looked at how these applied in the home so, today, I boomerang back to see how they work out in our local Canadian Leadership. For that, I tapped the experience of leadership coaches like Carson Pue and Larry Nelson.
Before I draw on their wisdom, it should be noted that Sessions also has practical advice in the area of task-oriented behaviours for effective leaders. He lists these five primary behaviours as plan, structure, allocate resources, take action and monitor progress. Planning is "thinking through and making decisions about what is wanted and how to get it. The organizational mission must be clear along with the key activities and individuals needed to pursue that mission.
Structure involves scheduling, budgeting, reporting, resource disbursement, policies and practices, and organizing tasks in order. Once this is done, conflicts are managed, relationships are developed, resources are allocated and the quality and quantity of work is monitored. "The most important leadership behaviour for predicting group performance is to define peoples' roles on the team (allocate resource and structure), help them to understand their relationship to others on the team (structure), coordinate group members' efforts (plan), establish expectations, and monitor performance."
Now for local leaders. Larry Nelson has run his own accounting practice, functioned as the CEO of Baptist Housing, founded and established the Nelson Kraft executive search firm, and now manages the governance restructuring, housing project process, financials and executive search for First Baptist in downtown Vancouver. He has been an influential mentor and coach for dozens of young leaders through many years. One of his life-changing habits has been to take several days at the Mission Abbey in prayer each year to review and present his work before the Lord.
Nelson says, "My practice as a senior leader has been to encourage those reporting to me by establishing at the beginning of each year the three or four SMART (Specific, measurable, achievable, relevant, and time-bound) goals for them to accomplish. Over the year, we monitor progress and celebrate when each goal is achieved. We also establish a clear annual professional development plan that will advance each person's skills and career goals."
Carson Pue, an influential figure with Arrow Leadership, TWU and president and CEO of his own coaching business (Carson Pue & Associates) says, "I agree that demonstrating concern for the needs and feelings of team members is a hallmark of exceptional leadership. By actively listening, empathizing, and responding to the individual needs of their team, leaders show that they value their employees as human beings, not just as workers at their business or organization. We can practically accomplish this by conducting regular check-ins, holding one-on-one meetings, and creating opportunities for feedback and suggestions. The best leaders proactively seek to understand the challenges their team members face and work collaboratively to find solutions that benefit everyone."
He remembers a "time at Arrow Leadership when my team was working toward a tight deadline. Now it is tempting for leaders to focus on the end result solely, but I learned to call everyone together into what we called The Situation Room. Gathered around a board table we would take the time to understand the concerns and potential obstacles faced by each team member. They often offered resources or additional support to alleviate any pressures, ensuring that the well-being of their team remains intact. By showing understanding and empathy, a leader establishes trust and motivates their team to go above and beyond to achieve success."
Dr. Linda Hill, of Harvard University, says "Learning to lead is a process of learning by doing. It can't be taught in a classroom. It is a craft primarily acquired through on-the-job experiences – especially adverse experiences in which the new manager, working beyond his current capabilities, proceeds by trial and error." This may be so, but an effective manager gleans his experience also by watching, reading, interacting and being mentored by those who have already been through the experience of trial and error.
When it comes to the second relationship-oriented behaviour suggested by Sessions, Pue says that "friendliness is the first step towards building a strong foundation within any team. Leaders who approach their team members with warmth and genuine kindness create an environment where individuals feel valued and respected. Simple gestures like greeting employees with a smile, taking the time to have meaningful mentoring conversations, and acknowledging their achievements contribute to a sense of belonging and motivation. By being approachable and showing a genuine interest in their team's lives, great leaders establish trust and open lines of communication, making it easier for individuals to seek guidance and share concerns."
He adds, "I love leaders who push all the credit back to their team members. By offering praise, expressing gratitude, giving credit where it is due, and rewarding achievements, you create a positive and motivating work environment. This not only boosts morale but also encourages team members to continue striving for excellence. Recognizing others fosters a sense of belonging, enhances job satisfaction, and improves overall team performance. I would call out individuals at staff meetings or even publicly for achievements. Be careful here that it is truthful and worthy or your expressions will fall flat on the team and the individual."
Pue concludes, "Great leaders understand that clear verbal and written communication plays a vital role in setting others up for success. When I worked with Chuck Swindoll he would share 'Here is what the desired outcome is.'" I have found it helpful to share with my teams at the beginning of a project what the desired outcome is to be and often put that in writing. By sharing plans, providing direction, and establishing expectations, leaders can build a strong sense of team and momentum.
"Recently I was in a meeting developing a communication plan for a ministry. We started our day by looking at the facts and it paved the way to a very productive meeting. Logical and factual evidence supports the why behind our decisions, while sufficient resources, clear action, and strong support ensure that team members have what they need to achieve their goals. Bobb Biehl, a life mentor of mine, drilled into my head the expression, "When you have all the facts, the decisions jump out at you."
How do you become this kind of effective leader?
John Maxwell, icon to many leadership hopefuls, calls others to follow small disciplines similar to the atomic habits we've read about. He says, "small disciplines repeated with consistency every day lead to great achievements gained slowly over time." Athletes are most familiar with this reality but so are effective leaders in the workplace. And they don't have to read the 10,000 Amazon books on leadership to become effective.