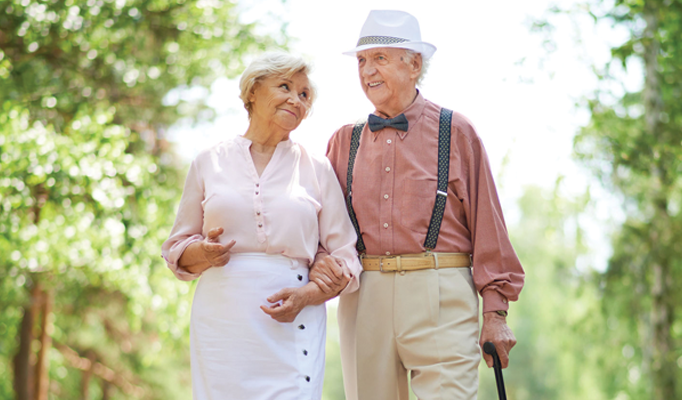 The internet has much to say about love, romance and dating for young people, business people, professionals and recently divorced. It has a lot less to say about love, romance and dating among elderly seniors. Most of the articles about falling in love late in life as a senior reference seniors in the first third of their senior years – the young-olds (age 65-74). Romance at that age is a time of active living – travelling, establishing a new home together and enjoying the freedom of time together. 
It's much more difficult to find articles that reference love later in life among the "old-olds" (85+). To finish these subcategories of seniors, be aware that there is a middle group which is referred to as, simply, "old" (age 75-84). Of course, these sub-categories of old age are generalized. There are many seniors whose lives, health, capabilities and other dimensions of old age do not fit the categories. As one scholar suggests, "the marks of old age, both physical and mental, can easily vary between people of the same chronological age".
Getting married at 85+
Most of my days are spent at a senior's campus of care that is home to more than 700 seniors. In this context, the median age of the seniors is 85, which puts them into the "old-olds" category. In the past few years, there have been several weddings among the seniors who met each other while living on our campus of care. These couples have navigated the challenges of melding two separate, usually complex lives into one married union. They were seeking to express more than deep friendship – they were seeking to covenant with each other a whole-life union that encompasses all aspects of their lives – physical, sexual, social, mental, emotional, financial, moral and spiritual.
The Race Grows Sweeter Near Its Final Lap
The New York Times has a weekly column called, "Modern Love" that publishes essays about relationships, feelings, betrayals and revelations. It has grown into a podcast and a Netflix television series. In the Netflix series, one love story stood out to me. It is entitled, "The Race Grows Sweeter Near Its Final Lap" and tells the story of a 70 year old woman, Eve, and 80 year old man, Sam, meeting in a running club and falling in love.
Eve says, "Old love is different. In our 70s and 80s, we had been through enough of life's ups and downs to know who we were, and we had learned to compromise. We knew something about death because we had seen loved ones die. The finish line was drawing closer. Why not have one last blossoming of the heart? We followed our hearts and gambled, and for a few years we had a bit of heaven on earth."
Mike Mason, Christian author of The Mystery of Marriage talks about the struggle for people at any age to choose marriage. He says, "Love coaxes and even hood-winks us into the making of a decision so radical that if left to our own devices we would never have entertained it for a moment."
And this is how it is for seniors who fall in love and find themselves, often for the second time, "hood-winked" by joy, delight, romance, pleasure and love into this incredible decision to marry. The practicalities of families, economics, living arrangements and future plans are invariably more complex for seniors than young couples. Nonetheless, there are many seniors who follow the path of their heart back into love and marriage late in life.
Finding happiness in relationship late in life
A woman in her 90's shared with me the joy of her second marriage. She was, once again, a widow. She told me that the greatest gift God gave her, in her senior years, was the wonderful relationship with this man. Her first husband was reckless and cruel. Although he was learned and successful, he was arrogant toward God and discouraged any glimmer of faith in her life. When he died suddenly, she was deeply conflicted. Sorrowful for the loss and joyful for the freedom. For the first time in her adult life, she was released to fully explore her desire to know and be known by God. In her journey of discovering God's love and forgiveness through Christ, she met her second husband. She told me that the tender way he loved her was a powerful example to her of God's tender love for human-kind. They shared a spiritual connection that was new to her – and deeply meaningful. Their joy was cut short when he died suddenly after 12 years of marriage. She savoured the memories and relied on them as she continued to walk in step with the Holy Spirit, once again as a widow.
Mirroring the covenant relationship with God
As followers of Christ, we are deeply aware that God uses the image of a bride as a significant symbol and metaphor for His relationship with the church. No matter the age of the bride and groom, there is an expectation that the covenant, promise and vows made to each other will mirror the covenant relationship that believers have with God through Christ. Marriage is a teacher who educates us on God's grace, mercy, tenderness, commitment, compassion, cheerleading, forgiveness and correction. There is much to learn in a marriage, including the discipleship and spiritual formation that comes through "iron sharpening iron", Proverbs 27:17. God is not finished His transformative work in the lives of His children no matter what their age. As believers, God invites and expects us to be imitators of Christ, becoming conformed to the image of His Son. We are the clay, He is the Potter. Marriage is a potter's wheel that God uses for healing, maturing and refining our lives. There is no end-date on His desire to produce, in each of us, the proven faith that results in praise and glory at the revelation of Jesus Christ (1 Peter 1:7).
The love of special friends
For others, there is a different kind of falling in love – a deep and special friendship. As an "old-old", seniors may experience a meaningful and loyal friendship that has a special place in the heart of each one of them. These friends often refer to each other as "special friends" and enjoy each other deeply. I remember one gentleman in his 90's who met with a woman in her late 80's each sunny morning by the outdoor water fountain. They were both professionals, educators and intellectually active. They talked politics, theology, religion, sociology and (always) back to politics. She had never married and he was caregiver to his beloved wife for more than 10 years. When they found each other, the connection became a much-enjoyed aspect of each of their daily lives. They were devoted to each other, carried each other's burdens, enflamed the work of God in each other's hearts, prayed for each other and laughed and laughed and laughed.
When his health began to falter, she was beside him but not responsible for his care. His children were there for him. She prayed for him, visited him and spoke fondly of these last visits. When he passed away, she was grieved and felt the loss deeply. There was a hole in her heart where once there had been a life-giving and meaningful love. His family honoured her as his dear and special friend in his last years of life.
We are made for connection
Human beings are social beings. We are made for connection. We are made to share our lives and have companionship. Research indicates that those who are socially isolated are at risk for health issues. Those who have thriving social connection live longer. I can't help but think that the elderly man who met his special friend for two years by the fountain was given these two additional years of life simply because of the joy and hope he found in this deep friendship. Could it be?
Love, late in life, can be the antidote to the North American epidemic of loneliness. It can change the path of health, happiness, meaning and hope for those who find it. As Eve says of her relationship with Sam, "Young love, even for old people, can be surprisingly bountiful."
Next month, in Part Two, we will look at some concerns and considerations for love late in life.