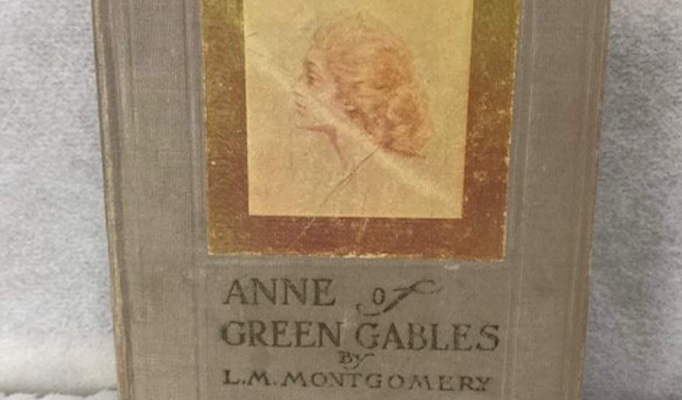 Might Anne of Green Gables be a metaphor for the coming Canadian spiritual awakening? In this increasingly fatherless generation, could God use the writings of Lucy Maud Montgomery to help us discover the Father-heart of God? Both Malachi 4:6 and Luke 1:17 speak about God turning the hearts of the children back to their fathers and the fathers to their children.
Maud, as Canada' most famous author, was just as much of an orphan as her remarkable literary character Anne Shirley. Her mother died of tuberculosis when Maud was not yet two years old. Before moving to Western Canada, her father gave her to his in-laws on a 'temporary' basis, which lasted until she was fifteen. Her father-wound caused Maud to move to Saskatchewan to be with her father for a year. Sadly, this Cinderella dream became a nightmare as her stepmother treated her like an unwelcome domestic slave.
So, Maud returned to Prince Edward Island, the only place where she really felt at home.  She never saw her father again. Her PEI roots went deep, with her grandfather Montgomery, a PEI senator connected with John A. MacDonald.
The majestic beauty of PEI caused her to come alive emotionally and spiritually. For her especially, the heavens declared the glory of God; the skies proclaimed the work of his hands. (Psalm 19:1) Maud revelled in what Leanne Payne called the sanctified imagination. Where others saw religion as primarily formalistic and moralistic, she experienced it as the strangely warmed heart. Anne Shirley illustrated what happens when a person becomes alive in Christ.
In the chapter 'Anne Says Her Prayers', Marilla is horrified in astonishment that Anne never knew any prayers. She tries to guilt-trip Anne, calling her wicked and a very bad little girl. In order to stay at Avonlea, Anne recites the Presbyterian catechism by rote, but with no feeling. She then movingly says:
If I really wanted to pray, I'll tell you what I would do, I would go into a great big field all alone or into the deep, deep woods, and I would look up into the sky, up, up, up into that lovely, blue sky that looks as if there was no end to its blueness, and then I would just feel a prayer.
Maud felt that true prayer must touch our hearts.
After Anne is sent to get a copy of the Lord's Prayer, Marilla finds Anne standing motionless for ten minutes before a picture of Christ blessing little children. Anne comments:
…and I was just imagining that I was one of them, the little girl standing over in the corner with the blue dress as if she didn't belong to anyone, like me. She looks lonely and sad, don't you think? I guess she had no father or mother of her own, but she wanted to be blessed too. So, she just crept shyly up on the edge of the crowd, hoping that no one would notice her, except him. I am sure that I knew just how she felt…She was afraid that he might not notice her, but it is likely that he did, don't you think? I have been trying to imagine it all out, her edging nearer until she was quite close to him, and then he would look at her, and put his hand on her hair, and oh such a thrill of joy would flow over her.
Anne was drawn to a relationship with Jesus through a visual representation of his caring for lonely children. Maud is showing us here that prayer is about intimacy with Jesus. After reading the Lord's Prayer for the first time, Anne was entranced: "This isn't poetry, but it makes me feel the same way poetry does…That is just like a line of music." What if the next prayer revival involved poetry and art?
Sadly, Marilla missed Anne's spiritual breakthrough, commenting: "It doesn't sound right to speak so familiarly about such things." Tragically for many Canadians, prayer remains detached, impersonal, and merely transcendent.
Many of us suffer from a stunted imagination. We even read the bible mechanically, missing the beauty and poetry of God's Holy Word. Lucy Maud Montgomery reminds us of a female Dr Eugene Peterson who was always encouraging people to discover the poetic symbolism of God's epic story.
She talked about being 'drunk on books.' Books fed her very active imagination. Her grandfather read the Bible aloud every night after supper. Many people don't know that Maud was a pastor's wife who humorously included many references in her books to the challenges of ministry: "What agonies I have endured at times when I was dying to laugh but dared not because I was a minister's wife." Though minister's wives had to be 'naturally good', they could have 'ugly red hair', because ministers and missionaries were not worldly enough to reject carrot-top wives. Maud knew that so many beautiful women secretly feel ugly and not good enough.
She was always jotting down stories. Her most famous story, Anne of Green Gables, was initially rejected by five publishing companies. The rejection was devastating to Maud: "That finished me. I put Anne away in my old hat box."
After L.C. Page, a Boston publisher, finally accepted her, Anne of Green Gables sold 19,000 copies in the first five months. Maud received royalty payments totaling $7,000. The average worker in PEI earned less than $300 a year. By 1914, Maud's income reached $12,000 – as much as the Canadian prime minister made. Later, it soared to $46,000. In January 1923, she became the first Canadian woman to be named a Fellow of the Royal Society of Arts in England. In 1935, King George V presented Maud the 'Officer in the Order of the British Empire' medal.
Mark Twain called Anne "the dearest, most lovable child in fiction since the immortal Alice in Wonderland." Anne's book has sold over fifty million copies in thirty-six languages worldwide. Maud commented, "I wrote it for love, not money." She initially thought that it would only appeal to teenage girls, but she was wrong.
Canada fell in love with Maud and her Anne of Green Gables story, even issuing Anne postage stamps in 1975 and 2008. The Bank of Canada has even listed Maud to potentially end up on our dollar bills. Over 1.6 million people visit PEI every year, many in pilgrimage to the Anne of Green Gables site. The Anne of Green Gables play in PEI earned the Guinness World Record award as the world's longest running annual musical theatre production. The award-winning 1985 Anne of Green Gables TV series was Canada's most-widely-watched television program.
Of Maud's twenty novels, seven are Anne of Green Gables sequels. Nineteen of the novels are about PEI. Only the Blue Castle is placed in Ontario, specifically Muskoka, "the only place I've ever been in that could be my Island's rival in my heart."
Polish people have adopted Anne as a folk hero. Anne of Green Gables became such an important symbol of freedom that every Polish soldier before WWII was given a copy of the book. It was then banned as subversive literature when the Communists took over Poland.
In Japan, where her stories are hugely popular, two Anne of Green Gables theme parks have been opened. There is even a Green Gables Nursing School in Okayama, Japan. Yukari Yoshihara, a University of Tsukuba professor, said that Anne is popular with Japanese women because the world of Green Gables is filled with "kawaii", which means the quality of being cute, romantic and beautiful in Japanese.
A Canadian missionary Loretta Leonard Shaw gave the book Anne of Green Gables to a Christian translator Hanako Muraoka. She then secretly translated the book into Japanese during WWII bombing, knowing that she risked incarceration, and even execution, if she was found with this 'enemy nation' literature.
After being published in 1952, it became wildly popular as part of Japan's school curriculum. There is even a school of nursing in Japan nicknamed the School of Green Gables.
Anne's book in post WWII Japan was literally beauty for ashes, the oil of joy instead of mourning, and a garment of praise instead of a spirit of despair. (Isaiah 61:3) There were over 120,000 'Anne Shirley' orphans in Japan, many sent to jail, abused, or exploited as child labour. To admit that one was an orphan was so shameful that it might prevent one being married. Anne of Green Gables enabled many Japanese to come out of hiding about their painful orphan experiences.
Urban dwellers, overwhelmed by technological changes, are attracted to her endearing depiction of a simpler time. Older people are drawn by Maud's engaging PEI childhood memories. Jesus himself told us in Matthew 18:2-4 and 19:13-14 that only the childlike enter the Kingdom. Might he say nowadays, let the Anne Shirley's come to me. Don't hinder them. Don't crush their budding creativity, curiosity, humour, and imagination. Jesus loves the little children, all the children of the world.
Near the end of Anne of Green Gables, after winning first place in the Island pass list, Maud shows how Anne had grown in her prayer life:
…that night Anne knelt sweetly by her open window in the great sheen of moonshine and murmured a prayer of gratitude and aspiration that came straight from her heart. There was thankfulness for the past and reverent petition for the future…"
Our prayer is that in the coming Canadian revival, that we would learn to pray with the intimacy and gratefulness of Maud's Anne of Green Gables.