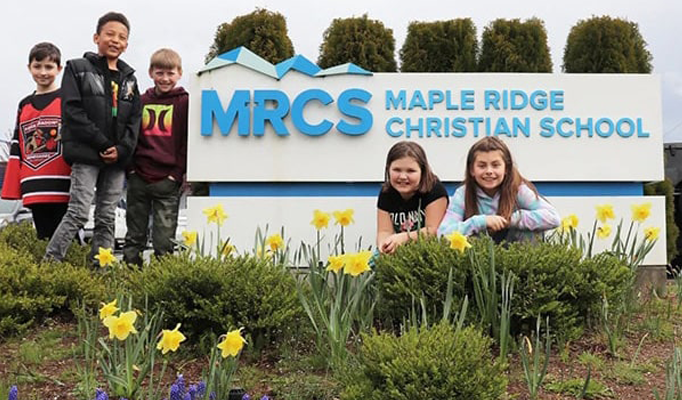 by Chantell Olsson-Chang
As housing prices have soared in the Vancouver area, families have moved east in search of affordable homes. Maple Ridge has experienced significant growth in this demographic, which has put strain on existing schools in the area. Maple Ridge Christian School (MRCS) is responding to this need.
Stacy Sowerby relocated from a nearby community to Maple Ridge; she is now the Vice-Principal of Learning and Programs at Maple Ridge Christian School. She comments, "I first came to MRCS as a teacher on call in 2009. I was immediately embraced by this beautiful community of people. They were kind, inquisitive, the students were thoughtful and engaged, and I was amazed by how quickly it felt like a family. At the end of that year, a position as a teacher became available in the school and I applied. I was thrilled to be hired. We made the decision to enroll all three of our children at this school because we appreciated the holistic approach to an education framed with a biblical worldview, as well as the beautiful connections our children were able to form with friends in the school. We appreciated the real conversations that the teachers were having with the students at age-appropriate levels and how much they cared for their hearts. Just a year ago, our family made the move to Maple Ridge from a different community to finally be fully immersed in the community we already felt was home. The experience we had felt in our school was reflected in our experience within Maple Ridge and Pitt Meadows as a whole.
We have felt so welcomed and encouraged by the parents and students who are on our kids' sports teams, the people in the church community we have landed in, as well as through the many community events that celebrate and encourage collaboration and care. Our family has felt embraced and cared for in a way we could not anticipate, and we are grateful to be in this great school and community."
MRCS meets the needs of families with holistic, Christ-centred education, engaged community, accessible tuition, and award-winning athletics. Quentin Flokstra, Lead Principal, explains, "Since 2017, MRCS has been on a steady path of growth, filling available spots and generating a waiting list. This necessitated an update to the strategic plan in 2020/21. At that time, the MRCS Board of Directors opted to begin double tracking the kindergarten program for the 2021/22 school to make room for more families who desired a choice for independent, Christian education. The building project began in earnest at the beginning of 2023 that will allow us to double our student capacity and will also feature a full-sized gym."
Community spaces are in demand as land becomes scarce in the Lower Mainland. The building project at MRCS has attracted the attention of Maple Ridge council. MRCS was honoured to give Mayor Dan Ruimy a tour in October and discussed the many creative ways Christian schools can be good citizens by sharing spaces like gyms. Maple Ridge Councillor, Ahmed Yousef, visited in August and commented on his Instagram page on the friendliness that he felt when he toured MRCS.
With sixty-five denominations represented at MRCS, a vision for Christian education is worked out in relationship. The result of this cooperation is a sense of community where families can feel at home.
This respectful environment gives students a safe place to grow. One high school parent says, "[Our son] entered MRCS in Grade 9. He had found himself caught up in substance abuse and addiction at 14, when he was only in Grade 8. These were the most stressful and darkest years for our family. He still had many struggles even after joining the MRCS community but always tried to do better and be better. He would try, and then he would fail, he would try harder, and then fail again. But the difference at MRCS was that his support teachers saw he was trying. They would tell him they believed in him, they would pray for him. They would encourage him. And that is exactly what he needed."
MRCS has been noted for its passionate teachers. These are the types of teachers who inspire young people to become educators, one MRCS alum states: "Every single one of my teachers inspired me to become a teacher. They not only taught me, but challenged the way I viewed the world in order to develop my beliefs. The teachers at MRCS have set an example for how I want to be as a future teacher."
Christian education is, more than ever, a practical, sought-after way for Christians to share the love of Christ with a whole new generation of young people. For more information, please visit mrcs.ca or development@mrcs.ca.