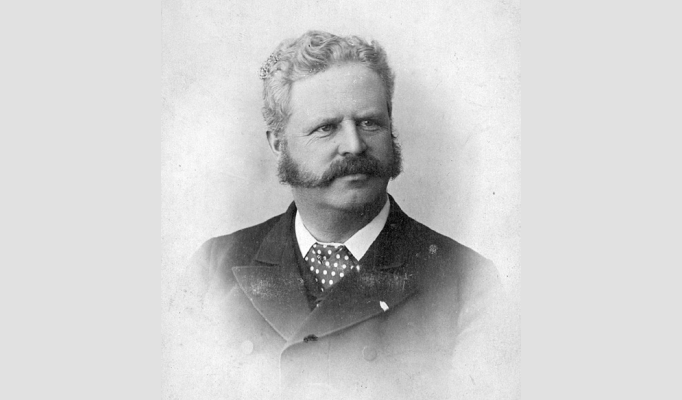 Why has Toronto, Ontario, sometimes been called Toronto the Good?
It goes back to Mayor William Howland, a Christian business person who gave away most of his considerable wealth to local home missions. William's father was the Honorable William Pearce Howland, second Lieutenant-Governor and Finance Minister of Ontario (1868-1873), John A. Macdonald's first Minister of Internal Revenue, and the only American-born Father of Confederation.
William, like his Quaker father, had a bubbly enthusiasm and phenomenal capacity for hard work. By the time he was 25, William was president, vice-president, or director of more than a dozen companies in the fields of insurance and finance, electrical services, and paint manufacturing. When he became president of the Queen City Fire Insurance Company in 1871, he was the youngest insurance company president in Canada. As well, Howland was President of three influential organizations: the Toronto Board of Trade (at just age 30), the Dominion Board of Trade, and the Manufacturer's Association of Ontario. Out of his love for his country, he served as Chairman of the Canada First movement, personally financing its weekly newspaper The Nation. In 1873, William Howland married Laura Chipman, the sister-in-law of Sir Leonard Tilley, another Father of Confederation.
While visiting England in 1876, William was convicted by a wall plaque that read, Fear not: for I have redeemed thee, thou art mine (Isaiah 43:1). The verse gripped him. Returning to Toronto, Howland was led to Christ by his pastor, Dr. W.S. Rainsford, during revival services at St. James Anglican Cathedral.
His life-changing experience at age 32 gave him a new passion for helping the poor. He became involved with the Hillcrest Convalescent Hospital, the YMCA, the Haven Home for Unwed Mothers, the Prisoner's Aid Association, the Central Prison Mission School, and the Toronto General Hospital. Night after night, Howland visited the slums, going from house-to-house, and reaching out to the poor, the sick, and the alcoholic. He also purchased 50 acres to start an Industrial School in order to steer youth away from a life of crime. Other initiatives included building an alternative school for drop-outs, and a Home for the Aged and Homeless Poor. He is fondly remembered as a co-founder in 1877 of Wycliffe Theological College which has raised up many overseas and home missionaries. That same year, he founded the Toronto Willard Tract Depository (an evangelical publishing company). When he began to teach an interdenominational bible study for 100 young men, his new priest J.P. Lewis objected to Howland's involvement with non-Anglicans. Out of this rejection, he began the interdenominational Toronto Mission Union, which operated seniors' homes, convalescent homes, and Toronto's first-ever home nursing service.
Because of his great compassion for the poor, he was elected as the 25th mayor of Toronto in 1885, with a strong mandate to clean up the city. Howland's first campaign coined the motto "Toronto the Good". With the backing of the Municipal Reform Association involving union leaders, poverty activists, and prohibitionists, he campaigned for morality, faith and reform. He was elected by just 1900 votes. During this same period, Ed's great-grandfather Thomas Allen served for nineteen years as senior Toronto alderman. Howland signaled his arrival in the mayor's office by installing a twelve-foot banner on the wall, reading, "Except the Lord build the city, the Watchman Wakes but in Vain". Howland pledged to work so that Toronto would have "the character of an honourable city, a God-fearing city," saying that he "would rather see it thus than the greatest and richest city in the continent." Even as a busy mayor, Howland and his Alliance friend, Rev. John Salmon, would tramp the lanes and alleys, feeding the poor, praying over the sick, and comforting the downcast. With a population of just 104,000, Toronto had over 800 licensed and unlicensed saloons. Over half of all criminal offenses recorded in 1885 were related to drunkenness.
Howland is described in Desmond Morton's book Mayor Howland: the Citizen's Candidate as the first reform mayor in Toronto's history. Due to bureaucratic corruption, municipal garbage collection was all but non-existent. Even Toronto City Hall's own garbage was rarely picked up. Rotting garbage fouled the alleyways, yards, and streets, giving Toronto a reputation for flies, stench, and disease. With no general sewage system, Toronto lived on the verge of a typhoid epidemic. Children swam in the same Toronto harbour area into which raw sewage was flowing from the ditches. Toronto's fresh water supply was sucked through leaking and rotting wooden pipes, half buried in the sewage and sludge of the Toronto harbour.
Howland believed that we didn't usually need more laws; we just needed to enforce the ones that already existed. He shocked the city bureaucrats by enforcing the already existing bylaw which forbid the depositing of garbage within the city limits. After he threatened to send the city commissioner to jail for breaking this bylaw, garbage miraculously began to be collected! Howland also worked hard in the construction of a trunk sewer system, to redirect the sewage away from the Toronto Harbour. He had such a dramatic impact in reducing the crime rate that other mayors began visiting Toronto, hoping to imitate Howland's miracle.
During his re-election campaign in 1887, all the taxi cabs were paid off by Howland's opponent so that they would refuse to take Howland's supporters to the polling stations. Women however (2,000 widows and single women with property) had been given the vote three years earlier. So, they held up their long Victorian dresses, and trucked through the snow to give Howland the moral reformer a second term. When Howland was re-elected by a landslide, over 3,000 of his supporters at the YMCA hall spontaneously burst into singing "Praise God From Whom all Blessings Flow."
After he unexpectedly stepped down as Mayor after two terms, Howland became the founding Canadian President in 1889 of the Christian Alliance (which later took the name C&MA: Christian and Missionary Alliance). The unique interdenominational nature of the early C&MA allowed Howland to be its president, while still worshipping on Sunday morning in an Anglican church. When he died unexpectedly in 1893 of double pneumonia at age 49, his funeral involved Anglican, Alliance, and Presbyterian clergy. With more than a thousand mourners on foot from all social classes, it was the largest funeral procession that had ever been held in Toronto. The Globe newspaper celebrated him as,
one of those large-hearted men who have a genial smile, a cheering word and a hearty handshake for all. He was the most approachable and kindly sympathetic of men, and for this reason the poor and unfortunate came to him for counsel and assistance, knowing that they would not be turned away from his door empty-handed if it was in his power to help them.
A poem published in the Globe said of Howland:
And not Toronto mourns alone
All Canada his fame had heard.
His name is dear
a household word
And far and wide
his worth was known.
May William H. Howland inspire us to see the difference that just one person can make in local home missions.