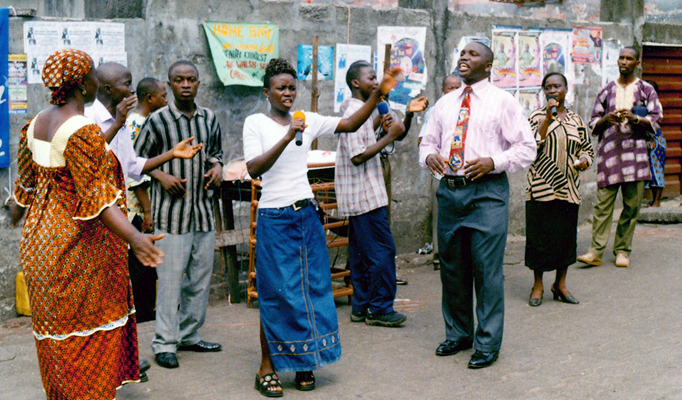 Since 1998, Intercede International partner mission New Creation Ministries, led by Rev. Mitford Macauley, has been reaching out to poor and suffering people of Sierra Leone such as war amputees and Ebola orphans with encouragement, help and the love of God.
From March 2014 till early 2016, Sierra Leone suffered from an Ebola crisis which caused thousands of children to become orphans. "It is my conviction that hundreds of these orphans will end up left out to fend for themselves," declared Macauley around that time. "I have been strongly thinking of pursuing a vision to start an orphanage for both boys and girls, which I have had within me for some years now, waiting for the right time. I feel strongly that now is the right time – yet we know we cannot do it alone. We will need the help and support of our friends out there."
NCM wanted to help out as many of these children as they could by building a Children's Home. So they started developing its Calvary Children's Home for orphans in the northern city of Makeni – in one of the regions heavily hit by Ebola. Now that orphanage and all related buildings are fully funded by Intercede supporters and nearing completion.
For the orphanage, NCM is constructing six buildings. Three will be dormitories of five rooms each to accommodate 60 orphans; one will be the dining hall and kitchen; one will be accommodation for the mission workers; one will be a hall for learning and other indoor youth and church activities, and one will be for administration. NCM also plans to dig two water wells.
"We have made tremendous progress on the project as we hope to have the children in very soon," reports NCM leader Mitford Macauley. "Dormitory 1 is more than 95 percent complete; just some finishing touches to go. Dormitory 2 is more than 80 percent complete, and work is ongoing to see it completed very soon. Some of the children had started coming from the villages and I had time to interact with them and their caretakers to encourage them. They were shown their home in construction with assurance that it will soon be completed."
The construction of the second stage for the Perimeter Security Wall, Administration Offices, Dining Hall and Kitchen buildings started early this year.
"We have been praying that God who has started this good work will surely provide for us and establish it, as we believe He is the Father to the fatherless," declares Macauley. "We have been gradually preparing the children psychologically for their full transfer into the orphanage. We continue to trust and pray that God's continual mercy and provision will abound towards us to make our dream for these children a reality. Thank you for standing with us throughout this time."
NCM leader suffered too
As NCM has been helping various suffering people, Macauley himself has suffered from a poor health. In 2020, he had to travel to neighbouring Ghana for medical treatment. "I sincerely know that if it had not been for the intervention of God I surely would have been dead by now," he testifies. "We heartily express our profound gratitude to you all. Firstly, I thank God for the situation with my health currently. God has indeed healed me wonderfully. I returned strong, and one of my current visions is to see the orphanage fully completed [this year] so that the kids can reside there."
Ministry helps war amputees
During Sierra Leone's devastating civil war, which raged from 1991 till 2001, hundreds of people were senselessly mutilated by rebel forces, and now live as amputees. NCM ministers to many of these amputees and their families by giving them food relief and helping them find useful work.
"We continue to minister to war amputees mainly in Freetown and Makeni," explains Macauley. "There are 72 amputee households in Freetown in six settlements that we minister to psychologically, spiritually and materially, as we give them periodic food supplies as God provides funds.
"The bread-making project in Makama Amputee Settlement continues to sell bread in the community. The proceeds help to meet the needs of some of the amputees in Makeni town. There is need for more of these projects in our ministry to the amputees, because many of them who could not have food for themselves and families go out into the streets to beg. Most of these people were at one time very responsible people in society but now they are looked on as the unfortunate ones in the whole activity of the past war. These people are now left greatly handicapped and greatly in need – and of a truth, these people have been marginalized by both the government and most people of our society."
But NCM missionaries have been a great encouragement to these amputees since 1999. "We have always made it clear to them that we are able to minister to them in this way only by the donation of people who empathize with them and send some money to support them." reports Macauley. "Thanks to our many friends that have made the needs of these unfortunate people their concerns. May God continually bless them all.
"The chairman for the Amputees in Sierra Leone, who lives in this settlement, gave thanks and appreciation on behalf of all the amputees in Sierra Leone for the gifts they have been receiving, both past and present, from all of our friends through Intercede International."
Helping poor communities
One of NCM's main mission fields is Kroo Bay – an extremely poor community, with few toilets. "As we minister in the Kroo Bay Community, a slum in Freetown, we find that we are involved with a very needy community with needs both physical and spiritual," reports Macauley. "At times we feel perplexed at the scale of needs, but we trust God; we have been doing our best to meet some of these needs. We have been praying constantly for the spiritual hold over this community to be broken down.
"We have been doing health education outreaches and evangelism on a regular basis. In dealing with this community we've found out that one key tool Satan is using to keep them from Christ is psychological. Most of them feel marginalized and dehumanized as they live in degrading and undignified living conditions – for instance, not a single proper latrine or toilet is in this community, no schools for children, and all of these make them feel they are good-for-nothing and unfit for God." NCM has also helped out the people of Kroo Bay by distributing food.
The ministry has also constructed a school in Kamanka village. "It is a blessing to hundreds of children within and around the environs of the Kamanka Village," reports Macauley. "We now have up to Grade 6. I would like you to know that this school is greatly appreciated by this community, which has asked me to personally send over to you their heartfelt thanks and appreciation as they pray that it will be completed soon."
Three methods of evangelism
Open-air preaching, tract distribution and revivals for church people are three main ways NCM has been evangelizing this country. At one outreach in Freetown, NCM missionaries had open-air preaching in strategic points across the city – and gave out 8,000 tracts. "We now continue to work with those who received Christ as their Saviour during the house-to-house visiting, helping them to see the implication of discipleship that comes with their decision," says Macauley.
In one recent year, NCM held 18 open-air evangelistic services at different sections of Kroo Bay, and three indoor revival meetings running for three days each. These revival meetings were well-attended, with more than 100 people at each meeting.
Witnessing continues to be done by NCM churches mainly through personal contacts of trained disciples who go into their communities to win souls with appreciable results. "We are constantly receiving people who visit our churches on Sundays as a result of the soul-winning efforts of our disciples," reports NCM. "These people are carefully followed up by the various pastors of the branch churches and most of them are coming to faith in the Lord Jesus and taking responsible membership in the ministry."