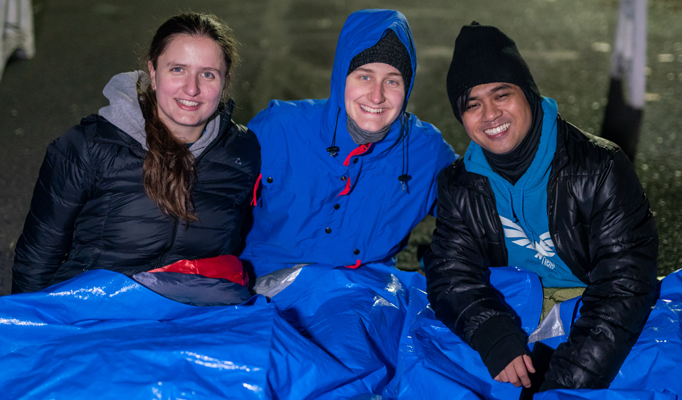 When Trevor was 10 years old, his mom and grandma did not have the resources to care for him and he was placed in foster care. There, he experienced some disheartening living experiences. After losing his housing as an older teen, Trevor ended up homeless in Mission. However, throughout the past 17 years, Trevor did not walk alone. Youth Unlimited outreach worker, Calvin, has been a mentor and father figure to him throughout it all—and it has made all the difference.
Trevor voluntarily slept outside on Friday, November 18, as part of a movement to help raise support and understanding for homeless and vulnerable youth.
YUnite Outside is a part of One Night Out, the sixth annual event with the Joseph Richard Group, where people from Vancouver to Chilliwack give up a comfortable night's sleep, to sleep on the cold, hard ground, to show support and to raise funds to help stop and prevent youth homelessness.
Trevor survived three long years of living on the streets and is now thriving relationally and mentally. While it's still challenging to make ends meet, he is a part of Impact, helping with YU's Young Guns mechanics program and is constantly giving back and supporting others. But he can still vividly recalls what the cold and desperation felt like.
"My biggest worry," says Trevor, "was, on a cold night was I going to get hypothermia and die in my sleep? It scared me, it scared me a lot."
"I never had a tent. I just had a blanket and I used my backpack as a pillow. I think I got the blanket from the youth house. I used that blanked 99 percent of the time," he says.
The "youth house" is called the Mission Youth House, lovingly known as 'MY House', a partnership program with Youth Unlimited, the city of Mission and a number of other groups. It has been a place of refuge, tangible support and hope for the homeless youth of Mission for many years.
"Chilliwack has more homeless youth than Abbotsford or Mission per capita," say Ken Neufeld, the YU Area Director who started up programs in Chilliwack over five years ago. "This was part of why I came to work in Chilliwack. Everyone thinks of it as this quaint little farm town, when in fact, it's not so tiny anymore. It has some of the bigger issues associated with bigger towns, but not yet all the support needed."
In any given year across the Lower Mainland, thousands of youth are faced with unsafe home lives, hidden homelessness, and/or absolute homelessness. This does not include youth who may be at risk in other vulnerable situations, such as gang initiation, human trafficking, sexual exploitation, or suicidal ideation. Since the pandemic, this number has grown. For more info: www.youthunlimited.com/onenight
Youth Unlimited has been making a difference in the lives of young people since 1945, helping youth in Greater Vancouver and the Fraser Valley discover their potential. They offer hope, connections, opportunity and support to youth on the margins. Any youth who feels alone, vulnerable or just in need of a safe, fun place to connect, they are there to walk with them and help them grow as a person.