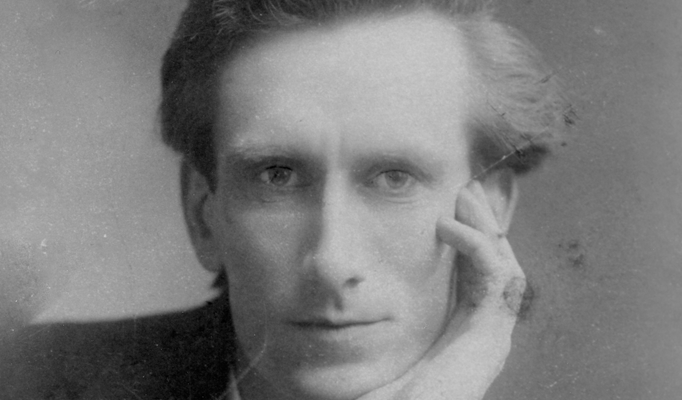 Why do so many millions read Oswald Chamber's classic devotional My Utmost for His Highest? He memorably said: "Readiness for God means that we are ready to do the tiniest little thing or the great big thing. It makes no difference."
Chambers was born in Aberdeen Scotland in 1874. The son of a Baptist preacher, his parents, Clarence and Hannah, were both converted and baptized by the great London preacher Charles Haddon Spurgeon.
When he was 16, Chambers went to London with his father to hear Spurgeon preach. Impacted by the message, he said to his father on the way home, "If there had been an opportunity to give myself to the Lord, I would have done it." His father responded, "you can do it now, son." Stopping by a street lamp, the young Oswald Chambers opened his heart to Christ. He soon became a street preacher, ministering to the outcast of London society.
In 1893, Oswald entered the Royal College of Art in London, despite his father's reservations. Poetry, music and painting were not luxuries to him but necessities for the fullness of his life in Christ. After receiving his Art Master's Certificate in 1895 he returned to his beloved Scotland, enrolling in Arts at the University of Edinburgh.
During this invigorating season, Chambers began to sense an irresistible pull towards ordained ministry. It would mean abandoning his art studies and leaving the university. He emphatically stated: "I will never go into the ministry until God takes me by the scruff of the neck and throws me in."
In 1897, God took hold of him, sending him for nine and a half years to a little-known bible College in Dunoon, Scotland, led by Rev. Duncan MacGregor. For four years there, inspired by the well-known preacher FB Meyer, he sought a deeper surrender to Jesus: "All he wants from me is unconditional surrender." He called this difficult time "four years of hell on earth." The bible became the dullest, most uninteresting book in existence. Chambers painfully learned that "Prayer is not a preparation for work, it is work. Prayer is not a preparation for battle, it is the battle."
Out of that infilling with the Holy Spirit came a fresh passion for revival, holiness, and missions: "What does holiness magnify? Jesus ever, Jesus only, Jesus all in all." He became always ready at any moment for anything anywhere. Chambers obeyed God's call and went with a Japanese missionary Juji Nakada, first to America for two years, then in 1907, they went with the Oriental Missionary Society to the Japanese Bible College in Tokyo. On his way to Japan, Oswald wrote, "I am more and more convinced that the personality of Jesus Christ is the Truth, and anything about Him that does not lead to Him is not the truth."
In 1908, Chambers met his future wife Gertrude on the SS Baltic. She "admired his keen mind, his bright humour, and the deep love he held for Jesus Christ. Chambers was impressed with everything about her, from her determination and ability, to her love for animals and her genuine interest in people." After extensive letter-writing, they became engaged on Nov 13 at St. Paul's Cathedral in front of the Holman Hunt 'Light of the World' painting. His nickname for Gertrude was Biddy (short for Beloved Disciple). On May 25, 1909, they were married.
Through the League of Prayer in January 1911, Chambers became the principle of a new Bible Training College in London. The courses he taught at BTC later became the foundations of his YMCA lectures in Egypt and his future books. During four years at BTC, 106 students studied with Chambers, forty of whom ended up serving as missionaries. Over 1,900 students took Chambers' courses by correspondence. The college ended in 1915 when he pursued a missionary call to Egypt with the Forces."
In the face of the mindless slaughter of World War I, Chambers brought hope as a YMCA missionary to the 100,000 Allied soldiers in Egypt. His wife Biddy and daughter Kathleen shared in his ministry to many Australian and New Zealand soldiers.The YMCA offered wholesome activities as an alternative to the red-light district where so many soldiers were being robbed, and coming down with venereal disease. VD in those days, being largely incurable, was often the end of a soldier's career. Chambers' YMCA predecessor had held a nightly prayer meeting at 8:45pm in his cubicle which no one else chose to attend. The soldiers didn't look to the YMCA for prayer, but rather for chocolate, cigarettes, and writing paper to send letters back home. Chambers defied this tradition by holding an actual prayer meeting in the middle of the YMCA hut. The first time, all the letter writers left except for two soldiers. Night after night, the numbers of those staying grew. Then a week later, Chambers did the unthinkable thing of holding actual lectures for the soldiers. No one would come, he was told. Miraculously four hundred soldiers packed into the YMCA hut to hear Chambers speak on the topic "What good is prayer?". Affectionately known as the O.C. (Officer in Charge/O. Chambers), his amazing sense of humour surprised his listeners. One stern young man said, "He was the most irreverent Reverend I had ever met!"
Chambers ended up erecting a second hut so that he could offer nightly lectures without disturbing the letter writers. His lectures soon attracted more men than the letter-writers in the main YMCA hut. The YMCA ended up inviting Chambers to conduct evangelistic missions from March 23 to April 2, 1916 in all of the soldier's bases throughout Egypt.
Both Oswald and Biddy Chambers believed strongly in the ministry of hospitality, …a cup of tea and one of Biddy's homemade cakes served on a tablecloth outside the bungalow was often the key that unlocked a cynical heart and opened long-stopped ears to hear the gospel during Chambers' teaching.
In October 1917 he was in great physical agony with appendicitis and ended up in hospital, his appendix had already ruptured. On Nov 13, he suddenly began hemorrhaging from the lungs. At seven o'clock on the morning of November 15, he died.
After only seven years of marriage, his wife Biddy was left a widow at age 34 with a young daughter and no means of support. God gave her the idea to turn his YMCA talks with the soldiers into books. She was able to spend the rest of her life producing fifty books bearing his name, but never mentioning her own. Both Oswald and Biddy Chambers sacrificed their all for Jesus Christ.
May we, like Oswald and Biddy, give our utmost for His highest, being abandoned to God and available for people.