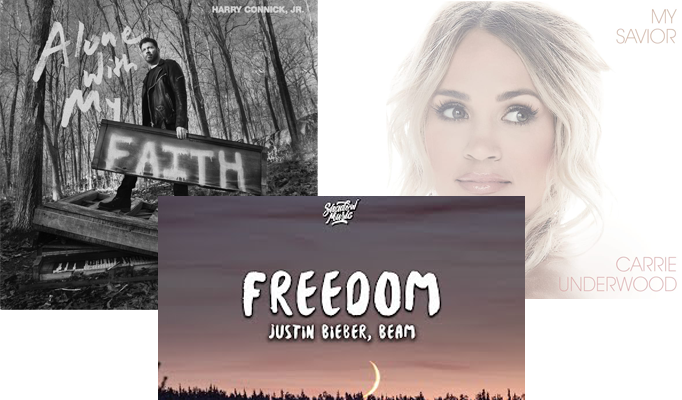 Justin Bieber: Freedom, Def Jam, 2021
Canadian singer-songwriter, and mainstream artist, Justin Bieber had just released his 6th studio album Justice when he surprised fans with the release of his first explicitly Christian faith album Freedom on Easter Sunday this year.  
This 6-song EP is a personal account of his life's struggles and the transformative grace he has found through Christ. Throughout these tracks spoken word is provided by his pastor Judah Smith and vocals from Chandler Moore from the Gospel group Maverick City. Highlights included here are the R&B ballad 'Where You Go I Follow', he not only vows to follow God faithfully, but he also recounts the resurrection, singing, "On the third day, yeah, you rose up / And you beat death once and for all." The second verse ("You're my end, You're my new beginning") then concludes with Smith proclaiming "Has he defeated death, Hell in the grave and sin itself / If so, there is nobody like Jesus".
The album's title track, "Freedom," abandons his usual pop style in favor of a hip-hop beat where he writes "The dead resurrected, the Devil tried test it, him lost / Him lose again / Head bruise again / Sweat, blood, tears 'pon the cross / Did you know He paid the cost for you?"
"Where Do I Fit In"brings Grammy winner ToriKelly into the mix, alongside Moore with their silky-smooth vocals. On the third track, "We're in This Together," Justin reflects on his past and acknowledges his own growth as he encourages listeners to hope for the future and have faith. He sings, "All that to say, I'm thankful that's not who I am / And I'm thankful God was with me when s— hit the fan / 'Cause He's the reason that I'm still standin' / And even in a pandemic, God is still plannin'." "Afraid to Say"concludes the 22-minute EP as he seems to reflect on making mistakes, seeking forgiveness, and having the opportunity to grow. Bieber questions 'cancel culture,' "What have we done with society? / When everybody's being canceled / And can't there be room for maturity? / 'Cause writing 'em off is not the answer." Bieber goes on to say from personal experience, "You can't write people off / God never writes us off / Even in our darkest days, even when we least deserve it."
Harry Connick Jr: Alone With My Faith, Capital CMG, 2021
Grammy and Emmy Award winning musician/singer Harry Connick Jr has released his first Gospel album, Alone With my Faith. Last year, when the pandemic cancelled all his concert dates for the foreseeable future, Connick decided to retreat to his home studio to write and record a deeply personal album.
He produced, arranged, recorded and played every instrument on the album. In the line notes Connick writes "Besides the familiar, traditional songs, I wrote and recorded new music that tells the story of my experience during the lockdown. I, like most of us, felt joy, sadness, doubt, conviction, melancholy and inspiration – all the emotions that faith, or lack thereof, can elicit." Highlights found here include jazz renditions of some of his favourite hymns like "How Great Thou Art", "The Old Rugged Cross", "Because He Lives" and "Amazing Grace". Alongside these familiar songs of faith Connick wrote the emotive and prayerful originals songs "Be Not Afraid," "Benevolent Man" and "All These Miracles."
On the title track he writes, "Alone with my faith/What I know is true/What gives me assurance/When I don't know what to do/I don't have all the answers/But I have always known/I'm eternally faithful/So I am never alone." Last month he performed this song in a medley with "Old Time Religion" to a TV audience of millions on American Idol. Both the album cover and the music videos for "Amazing Grace" and "Alone With My Faith" were conceived and directed by his daughter Georgia Connick.
Carrie Underwood: My Savior, Capital Records, 2021
Since being discovered on American Idol back in 2005, Carrie Underwood shared glimpses of her faith with songs like "Jesus Take the Wheel" and "Something In The Water" on her country albums. Now seven-time GRAMMY Award winner will follow the extraordinary success of her recent Christmas album, My Gift, with her first album of gospel hymns, titled My Savior.
Included on this 13-track album are the timeless songs Carrie grew up singing in church like, "Victory In Jesus," "The Old Rugged Cross," "Blessed Assurance," and "Just As I Am." Other highlights found here are her soaring vocals on "How Great Thou Art", the stunning "Great Is Thy Faithfulness," a duet with gospel music legend CeCe Winans and "Nothing But The Blood Of Jesus," featuring the harmonies of Bear Rinehart of NEEDTOBREATHE. "It's been such a blessing to make music like this, inspirational music that is near and dear to my heart," says Underwood. "These two albums have been on my musical bucket list since the beginning of my career and were planned long before the events of the past year, but somehow it feels like the perfect time to share these beloved songs with the world."