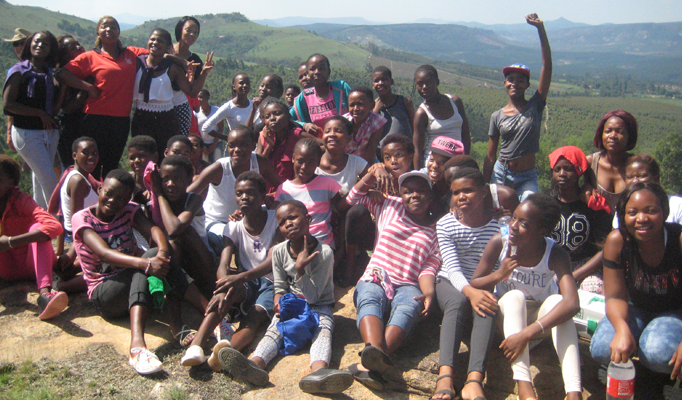 What do you do with a dream that won't let you go – even during Covid? Especially when that dream focuses on school children half a world away. Nick Short and his wife Glynis wrestled with that reality after returning to Canada from South Africa. Nick spent his first 39 years in South Africa engaging in financial services before settling in North Vancouver and attending Hillside Baptist Church for 24 years.
In December 2004, the Shorts returned to South Africa and visited a missionary supported by their church. The HIV/AIDS tsunami was the pandemic of concern at the time with a tidal wave of orphans impacting schools and communities so much so that orphans made up 50 percent of some student populations. What to do?
Hope Clubs were birthed to provide safe spaces for students to process their angst, grief and needs. Sexual abuse and rape of vulnerable students added to the burgeoning HIV positive population. The reality created momentum for deep concern and action. A subsequent visit during the 2010 World Cup, through Canadian led soccer clinics in the townships, started the process of assembling the jigsaw puzzle of seemingly unrelated pieces. How could a shared understanding of the student experience connect northern and southern hemispheres?
Short had founded a non-profit charity called Reachout to Africa in 2005 and his board warmed to the idea percolating in his soul. Two Canadian schools were chosen for a pilot project. (Lions Gate Christian Academy in North Vancouver and Princess Margaret Secondary School in Surrey), facilitating hundreds of volunteers for work in South Africa and the organization has sent more than $3.5 million in funding to support initiatives. This was another chance to make a difference that mattered. A website (www.Schools4Schools.org) helps with pulling the two worlds together.
Dan Mitchell, a director with Reachout, has had a heart for Africa since his teens and when Short challenged him to go on the first trip he says "I knew it was God talking." He says since that first encounter "the vulnerable kids in South Africa are like a third child to me." He's maintained relationships with several dozen of these friends. Mitchell says "as the years go by, I've realized more and more that this ministry is mutual. We are not just reaching out to help vulnerable children in South Africa. They too are changing our lives through cross-cultural experience and education." Music and dance are part of this common experience and global empathy arises. Self-awareness and wonder and "a deep sense of belonging in discovering how every tongue, every tribe and every nation follows Jesus in their own way."
The Hope Club at Lions Gate Christian Academy recently raised $675 and will be linked to a Hope Club in South Africa so that "sports equipment and school supplies can be purchased for the disadvantaged members there." One of the African youth leaders in a Hope Club named Sister Dube was sponsored to come to Canada and "she was instrumental in helping us establish the Hope Club at Princess Margaret Secondary School. To add to that, at least two of the key leaders of last years "Princess Margaret Hope Club got Beadie Scholarships (full scholarships for SFU)."
Khadija Nadeem, a Grade Ten student at Princess Margaret school serving on the student executive is passionately invested and says "we want to give hope and opportunity for better futures… The idea is to be involved in your community but at the same time to be aware of global affairs and to make a difference as you can."
Around 1,000 students are involved in the 10 Hope Clubs in South Africa and Short hopes to partner with 8 more Canadian schools so there is a one-to-one link. One of the God-things that has happened occurred recently when the 200-acre Hope Camp in South Africa needed to pay off its mortgage. One donor in North Van donated $156,000 to erase that debt. The organization is looking for businesses or advisors to assist in the technology and details of linking groups together. A newly built app, built by a volunteer from Chile, is a huge step in linking students across the world. Short takes two groups a year to South Africa with the next trip scheduled for June. He has also brought groups from South Africa to places in BC, Saskatchewan and Ontario. Through it all, the biggest lesson has always been "to wait on the Lord."
Covid has impacted the education of students from around the world and Schools for Schools "is an opportunity for school students in any country of the world to remain connected with students elsewhere in the world and to share their experiences." Short says that they are seeking opportunity for educational and historical teaching of First Nations content and material in their offerings to Canadian Hope Clubs. The Reachout to Africa charity, as the umbrella organization for School for Schools, is looking for businesses or companies who might help sponsor the vision of bringing youth together from around the world so that there is real understanding of the real world we live in. Social media platforms would be a major part of the connectivity needed.
Mitchell says Canadian churches can support the program by asking for the Schools for Schools information package which includes a short video. Identifying teachers in the congregation who can sponsor a Hope Club at their school would also be a practical step. Students would form the executive to organize and drive the activities of the club in a cause most students can relate with.
The dream continues, even though the Shorts have relocated to Kelowna after retirement. Short, who considers himself a tech geek, uses zoom and smartphone to connect – often having to hold meetings late at night to compensate for time zones. While the process of dream building has been slow, Short is convinced this God-given vision is something that he needs to patiently nurture. "We have a number of new volunteers joining our expansion team … and I'm excited about the potential, the opportunity and the implementation of the Schools for Schools programs."