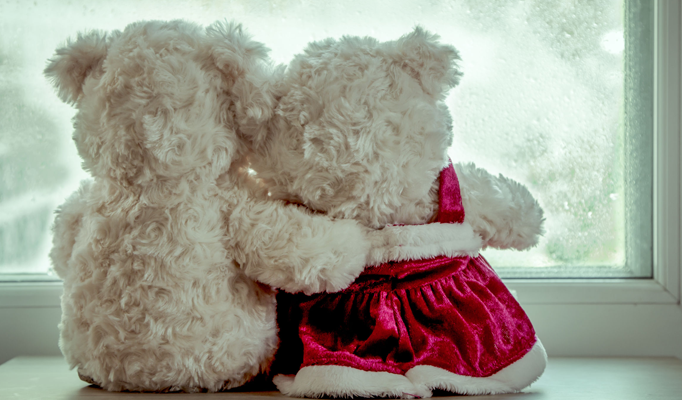 February is Heart Month, a time when we might focus more on our own cardiovascular health and what we can do to reduce the risk of heart disease. But perhaps a lot of us think of February primarily in terms of Valentine's Day, the day devoted to celebrating romantic love. And depending on our own circumstances, the "Happy Valentine's Day" celebration with roses, chocolates, and perhaps a special date night stirs mixed responses – all the way from great enthusiasm to cool indifference or outright cynicism. (The martyrdom and burial of the third-century Roman Saint Valentine on February 14, which is the origin of this festival day, is, I guess, far from our minds.) But how might Christians rethink February 14 and what it could mean for our lives?
While my husband Emanuel and I have had the privilege of celebrating 40 years of marriage, which has included raising three wonderful, now, adult children, my work with my university students has heightened my sense of how damaging the romance ideology of our culture really is. You know, the false expectation associated with fairy tale that "youthful physical beauty + romantic love = lasting happiness." This seemingly easy "happily ever after." Over the years of teaching fairy tales, I've found it increasingly more difficult to convey that classic fairy tales do not glorify physical beauty nor does "happily ever after" mean a trouble-free future. Rather, true beauty in classic fairy tales and many other stories is a picture of inner moral beauty. As Antonio declares of Viola in Shakespeare's Twelfth Night, "Virtue is beauty." Beyond hair colour, what do we know of the physicality of fairy tale heroes and heroines? And who cares?
What we do know is that Cinderella is courageous and kind. We do know that Jack the Giant-Killer is brave and good. We do know that idolizing physical beauty, as does Sleeping Beauty's wicked stepmother, leads to attempts at murder and eventual divine punishment for such evil. And "happily ever after" is about exercising the loving courage we will need to battle future troubles. It's also a micro-picture of the ultimate Happy Ending. The true form of the fairy tale and its highest purpose, as J. R. R. Tolkien has famously said, is "the joy of the happy ending . . . the good catastrophe, the sudden joyous 'turn'." It gives a glimpse of the Gospel: "it denies (in the face of much evidence, if you will) universal final defeat and in so far is evangelium, giving a fleeting glimpse of Joy, Joy beyond the walls of the world, poignant as grief."
But these central moral and spiritual, essentially biblical, lessons of fairy tales are often not grasped. And no wonder. As Vigen Guroian says, film versions of fairy tales can betray the original stories and exploit "our society's obsessions with physical beauty and romantic love." Then as we witness the rising rate of divorce and consider too those who have not found that special someone in the first place, the image of fairy tale romance, or better said, as we perceive fairy tale romance, seems false. Critics who denounce fairy tales as dangerous stories best rejected and forgotten abound. Arguably, these critics are correct in denouncing the false message of fairy tales thus exploited. But now let's take a short visit down Valentine's Day memory lane.
Do you have fun childhood memories of Valentine's Day? Maybe of elementary school parties with candy, heart-shaped cookies, and cards exchanged with friends, or perhaps under the direction of a wise teacher, with everyone in your class? I do. Valentine's warmth wasn't about romance then. It was about kind, happy feelings towards others, even kids you didn't know very well. I remember treasuring those Valentine's days. Then, and in later years, we'd celebrate the day with our family: everyone matters, everyone is loved.
But the mood can change quickly as we grow older, right? I recall experiencing the "Singing Valentine" tradition as a university professor when a group of students came into my classroom to sing a song of ardent love for one of my female students. This was her boyfriend's gift to her. It was lovely, a little bit of a giggly moment of embarrassment, but lovely. However, the absence of such overtures for everyone else in the class felt sad to me. It was as if everyone else could be asking, then or later, "Well? Will it ever be my turn?" Hope deferred, as Scripture tells us, makes the heart sick.
The power of romance ideology and the fallout in our society, as opposed to the moral and spiritual lessons of classic fairy tales, as well as the Narnian stories by C. S. Lewis and fantasy stories by other authors, led me to write the fiction book Letters to Annie: A Grandmother's Dreams of Fairy Tale Princesses, Princes, & Happily Ever After. It's written for anyone who loves fairy tales but also has questions and concerns over them. Are they good? Or are they bad? Do we even need them? And just what is "happily ever after"? In this book I follow the story of a grandmother writing to her granddaughter Annie for the first twenty-five years of her life in which they explore these treasured stories. Rather than giving readers false expectations of life, how do these stories leave us richer and more able to navigate the challenges, sorrows, and joys of life with wisdom, courage, and love? Letters to Annie is a dual coming-of-age story: Annie's, as she experiences some of the joys and sorrows from childhood to young adulthood, but also Omi's as she ages. And it's all about Jesus, as Omi says.
For example, Omi has the pleasure of helping Annie prepare for her Kindergarten Valentine's Day class party, making heart-shaped shortbread cookies with pink icing topped with red cinnamon hearts and candies emblazoned with phrases like TRUE ONE, WOW, and YOUR GAL. Annie chatters happily about her classmates and seeks affirmation from her grandmother for her preparation efforts; Omi rejoices with Annie but also silently reflects on sadder stories. At one point, Annie looks up and declares, "Jesus is the best Valentine we could ever have." Omi quietly rejoices: Amen, Amen. It's all about Jesus. As Annie grows, she encounters the doubts and heartaches that challenge her child's view.
When I think of a young child's hopes for a happy Valentine's Day, and of the sorrows that can await that child on this day and in the long years ahead, I remember what one of my favourite authors of children's novels, Katherine Paterson, said about her experience. In first grade she came home on Valentine's Day without a single valentine, an event her mother grieved over until her death, and once asked why Katherine didn't write about that time. Katherine's answer is profound: "But Mother, all my stories are about the time I didn't get any valentines." Indeed, blessed are the poor in spirit, for theirs is the Kingdom of Heaven. And out of their pain, like Paterson they can point to the One True Valentine, our Saviour.
C. S. Lewis develops the fairy tale genre in his Chronicles of Narnia. There he celebrates romantic love leading to marriage, minus the idolatry that such is life's highest purpose. He also portrays single characters as fully whole characters. Their singlehood due to various reasons such as vocation, political circumstances, demographics, and death itself in no way lessens their dignity, joy, and well-being. Among the several lessons that fairy tale author Lewis offers us are these: Romantic love can be beautiful, but it is not enough. Marriage, however wonderful, is not the answer to life's troubles. And human worth is located in our identity in the loving Creator – always. For Lewis, as for Tolkien and others, fairy tales' "happily ever after" is true: it is glimpsed at in this life and fully attained in eternity. As he ends his Narnia stories, ". . . and we can most truly say that they all lived happily ever after. But for them it was only the beginning of the real story. . . ."
For this year's Heart Month, let's rethink what Valentine's Day could mean for a life of faith. Let's take good care to guard our precious hearts and so counter the risk of heart damage with a truer understanding of all human loves as needing to be transformed by God's love. And regardless of our circumstances, let's celebrate Valentine's Day with, as Omi says, "the One True Valentine who is the human heart's one true desire." And whereas "Hope deferred makes the heart sick . . . when the desire comes, it is a tree of life." Yes and Amen, it's all about Jesus. Happy Valentine's Day!
Dr. Monika B. Hilder is Professor of English at Trinity Western University. She is an international speaker and the co-founder and co-director of the Inklings Institute of Canada. Her books on C. S. Lewis and the fiction book "Letters to Annie" are available on Amazon. To invite Monika to your school, church, library, or book club, contact her at monikahilder.com